News
DigiComm presents at the International Writing Across Curriculum Conference
---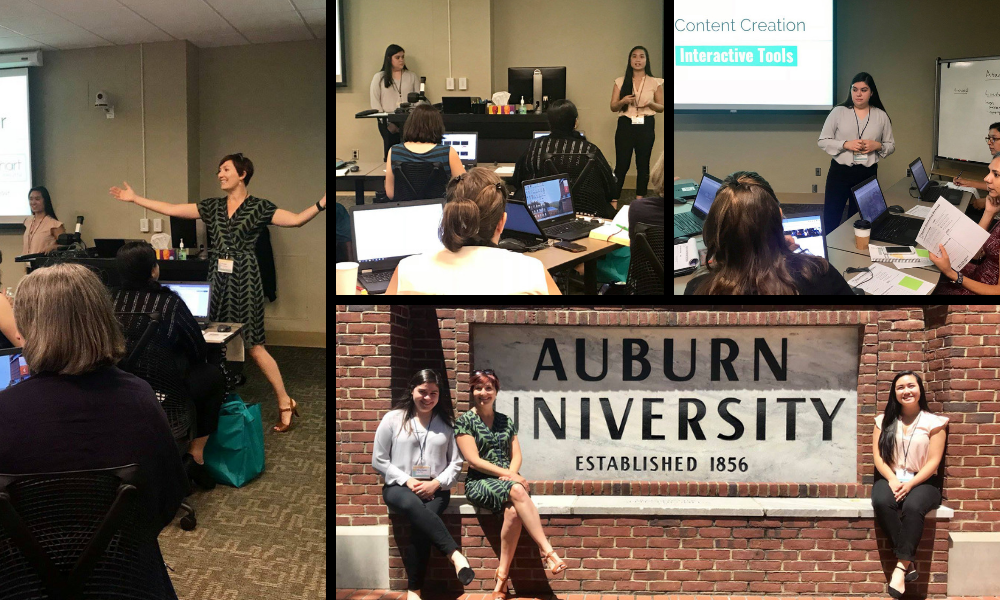 SUMMARY: DigiComm team members share their experience presenting at the 2018 International Writing Across the Curriculum (IWAC) conference
---
Introduction
Every two years, educators from across the country gather at the International Writing Across the Curriculum Conference (IWAC) to exchange ideas about curriculum enhancement in higher education. In June, 2018, DigiComm (the Learning Centers' Digital Communication Consulting program) represented JMU at the conference through a three-hour workshop on digital storytelling. DigiComm Coordinator Paige Normand, along with student tutors Becky Chen and Marissa Scholler, shared their process of preparing for the conference and the insight they gained from this unique experience.
Preparing for the Conference
The first step in securing JMU's presence at IWAC involved creating a proposal. Though DigiComm is known for helping students create professional portfolios, Auburn University already had an ePortfolio program in place. In order to help DigiComm carve out a place at the conference and to highlight another one of the many areas in which DigiComm has much to offer, Paige decided to focus on digital storytelling. "For a lot of our media fellowships," she explained, "probably about half are digital storytelling projects, so we had a lot of examples we were excited to showcase." The team chose to explore three website builders (Wix, Atavist, and Adobe Spark) and three content creation tools (Storymap, Timeline, and Piktochart). To showcase examples and make their workshop more interactive, the team created a website, through which Paige also obtained feedback before and after the presentation.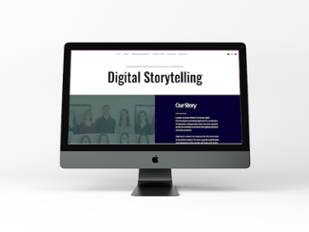 Digital Storytelling Presentation and Workshop
Paige explained "When we think about digital storytelling, we think about how can you bring your story to life. So, in addition to a narrative, we think about how we can teach people to create effective graphics, data visualization, and interactive elements. And from there, we show them how to embed those in different platforms to create the story." She, Becky, and Marissa used this as the model for their three-hour workshop.
They began by introducing DigiComm's favorite digital storytelling platforms: Wix, Atavist, and Adobe Spark. The presentations showcased digital projects from past Media Fellowships, highlighting DigiComm's large repertoire of student work and giving the participants real examples of how each platform can be used and the pros and cons that students often encounter. Marissa also pointed out that their presentation became less content-heavy as it progressed. "Wix can get very time-intensive with all of the content options," she explained, "but if you really just want to focus on the words, Atavist is best. And, if you have a lot of photos Spark is best." Next, there came a workshop. "To break up talking time, we had the workshop in between," Marissa explained, "so we broke up into three groups. Whoever was interested in doing Spark, Wix, or Atavist, we had them all grouped together." Once in their groups, participants chose a platform and experimented with using it to create their own digital story. To facilitate this hands-on experience, Becky created a Mad Libs exercise in which participants could fill in the blanks with a range of multimedia content.
Finally, the team introduced the content creation tools: Storymap JS, Timeline JS, and Piktochart and showcased student examples of each. They then facilitated a workshop in which participants chose a content creation tool and practiced embedding dummy content into the digital story they had started in the first workshop. Marissa explained that DigiComm gave the participants "time to ask questions, but also to really get into hands-on experience with a range of tools. We put all of our information on a website we created for the conference attendees."
Paige explained how her previous conference experiences informed her approach to IWAC 2018. She acknowledged that everyone has a different level of comfort with creating and using digital content, particularly as it is continuously evolving and advancing. "It's really hard to gauge where people are and what they need to know," she says. "So, that's why we did this 'choose your own adventure.'"  What was the result? "Demonstrably great!" Paige exclaimed. Participants' feedback, which was obtained through a survey on the team's IWAC website, was extremely positive; participants rated the workshop as highly valuable and extremely effective overall.
Feedback Examples
"I didn't realize I was going to see as well as try six different programs. Really impressive for 3-hours. Very valuable to share the pros and cons."

"Each presenter was highly knowledgeable about each program and the specific examples in various disciplines helped tremendously."

"Nice balance of presenting and hands-on work. Great to involve undergrads - and they were both very poised."
Paige also shared that her initial concerns about the length of the three hour-long workshop, turned to pleasant surprise when 80% of participants reported that the workshop was an optimal length, and 20% actually said it was 'too short.'
In reflecting on the presentation, Marissa and Becky described their experience of being the only students at the conference. "I think the best feedback," Becky shared, "was that they loved how students were up there." She went on to explain that, in a conference geared toward educators, workshop participants enjoyed the fresh perspective the student presenters brought. The conference also opened her eyes to the amazing impact digital tools can have in education, and she appreciated the enthusiasm educators held in wanting to apply new digital skills. "A lot of people were very engaged throughout the presentation asking really amazing questions," Becky shared, "especially throughout the workshop portions. They just wanted to know exactly how it worked and how they could utilize it." Both Becky and Marissa shared that they felt intimidated by the educators at the conference, and sometimes wondered whether they had a place there. "There was so much terminology we didn't understand. I felt like I don't have a perspective on that, because I don't know what goes on behind the curtain for educators" Becky said. Marissa added to that point, saying "It was definitely intimidating at first, especially...teaching them how to use these creation tools," but went on to add that "as you get to know them [educators] and work with them, they have a lot of questions, like 'how do I incorporate this into my curriculum?'"
Implications for Future Projects
While IWAC demonstrated that universities across the country are actively helping faculty implement digital tools in their classrooms, Paige noted that DigiComm's work fills a need for student support that extends beyond the confines of JMU's immediate academic environment. "I was so encouraged to see how valuable DigComm's online resources are: there is a clear need for student-focused content to support academic digital project," she says. With regard to specific projects that can build on DigiComm's experience at IWAC, Paige suggested a potential partnership with CFI, the Center for Faculty Innovation. She pointed out that "This was all faculty in that workshop, and they really benefited from it, and I think part of that was getting to hear from the tutors' perspectives."