JMU Headlines
Opioid epidemic is health summit challenge
---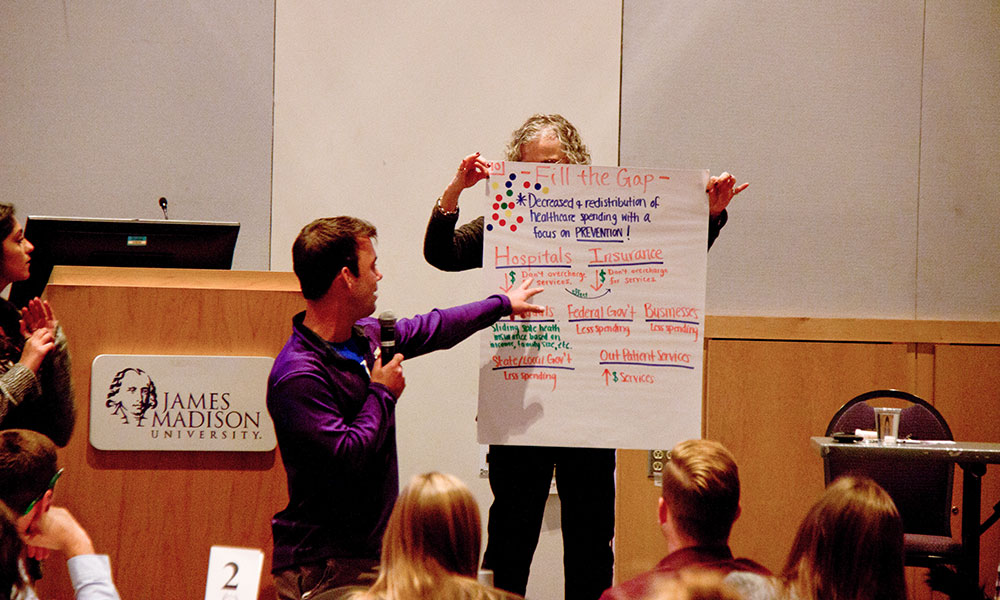 SUMMARY: Students tackled Virginia's health insurance gap at the 2017 Health Policy Summit.
---
What's the news?
Nearly 200 JMU students will work in interdisciplinary teams Monday, Oct. 15 to formulate solutions to the national opioid crisis and present their solutions to a guest panel of judges, including Del. Tony Wilt, R-26, and Bill Bolling, senior fellow in residence at JMU and former Virginia lieutenant governor.
Covering the event:
The students will begin their work at 9 a.m. in the Festival Conference and Student Center Ballroom on the JMU campus east of Interstate 81. Reporters may want to arrive at 10:30 a.m. for the presentations and to interview students about their experience.
Contact:
For more information, contact Laura Trull, assistant professor of social work, at trulllh@jmu.edu.
Additional information:
The summit, hosted by JMU's Health Policy Collaborative (http://www.jmu.edu/healthpolicycollaborative/), provides students the chance to learn how to work in interprofessional groups, advocate for their practice, gain perspective of other professions and communicate with and build rapport with policymakers.
Initiated in fall 2014 by the School of Nursing, the Health Policy Collaborative serves as a platform for innovating practical policy solutions and provides opportunities for students to engage in health policy discussions and experiential learning both inside and outside the classroom. HPC faculty come from the School of Nursing, the College of Business, and the departments of health professions; social work; communication sciences and disorders; and political science.
# # #