Science and Technology
JMU class wins Governor's Technology Award
---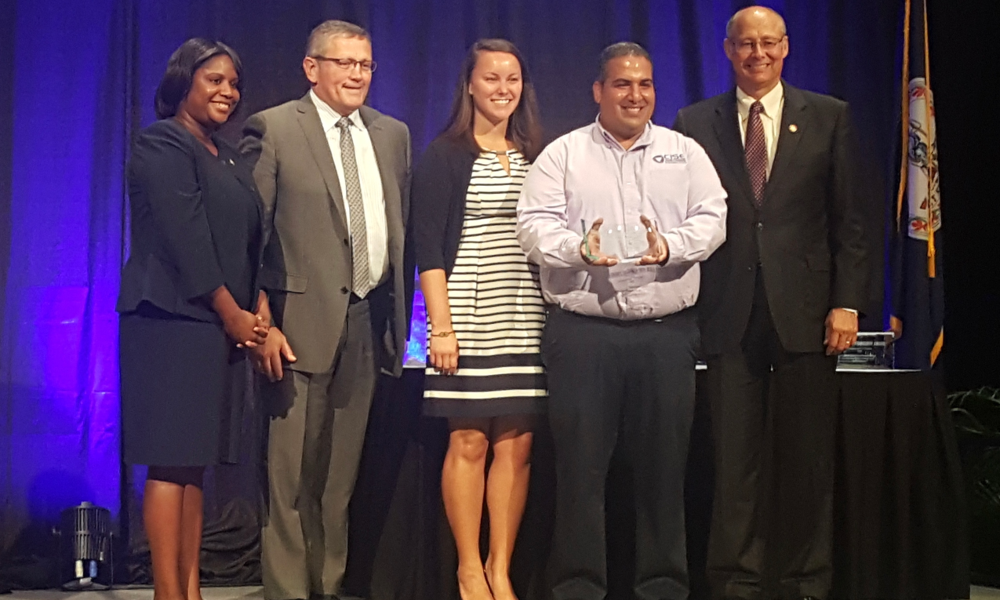 SUMMARY: JMU X-Labs' autonomous vehicle class was a winner of the award for innovative use of technology in educating students.
---
For the second consecutive year, JMU X-Labs received high praise from the governor's office Wednesday, Sept. 5 in winning a Governor's Technology Award. 
JMU X-Labs' autonomous vehicle class was a winner of the award for innovative use of technology in educating students. The award was announced in Richmond at the annual Commonwealth of Virginia Innovative Technology Symposium. 
In the first offering of the class in spring 2018, 22 students from various majors and two faculty members – none with any prior autonomous technology experience – successfully retrofitted a golf cart to navigate on its own in 15 weeks. In addition to being able to maneuver a course on its own, the cart could sense pedestrians and other obstacles in its path and safely stop without hitting them. The class will be offered again so students can improve on what the first class accomplished, and they will get a helping hand from a partner in the industry, Crozet-based Perrone Robotics. 
In its application for the award, JMU X-Labs staff stated, "The autonomous vehicles course developed at JMU X-Labs is a first of its kind in Virginia to offer undergraduate students the opportunity to work in multidisciplinary teams to build a self-driving vehicle. The course was designed to take the autonomous vehicle concept out of simulation and provide hands-on experience at the intersection of design, engineering, systems, software, controls and project management. Students successfully transformed a golf cart into a self-driving vehicle in 15 weeks—something that has not been done before with exclusively undergraduate students." 
To accomplish the project, the students used a combination of LIDAR, GPS and a high-resolution camera to make the golf cart drive completely on its own. They replaced the mechanical steering, brake and accelerator with stepper motors and linear actuators. 
In a congratulatory letter announcing the award, Jack Mortimer, national conference director for Government Technology magazine, stated, "This is no small achievement because the competition was even fiercer than usual. The panel of 12 judges from state, county, city and education faced a difficult challenge but your entry stood out as being clearly praiseworthy." 
JMU X-Labs, which is housed in Lakeview Hall, received the award in 2017 for facilitating cross-disciplinary courses where students address real world problems using a variety of technology.