JMU in the Community
JMU helps new air service aim high
---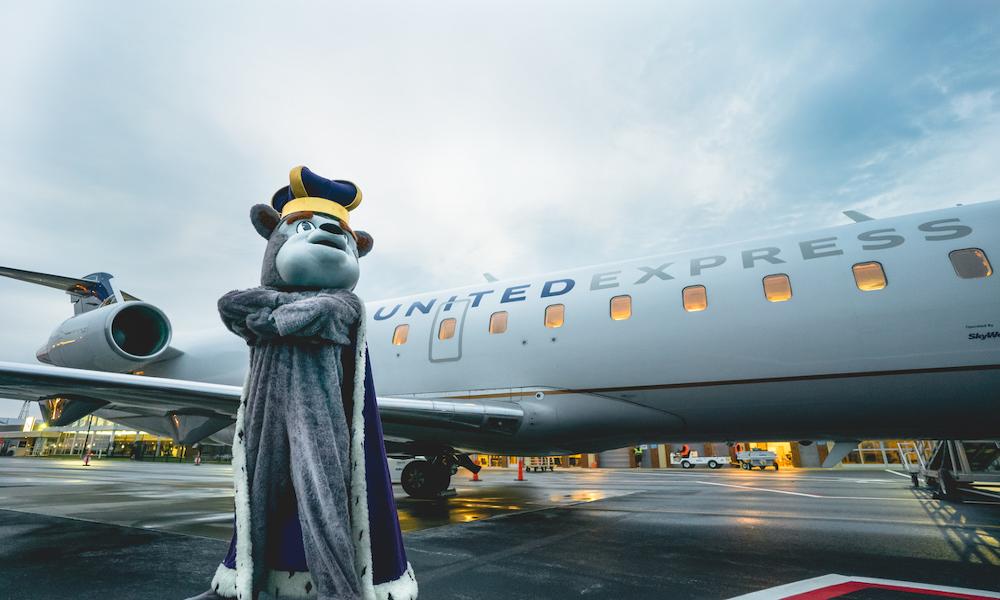 SUMMARY: Daily jet service from Shenandoah Valley Regional Airport to United's hubs in Chicago and Washington, D.C., will put local travelers within reach of hundreds of global destinations and help raise the university's profile.
---
James Madison University will be a pivotal player in the success of a new United Express jet service in the Shenandoah Valley.
SkyWest Airlines now offers daily service from Shenandoah Valley Regional Airport to United's hubs at O'Hare International Airport in Chicago and Dulles International Airport near Washington, D.C., putting travelers within reach of hundreds of global destinations.
JMU's presence was a key factor in Utah-based SkyWest's decision to enter the local market, said spokesperson McKall Morris. "For any new air service to be successful, you need strong players in the community and JMU is a big player. We see a lot of potential here in the Shenandoah Valley."
Universities are a big driver of air traffic, said Greg Campbell, executive director of Shenandoah Valley Regional Airport. "This new service is critical for JMU and its ability to attract students, faculty and staff, and really to raise the profile and grow the university over time. We think having this type of convenient, global access with a major airline partner will be a major benefit."
SkyWest launched the new service following a ceremony Tuesday evening at the regional airport. The company's first 50-seat Bombardier CRJ200 jet touched down about 7:15 p.m. and departed about an hour later for Dulles with 20 passengers on board, including JMU faculty members. The plane was scheduled to arrive back in Weyers Cave at 11:04 p.m. carrying, among others, JMU President Jonathan Alger and his wife, Mary Ann, who were returning from Texas.
The new service will allow JMU to further its own mission while also supporting the region.
"Being the national model for the engaged university means bringing in premier faculty, premier students and premier thought leaders from around the world," said Carrie Chenery, executive director of the Shenandoah Valley Partnership, a regional economic development group. "Having airport access is critical to make that a reality."
For prospective faculty and staff members, it's also a quality-of-life issue, Campbell said. "They want to be able to travel, to get to and from conferences and go places with their families."
Traffic at Shenandoah Valley Regional Airport has suffered in recent years under other carriers, but officials believe they have found the right partner in SkyWest, which has a reputation for reliability.
"For this new air service to be successful, it will require significant ridership," Chenery said. "We know that the population is here, but we also know that they're using other air services right now. So investing in our backyard, so to speak, and supporting this service is going to be significant.
"It certainly benefits JMU for this service to do well," she added, "and the university has the ability to influence that more than any other single entity in the valley."
Travelers may book flights at www.united.com or by calling United reservations at 1-800-UNITED1.
###