News
Students get the scoop on Arthur Moats
---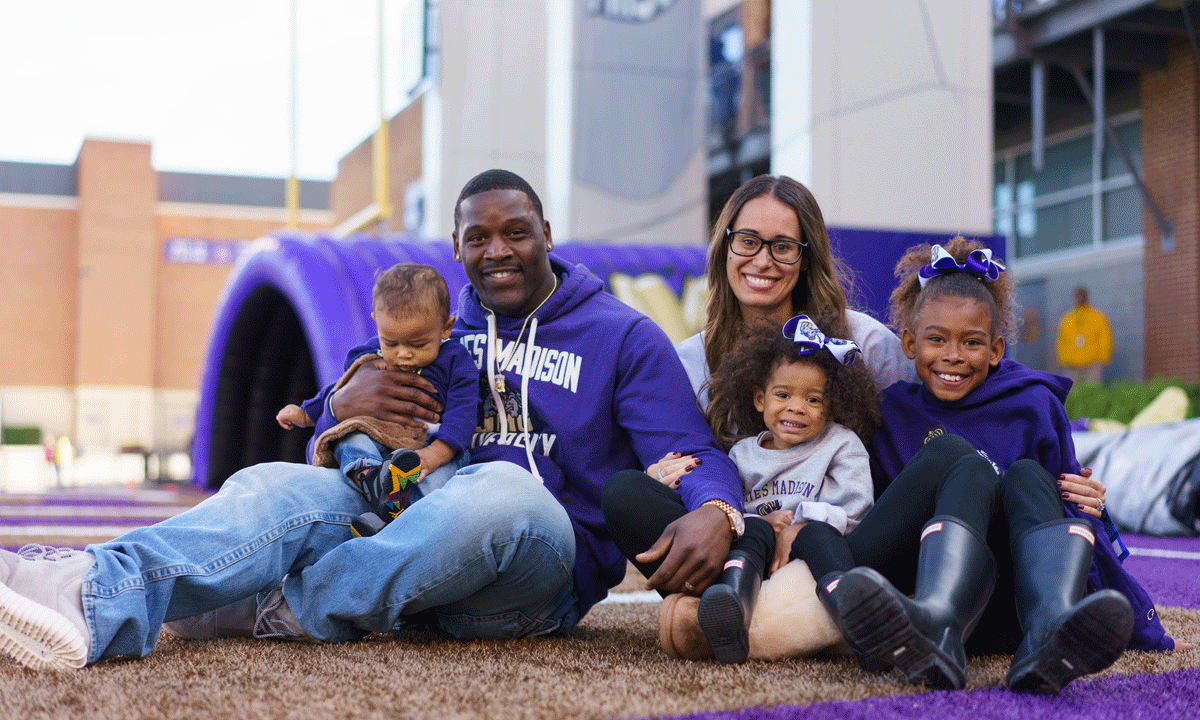 SUMMARY: Pittsburgh Steelers linebacker and commencement speaker, Arthur Moats, spoke with The Daily Duke about his career and his excitement for commencement.
---
This post originally was posted on JMU's student life blog, The Daily Duke.
A Few Words From Our Commencement Speaker- Arthur Moats
James Madison University announced at the end of February that the Pittsburgh Steelers outside linebacker and JMU alum, Arthur Moats, would be giving the 2017 Commencement Address. The Daily Duke was lucky enough to get a quick interview in with Mr. Moats where he talked about his time at JMU, his plans for his speech, and general advice to all students.
1.How did your time at JMU help prepare you for your career and post-grad life?
JMU helped prepare me for my career and post-grad life by teaching me the importance of being accountable and consistently performing to the best of my abilities
in all aspects of my life. Anybody can do something once, but to do it every time at a high level is what separates the good people from the great people and that's a lesson I'll always be appreciative of. 
2. What does it feel like to achieve your dream and make it to the pros?
 Achieving my dream of making it to the pros has truly been a blessing. I cherish every moment of it because I've sacrificed so much to reach it and there's no better feeling than achieving a goal you set as a child and worked your whole life to accomplish it. 
3. What is your personal favorite career achievement?
My personal favorite career achievement would have to be when I was nominated for the NFL Walter Payton Man of the Year Award for the second time in my career. Granted I don't do philanthropic work for recognition but to have been nominated twice by two different organizations for my work in that department just made me feel that I was truly making a difference in the world.
4. What made you want to give this year's commencement address?
The reason I wanted to give this years commencement address is because it gives me a opportunity to potentially give words to someone in attendance that would positively impact their lives. If what I say can reach one person and benefit them, then it'll be worth it. 
5. What do you plan on talking about in your commencement address? What is the overall message you want to get across to graduates?
In my commencement address I plan to talk about my journey to the NFL and how the lessons I learned along the way helped prepared me for it. I intend to encourage all the graduates by reminding them that everything they've experienced up to this point has more than prepared them for life after graduation and becoming a successful person. My overall message will be that all the graduates already have what it takes to be successful in life and all they have to do is believe in themselves and work hard to unlock their full potential. 
6. What are you most excited to see/do when you are back in Harrisonburg and on campus?
The things I'm most excited about doing when I come back to Harrisonburg are interacting with the amazing JMU students/staff and eating at Buffalo Wild Wings! 
7. What is your favorite JMU memory?
My favorite JMU memory is when I received my diploma. It took a lot of hard work to earn it, and even though it was prolonged by my becoming a professional athlete, I still made time and put in the work to achieve it. 
8. How do you stay connected with JMU as an alum?
The way I stay connected with JMU is through social media, making philanthropic contributions, and visiting as much as I can. JMU gave me so much both while I was a student and alumni, that I'm always trying to show my appreciation for it. 
9. If you could give one piece of advice to graduates what would it be?
The one piece of advice I'd give to the graduates would be don't worry about being perfect because it'll never happen. Just live your life to the fullest, take chances, and leave a positive impact everywhere you go! 
Congrats to all of our soon-to-be graduates! Don't miss hearing from Arthur Moats at commencement!