JMU News
JMU to honor May 2017 graduates
Commencement ceremonies planned for May 4-6
---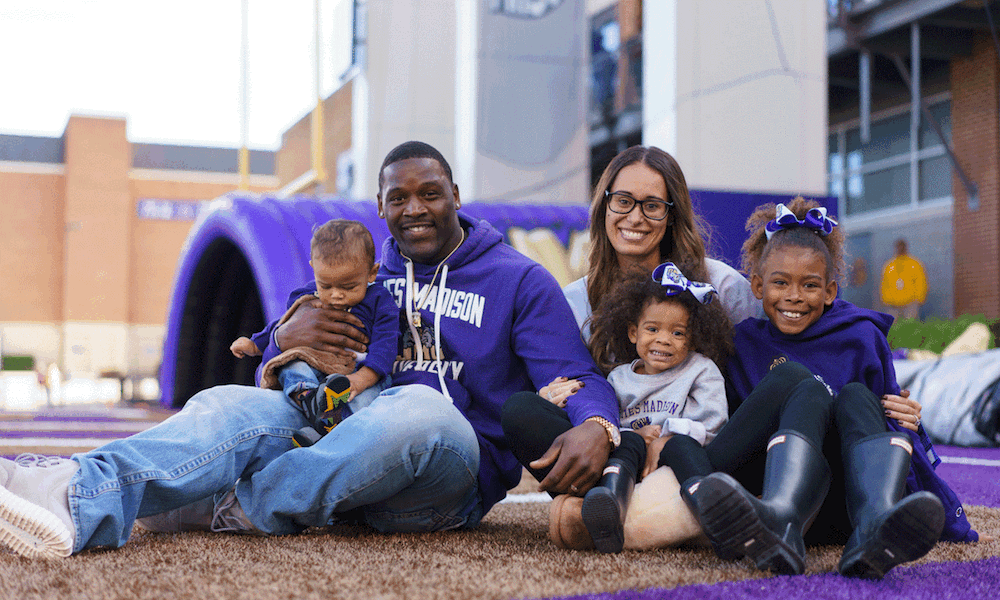 SUMMARY: Approximately 4,365 students will receive their academic degrees at James Madison University's May 4-6 commencement ceremonies, when the university welcomes Arthur Moats ('12), Pittsburgh Steelers linebacker, as guest speaker at the University Ceremony.
---
About Arthur Moats
In addition to being a Pittsburgh Steelers linebacker, Moats is a dedicated alumnus, devoted to serving JMU, the United Way, Ronald McDonald House Charities and other deserving organizations. Moats was named the Steelers' nominee for the Walter Payton Man of the Year award because of his extensive work in the community and his dedication to giving back. Arthur and his wife, Shonda, continue to play a significant role at JMU through their involvement with athletics and the arts.
In speaking with student writers from The Daily Duke, JMU's student life blog, Moats said, "In my commencement address I plan to talk about my journey to the NFL and how the lessons I learned along the way helped prepared me for it. I intend to encourage all the graduates by reminding them that everything they've experienced up to this point has more than prepared them for life after graduation and becoming a successful person." For more from Moats, read the full article here.
Degree and Ceremony Information
Thirty-two students will earn doctoral degrees, 12 will earn educational specialist degrees and 557 will earn master's degrees at The Graduate School ceremony at 7 p.m. on Thursday, May 4, in the Convocation Center.
Approximately 3,768 students will officially earn their undergraduate degrees on Friday, May 5, and Saturday, May 6.
On Friday, May 5, at 3 p.m., the University Ceremony will begin in Bridgeforth Stadium. This ceremony will include guest speaker Moats, a student speaker, a faculty speaker and involvement from the JMU Alumni Association.
Other individual college ceremonies for Friday, May 5 include the Honors College Ceremony at 12:30 p.m. at Festival Ballroom and the College of Business at 6 p.m. at Bridgeforth Stadium.
The university will award all other undergraduate degrees at college ceremonies at 9 a.m. Saturday, May 6, at the following locations:
The College of Arts and Letters – The Quad

The College of Education and University Studies – Convocation Center

The College of Health and Behavioral Studies – Bridgeforth Stadium

The College of Integrated Science and Engineering – UREC East Campus Field

The College of Science and Mathematics – Alumni Centennial Park

The College of Visual and Performing Arts – Duke Lawn
As part of the commencement celebrations, a private pinning convocation and reception for 154 nursing graduates – 91 BSN, 38 RN-BSN, 24 master's and 1 DNP – and their guests will be held in on Friday, May 5.
Fifteen ROTC cadets will receive commissions as Army second lieutenants at 2 p.m. on Saturday, May 6, during a ceremony in Memorial Hall Auditorium, where the graduates and their families will be joined by guest speaker Major General John B. Morrison, Commanding General, NETCOM.
For more details and parking information, visit the commencement website at www.jmu.edu/commencement.