JMU News
A fine balance
---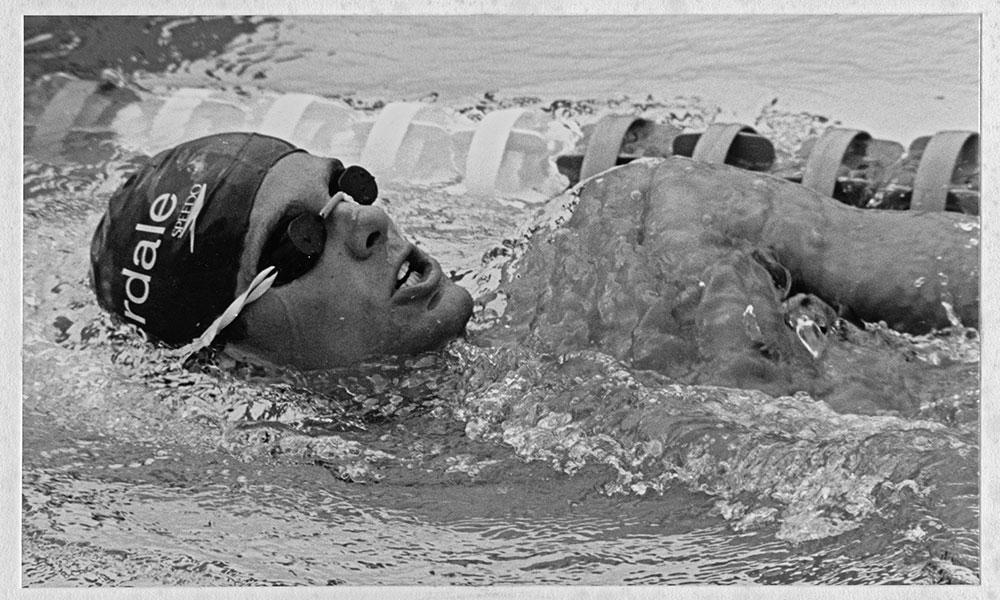 SUMMARY: For biology professor Mark Gabriele ('95) the many intangibles of a successful career and personal life have athletic components.
---
From Spring/Summer 2017 Madison
Ask JMU biology professor Mark Gabriele ('95) to sum up what he gained from his undergraduate days at Madison as a biology major and a member of the men's swimming and diving team, and he doesn't hesitate—"Everything," he says. "Those years as a student-athlete were some of the best years of my life. They're forever in my heart."
It would be natural to assume that his nostalgia is due to the accolades he earned in the pool. Gabriele won eight individual CAA titles, and his relay teams won 14 conference crowns. He competed during a period when JMU won nine of 10 CAA championships. In 2006, Gabriele was named to the JMU Athletics Hall of Fame.
However, there is far more to Gabriele's student-athlete experience than a winning record.
'The competitive nature and the work ethic of athletics helped me professionally.'
The Baltimore native chose JMU for a very specific reason: "I knew I wanted to swim in college, and I was looking for the right balance of athletics and academics," he says. JMU was attractive because of its undergraduate focus and opportunities to form meaningful relationships with professors. And there was real attraction on the athletics side as well. "Athletically, I wanted to get better and be a part of a program that was more than swimming but had a sense of family." He found that at Madison.
As freshmen, Gabriele and his teammates came into a program that had not seen a lot of success. New to campus, they nonetheless were ready to be leaders. "We wanted to set a new standard," he says. The group focused on work ethic, accountability and dedication to build a culture that they thought was vital in and beyond the pool. "We determined that how we carried ourselves outside the pool was equally or more important—that meant around campus, at a party, on the road, at competitions. We knew we were representing JMU. … We coined our philosophy 'Duke Dog Pride,' which has become an enduring motto for JMU Athletics."
His academic career was equally rewarding. "I was always curious about nature, the stars, the complex interplay of patterns in the universe," he says. That curiosity spread to his wonder of the human body after taking a JMU anatomy class, and he benefited from the mentorship of faculty members such as biology professors Sharon Babcock and Steven Keffer. Ultimately, Gabriele went on to earn a doctorate in neurobiology and anatomy at the Wake Forest University School of Medicine.
For Gabriele, the many intangibles of a successful career and personal life all have athletic components.
First and foremost, he says JMU's emphasis on being not just an athlete, but a student-athlete, taught balance. "I had to take academics seriously so I could matriculate into a graduate program," he says. And, learning balance translated professionally to his life as a career faculty member. "JMU encourages its faculty to blend teaching, scholarship, service and outreach. I mentor students in my research lab, as well as embed research activities in my teaching. All are important—including establishing a healthy work-life balance."
He also credits athletics with developing a powerful work ethic. "Division I athletes make major sacrifices with time, their bodies and their minds," he says. "There's something to be said for showing up even when you don't want to and having a positive energy nonetheless, and that certainly applies professionally and personally."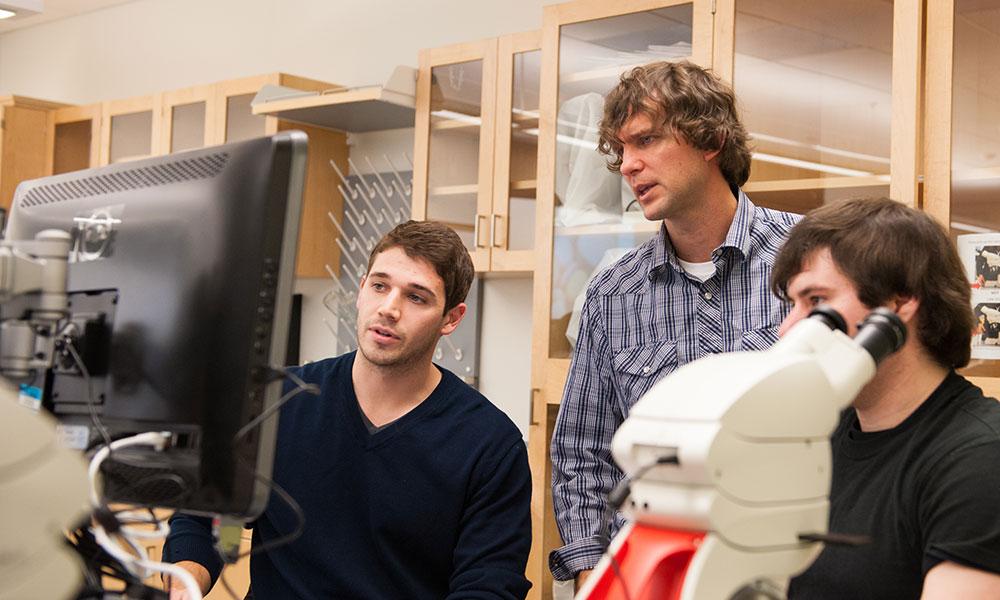 "The true mark of my career is all the students that I've trained who have gone on to be scientists or health care practitioners, and all the amazing things they have achieved," says Gabriele.
As a developmental neuroscientist, Gabriele's research focuses on the development of the auditory system. He acknowledges the contribution that the competitive nature of athletics has made to his professional success. "If you want something really bad and set high goals, you may not achieve it the first time," Gabriele says. "I didn't quality for NCAAs, the pinnacle meet, until my senior year. It's the same mentality that's important in my scholarship. Science is highly competitive. To secure grants and funding, you have to be resilient, you have to take criticism and respond to it in a positive way."
While his professional successes have been rewarding, Gabriele says that the best part of his job is not what he has contributed to the sciences. "The true mark of my career is all the students that I've trained who have gone on to be scientists or health care practitioners, and all the amazing things they have achieved," he says. In fact, just as Gabriele benefited from the mentorship of professors as an undergraduate at JMU, today he offers his students similar opportunities for growth through shared research and outreach activities.
"My students work on the circuits that encode hearing and how patterns of connection in the developing brain establish and fine-tune our hearing," says Gabriele. "Hopefully, that understanding can, one day, inform better treatment strategies of certain disease states."
Gabriele's experiences as a student-athlete and his exposure to the sciences as an undergraduate have come full circle. He typifies the essence of JMU's culture of faculty-student collaboration. Many high-achieving Madison students and alumni cite his mentorship and collaboration as foundational to their own success.
And, Gabriele says, that, too, has roots in lessons he learned as a student-athlete. "When students mention my name, I suspect it's less about what I taught them in science and the classroom and more about what I taught them about the importance of balance—study hard, make time for play, make time for people."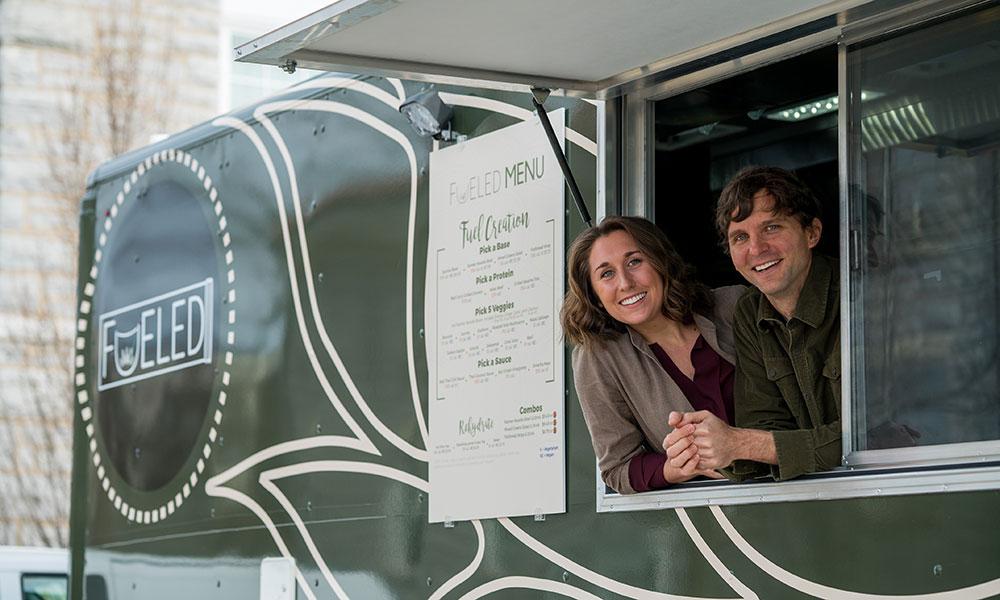 Gabriele's collaboration with students goes far beyond the classroom. Impressed with Amanda Presgraves'('16) idea for a food truck on campus that was student-run and promoted health and sustainability, he volunteered to work with her to bring the project to life. Now, the food truck is operational, and Gabriele is co-teaching The JMU Fueled Project. The course offers students from different disciplines the opportunity to continue to innovate and enhance this unique initiative. (Above:) Presgraves and Gabriele in the Fueled food truck. (Below:) Joel Salatin from PolyFace Farms, a pioneer in eco-farming methods, answers questions from students. Gabriele is in the top left corner.
Watch the launch of Fueled.
Published: Thursday, May 11, 2017
Last Updated: Thursday, June 8, 2017