'Dr. Gabbin will see you now'
Sean Tobin ('92), Joanne Gabbin and the importance of realizing one's gifts
Education
---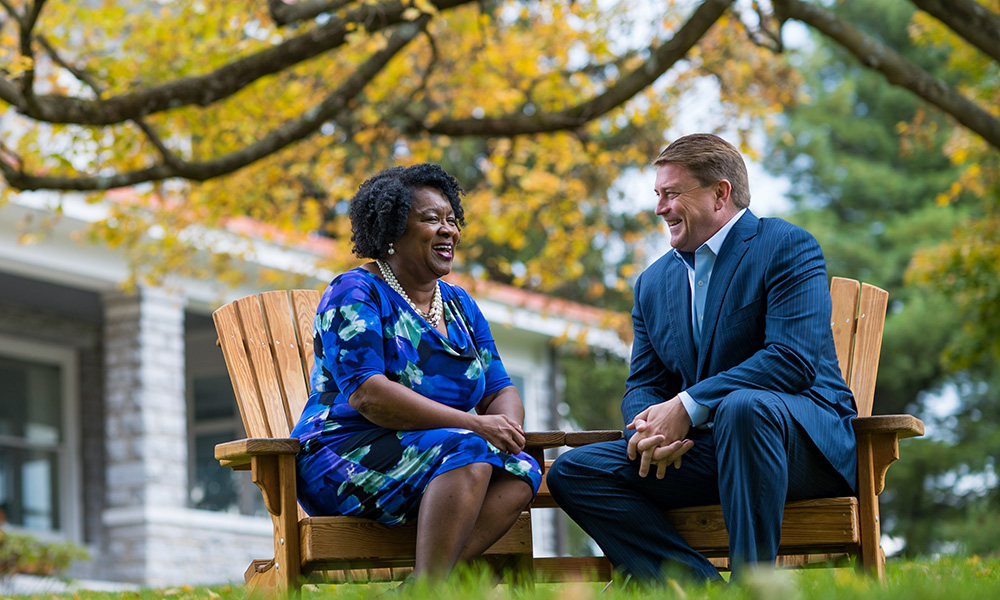 SUMMARY: Out of gratitude for professor Joanne Gabbin, Sean Tobin ('92) and his wife, Michele, established a planned gift in her honor.
---
"2.3."
For Sean Tobin, the puzzled look he received in response to the question about his GPA should have been a clue.
"You must mean 3.2," said the administrative assistant.
"Nope. 2.3."
"Dr. Gabbin will see you now."
When Tobin sauntered into Joanne Gabbin's Hillcrest office, he was about to meet someone who would change his life.
"So, Mr. Tobin," said the director of JMU's Honors Program. "Tell me about yourself."
A gentle letdown
"I came into JMU like most kids who go from having 400 people in their class to suddenly having 2,500," Tobin remembers. "I was shell shocked from having to live, eat, get to and from classes without help from my family. But I was fired up for all the experiences that JMU offered. … My first semester, I took five Honors classes and a sixth non-Honors course. I pledged my fraternity and was pledge class president. I helped teach a karate club. … I volunteered on campus, helping adults in the community [with] math and English. … I was constantly busy and did not leave enough time for my studies."
Tobin struck Gabbin as "a real personality. … Beyond being a good communicator, Sean was one who could sell you anything," she says. It didn't take long for the director to realize she was listening to a talented student who was not meeting his potential.
By the time Tobin reached his junior year, Gabbin had to be honest with him—and let him down gently.
'I knew right then I had to be better, as a man and a human, because this woman believed in me. And I was not going to let her down.'
— Sean Tobin ('92)
"I'm sorry, Sean," Tobin recalls Gabbin saying, ''but mathematically you simply cannot get your GPA above the required 3.25 level by the time you graduate.'' He had to leave the Honors Program.
Tobin's reaction, by his own admission, was nonchalant: "I was a 20-year-old kid, full of false bravado. And [I] shrugged it off with, 'OK, that's fine.' That's when Dr. Gabbin let me know: 'No, it is most certainly not fine. Sean, you have real gifts. You cannot squander them.'" "Aside from my mom," Tobin says, "Dr. Gabbin was the first person who ever really said that to me. I thought, 'I have gifts?' Her words were important. They made me look at myself in a new light—to demand more of myself, to be more confident in these 'gifts' this incredible woman thought I had."
Inspired by Gabbin, Tobin earned a finance degree from the College of Business and started a successful career with Lehman Brothers. Today he is a managing director of cross rates sales and runs Deutsche Bank's San Francisco office.
Returning the favor
For some students, the story ends here—graduating and never looking back.
"I was one of 10,000 students," he says, "yet Dr. Gabbin made sure I realized she believed in me. You know how important that is to a young person? To think someone met you, just you … and thinks this highly of you? It blows your mind. But it also sets you up to say, 'OK, I need to live up to this. I need to succeed—and then I need to give back so that other students know that someone cares about them.'"
For more than a decade, Tobin has generously given his time to the CoB's Board of Advisors and regularly participates in experiential learning trips for students in San Francisco and New York City. He has mentored more than a dozen students, helping many jumpstart careers, offering some of the same advice he received from Gabbin. He has supported athletics, academics, the faculty, scholarships and the arts.
A program to lift all boats
Out of gratitude for Gabbin and his life-changing experience in and out of the Honors Program, Tobin and his wife, Michele, established a planned gift in her honor. The Dr. Joanne Gabbin Professorship in the Honors College is the first professorship in JMU's newest college. Tobin hopes the professorship will perpetuate in future faculty members the kind of caring and high expectations that Gabbin exemplifies.
"I hope," Tobin says, "future students have a 'Joanne' in their lives."
When Gabbin first arrived at JMU to join the English department faculty, the Honors Program consisted primarily of a senior Honors thesis program.
"I wanted to expand it and to make it a program that was welcoming to freshmen as well as those students who had already matriculated and had the GPA," says Gabbin, who became the director in 1986.
The program grew and embraced more students. As Gabbin stresses, "[The Honors Program] was prestigious but not elitist—it was one that rewarded students for working hard."
For Gabbin, the program represented even more than helping students achieve. It was an opportunity to create a rich and diverse university community.
One of Gabbin's first steps was creating an annual fall Honors banquet that featured an outstanding Honors faculty member and gave Honors students, especially those new to JMU, an opportunity to meet and mingle. She also initiated a brown-bag lecture series.
"If there was any place on the campus that was truly interdisciplinary," Gabbin says, "it was the Honors Program.
It was a program that lifted all boats."
"The Honors College of today is built on the elements Dr. Gabbin introduced," says Dean Bradley Newcomer, "like faculty mentorship, interdisciplinary learning, motivated students who work hard to earn an extraordinary education, integrating Honors into the fabric of everyday life of the university, all while rejecting a culture of elitism. She led us to where we are today and has given us a solid foundation to implement an even more ambitious vision that will help raise the academic prestige of the entire university."
Now the scholar who changed Sean Tobin's life and breathed life into Honors will be honored in perpetuity through Tobin's generosity. "Someone like Joanne needs not only to be remembered," Tobin says, "but celebrated."