News
We can solve this!
Young students creatively solve hands-on challenges at workshop run by JMU students.
---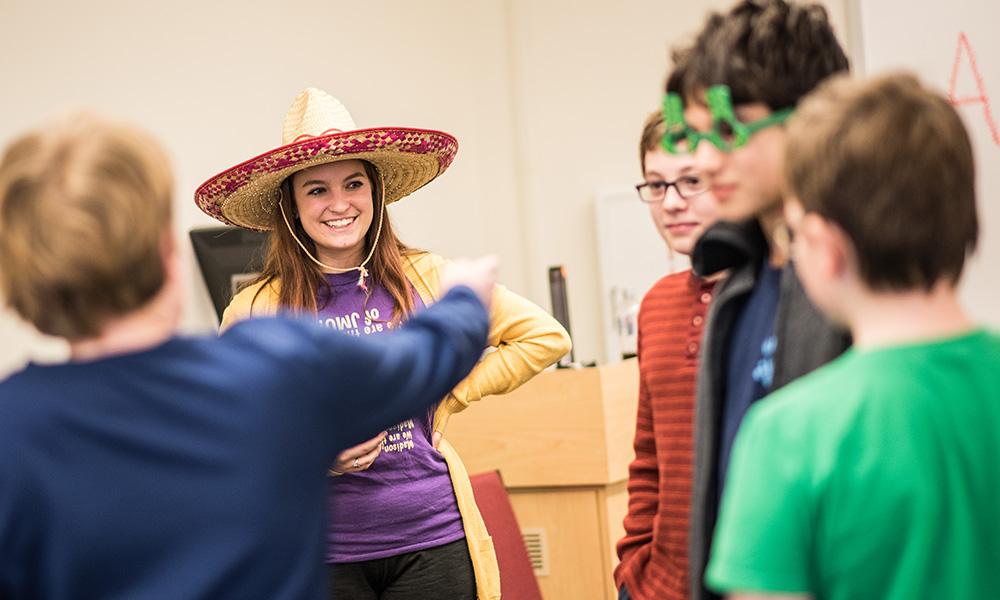 SUMMARY: STEAM-based Destination Imagination workshop allows students to work together towards a common goal using an unconventional learning format.
---
"We've all gone mad here," were the words used by Ariana Dellinger ('18) to describe JMU's Destination Imagination (DI) "instant challenge workshop," which hosted over 100 children in east campus' Integrated Science and Technology building for an interactive problem-solving experience. Ariana was explaining to the children how DI members wear crazy hats to inspire open-minded creative thinking.
The award-winning collegiate-level DI team, which participates and competes on a state and global level, annually invites younger DI teams to get a taste of what an actual competition might look like.
"The biggest thing is learning how to problem solve and helping the students understand ways to work together as a team," explained Dellinger, a communications science and disorders major at JMU.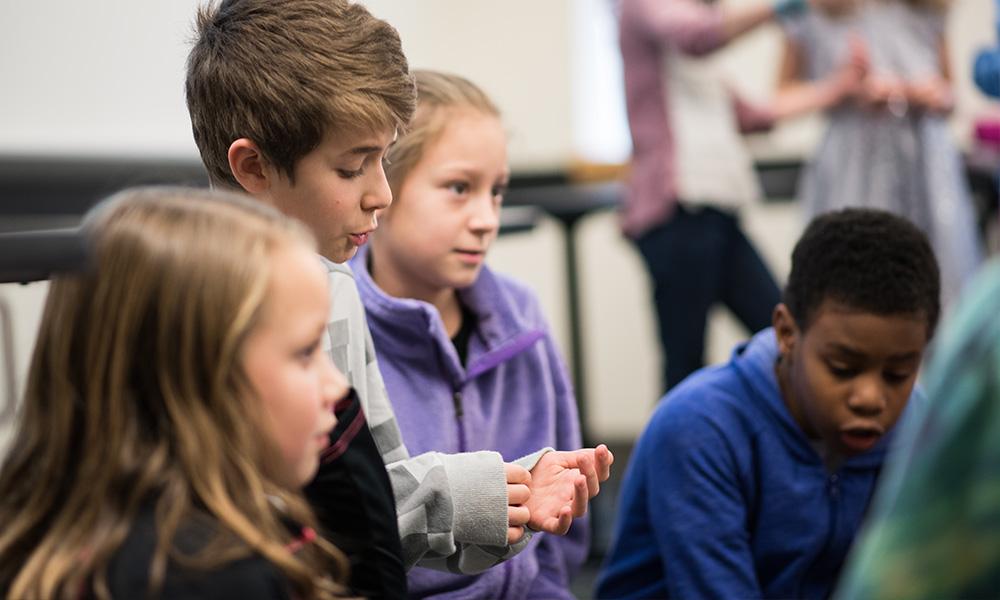 Occasionally, participants are provided materials such as tin foil or balloons to incorporate into their skits. If they creatively use the supplies, the team is awarded a higher overall score. Photo: Chase Conrad Maszle
At this "instant challenge workshop," students team up and break out into different rooms, all containing a themed challenge. This year, the JMU students based most of their practice challenges on the global themes that Destination Imagination created for this year's academic challenge program, including "top secret," "encryption," "fable" and "color" to name a few.
Each challenge is led by a JMU student who shares the challenge, requirements, supply list and scoring guidelines. Then teams go to work -- either building a structure or creating a skit.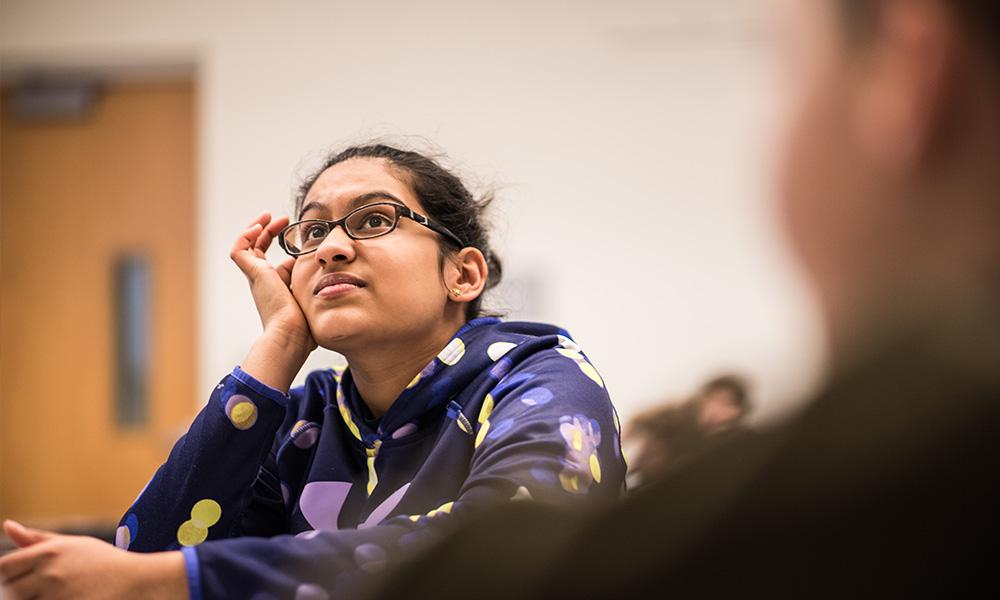 Students are only given a few minutes to decide how to solve each instant challenge. Photo: Chase Conrad Maszle
"It's really about having students interact with fellow team members who see the same challenge but with a different perspective."
-Ariana Dellinger ('18)
"It's really about having students interact with fellow team members who see the same challenge but with a different perspective," Dellinger added.
Plus, younger students hear feedback from the JMU students, which comes in the form of tips and tricks to assist in higher overall scoring.
Faireen Lalani ('18), an economics majors insists, "DI helps us use our brains in a fun way that indirectly helps to solve problems in very dynamic and creative ways." JMU team members benefit as much as the younger students they are coaching.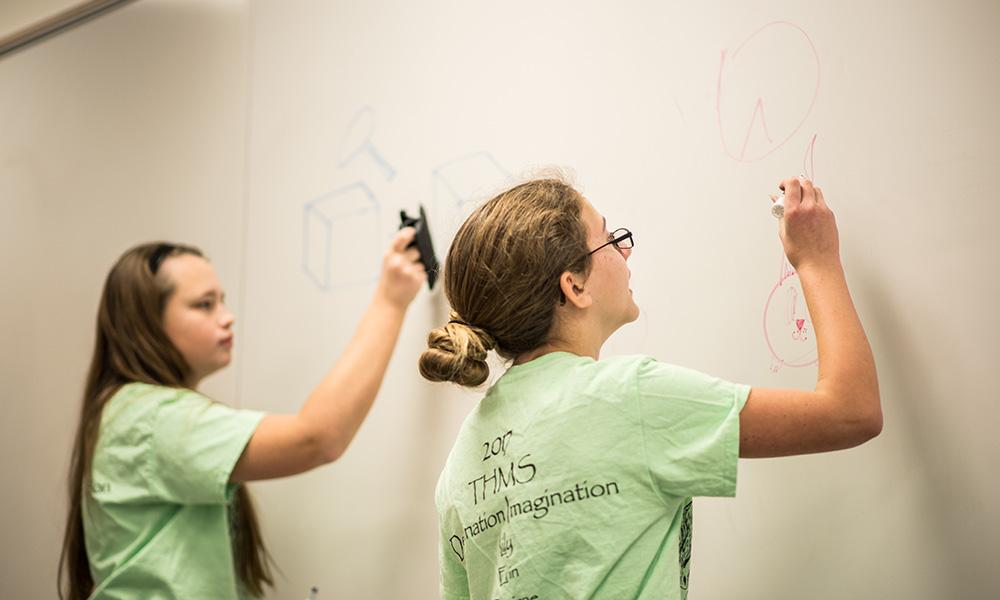 Challenges are varied throughout the workshop, some requiring students to work side-by-side using available resources such as the classroom's whiteboard. Photo: Chase Conrad Maszle
"They are the future of our country, and of the world," Lalani explained. "If you plan today, you get the return in the future. They're going to give us a return when they grow up, and do a fantastic job for our country and the whole wide-world," Lalani exclaimed.
Alex Pickens ('18), pursing a double major in English and economics, has been in DI for the past year.
Pickens explained, "There are several ways you can do Destination Imagination: you can do it for credit through ISAT and Engineering, but I have done it in Honors, and I know someone who did it in communications, and in art. So, it pretty much covers the entire campus."
Having been to global finals once already, Pickens emphasized that, "You can have fun while you do things that are scientific." He argued that young learners love the DI format emphasizing, "It has more appeal to them, and it helps them think beyond their normal culture."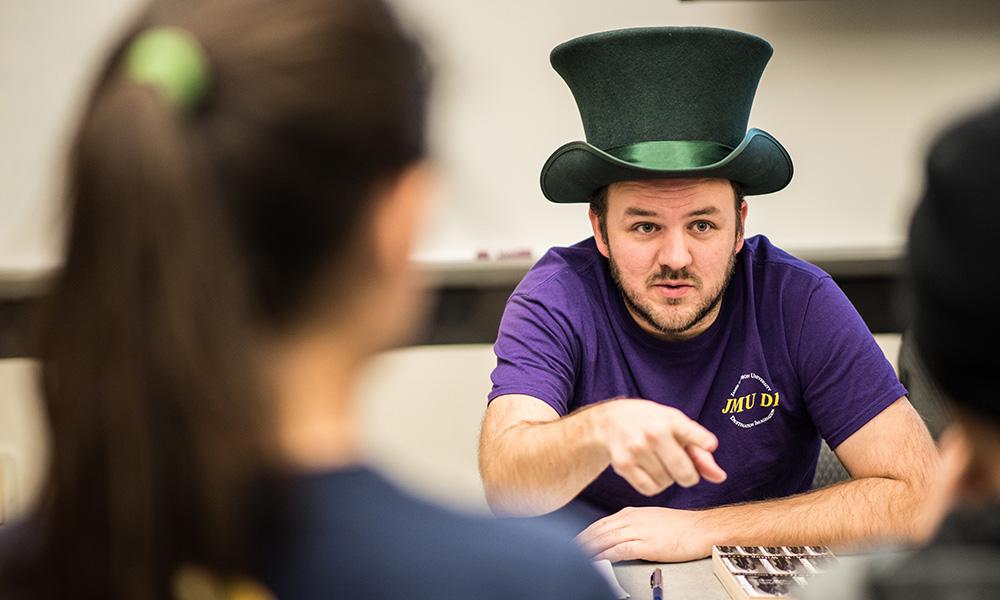 Alex Pickens ('18) provides feedback to students, giving them tactics for working together more productively. Photo: Chase Conrad Maszle
Pickens is convinced that he would recommend DI to students because, "it is just so much fun, and because it challenges you to think in different ways with different majors, different backgrounds, different areas of expertise: science, art, rhetoric.
"Like Einstein said, 'Imagination is more important than knowledge,' and I think there is a reason for that," Pickens laughed. "Kids don't like to be told what to do, and what to think. So a lot of imagination is trying to come up with an alternate sort of world that helps explain our world and think of new ways to approach problems."
That is exactly how JMU's Destination Imagination team hopes to change the world, inspiring future globally-engaged citizens -- all while they wear their fun and crazy hats.
---