Education
The transformation into myself
Dr. Gabbin saw my potential
---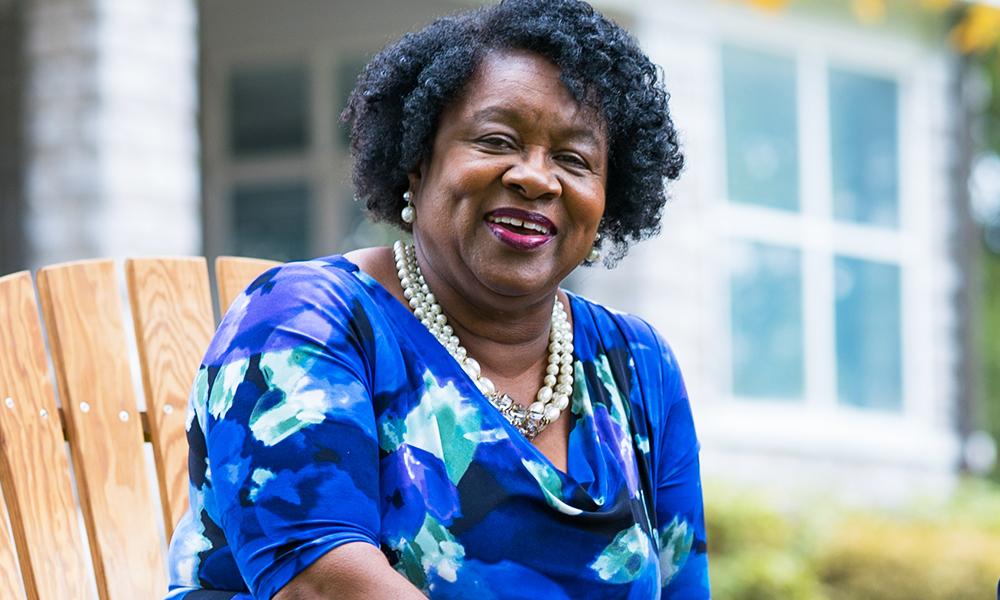 SUMMARY: In 2002, Kisha Hughes took her first English class at JMU, a survey of African-American literature with professor Joanne Gabbin. It proved to be a pivotal moment for Hughes.
---
By Kisha Hughes ('07)
In September 2014, I walked into the Festival Student & Conference Center for an evening poetry event. As I got closer to the ballroom, I heard Prince's Kiss spilling out into the lobby. Once I was through the doors, I saw a dance party in full swing. Forget whatever ideas you have about poetry readings or solitary writers huddled over their notebooks. Dr. Joanne Gabbin, JMU English professor and organizer of the Furious Flower Poetry Conference, met my eye and shimmied toward me, beckoning me onto the dance floor. Former U.S. poet laureate Rita Dove was doing The Wobble. American Book Award winner Jericho Brown started the electric slide. MacArthur Fellow (genius) Ishmael Reed busted out the Dougie. Small groups broadened into a giant circle: two student poets were channeling Kid and Play. Laughter rose over the music.
I thought to myself, That's poetry in motion.
Kisha Hughes has continued to return to JMU to teach at the Furious Flower Children's Poetry Camp each summer. Above, Hughes works with kids during the 2016 camp.
In 2002, I took my first English class at JMU with Dr. Gabbin, a survey of African-American literature. The only freshman in the class, I began to sweat as we reviewed the syllabus. This would be hard work: I wasn't sure if I could do it, but Dr. Gabbin's warm demeanor made me feel capable. It's one of her many gifts: she sees potential in a person where they do not yet see it in themselves. My sense at the time was that this was the beginning of something significant. What I've come to understand is that this was the moment I would begin the transformation into myself.
"Dr. Gabbin continues to believe in me and to encourage me professionally and academically, as a teacher and as a person. I can't speak to anything being more significant than this to describe what JMU can do for a person."
Something I love about JMU is that everyone can find their place. At first, the campus and the whole college experience seems overwhelming, but with a little exploration you can find your niche. Furious Flower was my niche. As I continued my English studies, I found myself drawn to poetry readings, plays, concerts and art galleries. I made my home with the artists. I created and shared my own poetry in a number of events. I shared my work at a reading at Barnes and Noble; I took advantage of the Open Mic Nights at Taylor Down Under. As I made friends with other writers, they began to ask me to read at events on campus. Previously, I'd considered myself a wallflower, but as I pulled my roots away from the wall and let them grow into legs, I found a new awareness. I became aware of the power of sharing my voice and experiences with other people.
In 2004 while I was taking a class on intersectionality in Black poetry with Dr. Gabbin, she introduced us to the writer, artistic director and director of A Blossom in the Whirlwind, which would be presented at JMU later that year. The play explores Shakespeare's "Dark Lady" by weaving her story through the traditions, literatures, songs, and poetry of Black Americans. I became the stage manager for the play as well as acted in it. This was the first time I'd worked in such an intense, collaborative way with a group of people. We danced to poetry, we recreated a slave ship with our bodies, and as the play came to an end, the new Black poets emerged: myself and two other students read our own poetry. This allowed me not only to connect with the literature I was reading and discussing in class, but also to connect to myself.
"Something I love about JMU is that everyone can find their place. ... Furious Flower was my niche. "
Dr. Gabbin later introduced me to Amiri Baraka and Sonia Sanchez's works. These great writer/activists are considered the mother and father of the Black Arts Movement that began in the sixties. The passion, protest and love in their poetry drew me to their words, and while I was a student at JMU I was not only able to hear them in person, but I was able to meet them during one of Furious Flower's signature conferences. Sonia Sanchez called me sister. Amiri Baraka teased me about my name. I connected with poets I'd read in class, and I connected with poets who were new to me. I connected to the education I was receiving. It felt like history was in front of me instead of behind me.
Joanne Gabbin, executive director of the Furious Flower Poetry Center, talks to participants at the 2016 Children's Poetry Camp.
Graduating from JMU didn't break the connections. When I visited Dr. Gabbin on campus that summer of 2007, she asked, "What are you doing this summer?" When I laughed, saying I'd need to find a job, she smiled but responded very seriously. "You're going to teach. I want you to be a teacher at the Furious Flower Poetry Camp." Then I did what I always did when she suggested I do something: I agreed.
Ten years post-graduation, I still teach at the camp each summer. Though it started out in 2005 with just ten campers, the weeklong program has grown to an average of 80 campers. At the beginning of August, children ages seven to thirteen visit Memorial Hall each day, embarking on a week-long journey through music, poetry, movement, art and storytelling. New kids might arrive nervous and uncertain, but by the end of the first day, it is difficult to tell them from the old-timers. There's something about the spirit of camp and the people who help it run that transforms everyone in attendance into family.
"Dr. Gabbin continues to believe in me and to encourage me professionally and academically, as a teacher and as a person."
Working with the children at this camp gives me room to experiment and to try new things. There is no hiding, no running away even when it's difficult, even when I am tired. Memories of my first time teaching are a blur, but I do remember that when the week was over, I couldn't stop crying. What started as a few sniffles turned into a deluge. I was sad and I was proud of myself. I was going to miss the kids. There was so much more that I wanted to do. To date, I've taught classes from journaling to making poetry quilts. I've been at camp long enough to see some of my students become counselors and one has even become a teacher at the camp. I've watched these children go to high school, graduate, go to college and come back to visit us.
Hughes says she has watched her poetry camp students grow up over the years. "Some of my students [have] become counselors, and one has even become a teacher at the camp.
Every year since, I've promised myself that I won't cry at camp, but I do. Every year something or someone moves me. In the summer of 2016, it was a student who barely spoke to me or her classmates. She was always engaged in the activities we were doing, which were all designed to help create a unique, fictional world, but she was so quiet that I worried that she needed help and was afraid to ask. On the day before our last day, I asked students to hand in the stories they'd created so I could type them up and add them to our final project, a published collection. When I read this young woman's story for the first time, I was in awe. She created one of my favorite tales—an origin story about how the sun rises and sets in a world called Kellek. My heart swelled with pride. Moments like that and students like her are why I come back year after year.
Furious Flower has grown me and shown me. It has been home since I was a freshman. Dr. Gabbin continues to believe in me and to encourage me professionally and academically, as a teacher and as a person. I can't speak to anything being more significant than this to describe what JMU can do for a person.
About the author:
Kisha Hughes lives in Richmond and is a library technician at the Army Logistics University Library.
Read more about JMU professors and their profound influence on the lives of their students at jmu.edu/professorsyoulove.