Arts and Culture
Opera, unexpected
Alumnae encourage scholarship winner Raiquan Thomas to study classical music
---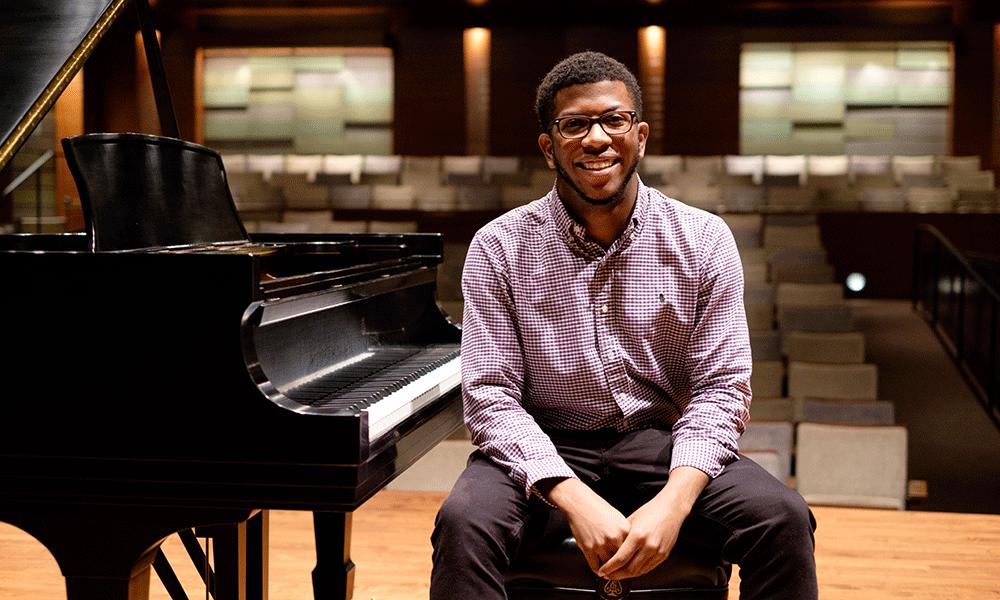 SUMMARY: It's a long way from the Boys & Girls Club in Portsmouth, Virginia, to the Metropolitan Opera House in New York City. For Raiquan Thomas, the journey continues, fueled by scholarship support from JMU.
---
From the October 2016 digital issue of Madison.
When 9-year-old Raiquan Thomas sang Boyz 2 Men's "A Song for Mama" for a Mother's Day celebration at his local Boys & Girls Club in Portsmouth, Virginia, he brought the audience to tears. "I didn't know I could sing that well. I was shocked," he says. But the experience didn't focus him on a serious music career.
That would come later.
Throughout middle school and into high school, Thomas kept singing, played in the band and "learned what music was." His musical aspirations were tied to thoughts of being a rhythm-and-blues singer.
It was JMU alumna Susan Heely ('75), his high-school chorus teacher, who encouraged Thomas to sing classical music and audition for the Governor's School for the Arts. "I was scared," Thomas recalls. The prestigious school attracted young people who were totally unlike his neighborhood friends. He remembers going to the audition, looking at the pool of talent and saying to himself, "I'm different from these people."
The judges saw a difference in Thomas as well, but it was his exceptional talent that caught their attention. His audition won him an immediate invitation to enroll in the school. "They took me in a semester early," he says. "I didn't know how big this was — that I was embarking on a crazy journey."
Thomas admits to being intimidated by the opportunity. "When the director of the program gave me an opera score, I said, 'I'm not an opera singer,' and he told me, 'Yes, you are.'"
"at JMU there's an atmosphere of support, a desire for everyone to get opportunities. It has helped me grow as an artist, concentrating on my craft, not on the competition."
Another Madison alumna, Shelly Milam-Ratliff ('06), was Thomas' voice teacher at the governor's school. "Without her, I would not be here," he says.
Impressed by the quality of the Madison alumnae who had coached and trained him, Thomas was drawn to consider JMU's undergraduate music program. "When I met [voice professor] Kevin McMillan, it clicked. I'm supposed to be here," he says.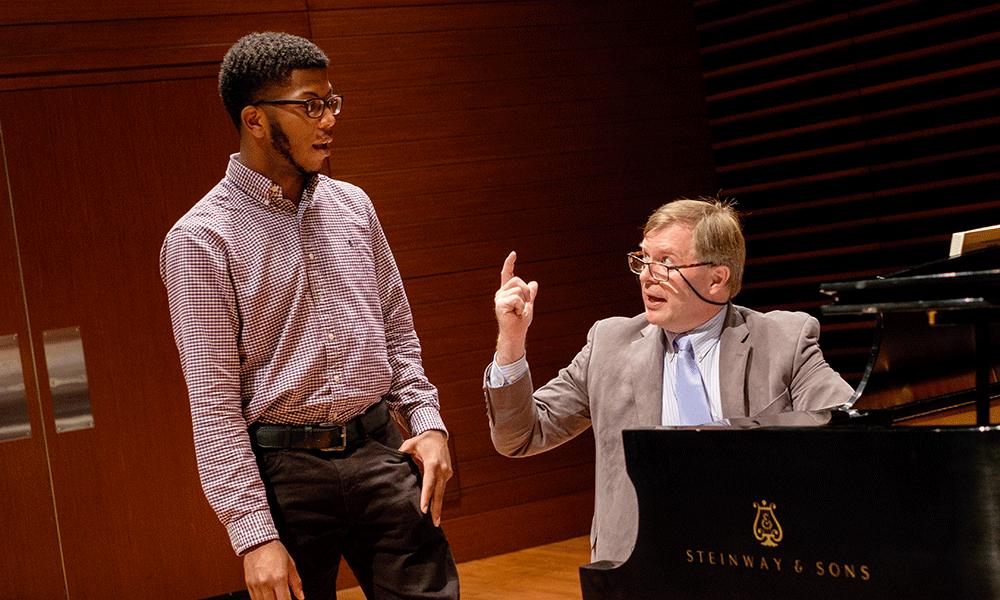 Thomas credits voice professor Kevin McMillan with teaching him how to manage his vocal talent.
He credits McMillan with grooming his raw talent for singing. "He has taught me how to sing. We're constantly working on the voice. He knew what I could do, but I didn't know what I could do. Today, there's a big difference in my voice because he taught me how to manage it."
A typical day for Thomas encompasses classes in music history, theory, piano and opera, and serving as music director of the a cappella group JMU Overtones and as bass scholar at Emmanuel Episcopal Church in Harrisonburg.
"At many conservatories, there is an extremely competitive environment," he acknowledges. "But at JMU there's an atmosphere of support, a desire for everyone to get opportunities. It has helped me grow as an artist, concentrating on my craft, not on the competition."
The first of his family to attend a four-year college, Thomas is thankful for the scholarship support he has received at Madison. "Having that makes me work 10 times harder. I want to make a difference. It's an amazing gift."
His advice to others: "Work hard, stay humble. You never know what opportunities may come your way."
Thomas' opportunities have been life-changing. "I know where I come from. Portsmouth. My past. My dad sold drugs, made unnecessary mistakes, and was shot and killed by a police officer in a high-speed chase. … I can't act out of anger. I can't treat it as an excuse. If you let it hold you down, you'll sit in the same place forever."
Instead, he pays it forward. "I want to inspire young people in similar situations growing up without a father. When I worked at the Boys & Girls Club, I told kids they could do the same thing. They just had to keep an open mind to get past the struggles."
After graduation, Thomas plans to go on to graduate school. His dream is to sing at the Metropolitan Opera House one day.
For now, Thomas is thriving in Madison's vibrant and supportive atmosphere. "JMU is different. Dukes stick together. There is always someone to support you. People will help out whenever they can. It's like another world.
"People will open the door for you and hold it till you get there."