Arts and Culture
Master storyteller
Advertising executive Jason Harris ('93) using his creative powers for good
---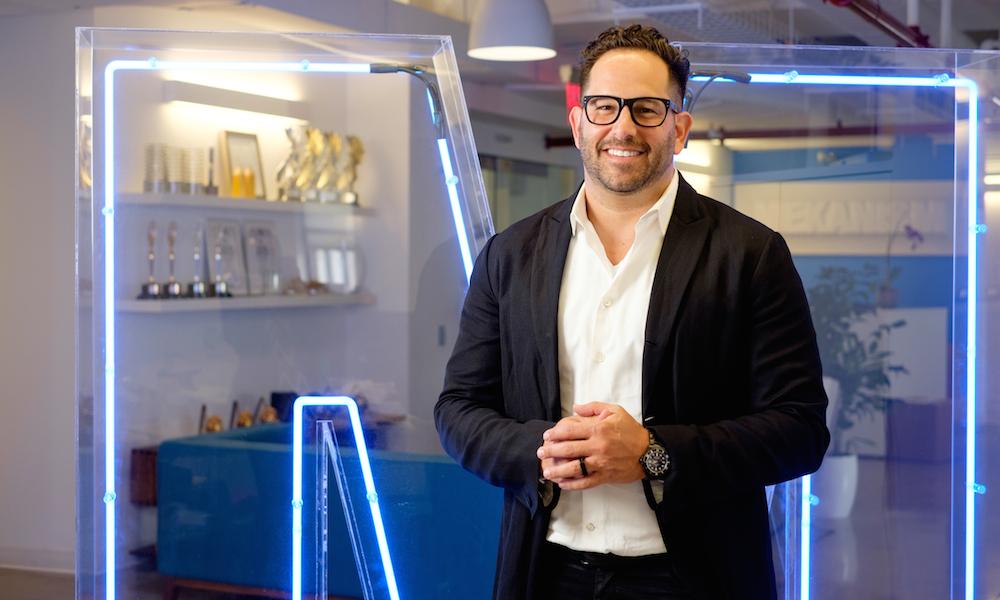 SUMMARY: Advertising executive Jason Harris' ('93) firm is the creative force behind some iconic corporate brands, but increasingly he's focused on the power of social good campaigns.
---
from the October 2016 digital issue of Madison.

As a child, Jason Harris ('93) was captivated by television commercials — what he called "the little stories between the shows." By the time he was 12, he knew he wanted to pursue a career in advertising. "It sunk in that someone was making a living making those stories," he says. "I just had to figure out how to get a job doing that."
After an uninspiring freshman year at a university in the Northeast, the Springfield, Virginia, native transferred to JMU. "I felt very welcome and comfortable here right from the start," he says. "You didn't feel like you were a number. It felt like a place where you could make a difference."
Harris majored in economics, completing his course work in the newly built Zane Showker Hall. But it was an art history class — an elective within the General Education Program — which he counts among his favorites at Madison. "I was coming from the College of Business, which was statistics and accounting and finance, but that class was visual. For someone who was interested in advertising, it was great. … I always looked forward to it, and I learned a lot."
The day after graduation, Harris packed up his car and drove to California to follow his passion. He waited tables and bartended for a time before landing an entry-level position at a design firm in Los Angeles. Eventually he worked his way into advertising and moved to San Francisco, where he and a few friends started their own agency in 2006.
"We can no longer interrupt what people are interested in. We have to be what people are interested in."
Today, the award-winning firm, Mekanism, has offices in San Francisco, New York, Chicago and Seattle. It consists of an agency, a production studio for creating content and a social media company. Harris, who relocated to New York City three years ago, serves as president and CEO.
The employees of Mekanism all believe in the power of storytelling. "The way to connect with an audience is by telling stories," Harris says. "With the rise of content-based [advertising] platforms, storytelling is more important than ever. There's an attention war going on, and stories are what people remember."
"We can no longer interrupt what people are interested in," he adds. "We have to be what people are interested in."
The company, whose corporate clients include PepsiCo, MillerCoors, Charles Schwab, Ben & Jerry's and The North Face, also believes in finding — and selling — the truth behind a brand. Truth in advertising is especially important in capturing millennials, who Harris says are savvy consumers and tend to dismiss messages that lack authenticity.
Mekanism encourages its clients to find their story, stick with their story and then let others tell that story. The medium, he says, is important, but technology should always be employed in service to the story.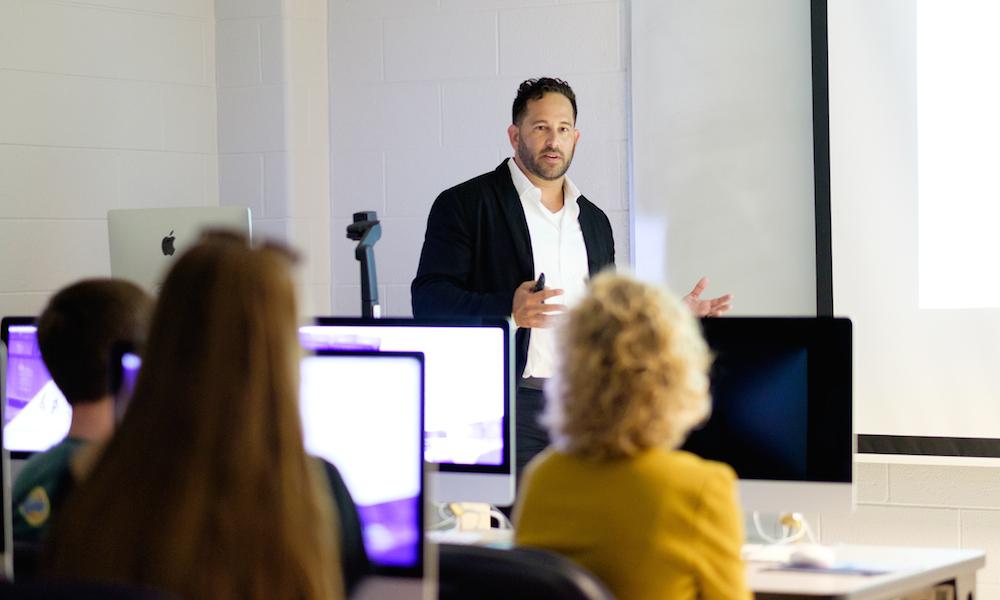 Harris returned to campus in early September to participate in the College of Business' C-Suite Speaker Series. He also took the time to share stories and insights with an advertising and corporate communications class in the School of Media Arts and Design.
Under Harris' leadership, Mekanism has won numerous industry awards, including Effie, Addy and Webby honors, and has been named a "Small Agency of the Year" by Advertising Age. Mekanism has also made Advertising Age's "Agency A-List" and Creativity's "Creative 50." The firm's methods have been the subject of case studies at Harvard Business School.
Mekanism is also the creative force behind "It's On Us," the White House initiative to end sexual assault on college campuses. In addition to enlisting celebrities to appear in television commercials and spreading the word through social media, the campaign, now in its third year, includes a website with scripts and a template for colleges and universities to shoot their own spots. To date, nearly 450 schools have signed on to participate.
"We wanted to come up with a social good campaign that we could launch almost like a brand," Harris explains, "and not just preach to the 4 percent of the college audience committing sexual assault, but rather to the 96 percent who aren't. We needed to frame it as a problem that all of us have to solve."
These days, Harris is focused on Mekanism's social good campaigns, like helping the United Nations achieve Sustainable Development Goals for its member countries within the next 15 years. He also co-chairs the Creative Alliance, a group of 20 of the top creative and technology agencies in the country that are seeking to raise awareness and engage the public in tackling societal challenges.
"We're finding that we can use our advertising powers for good, that we don't just have to sell soft drinks and financial advice, but we can help make the world a better place," Harris says. "As I get older, that's something I care more and more about."

Published: Thursday, November 10, 2016
Last Updated: Friday, May 18, 2018