Two generations of service
Two deeply connected alumni share the reasons they contribute their time and resources to JMU
JMU in the Community
---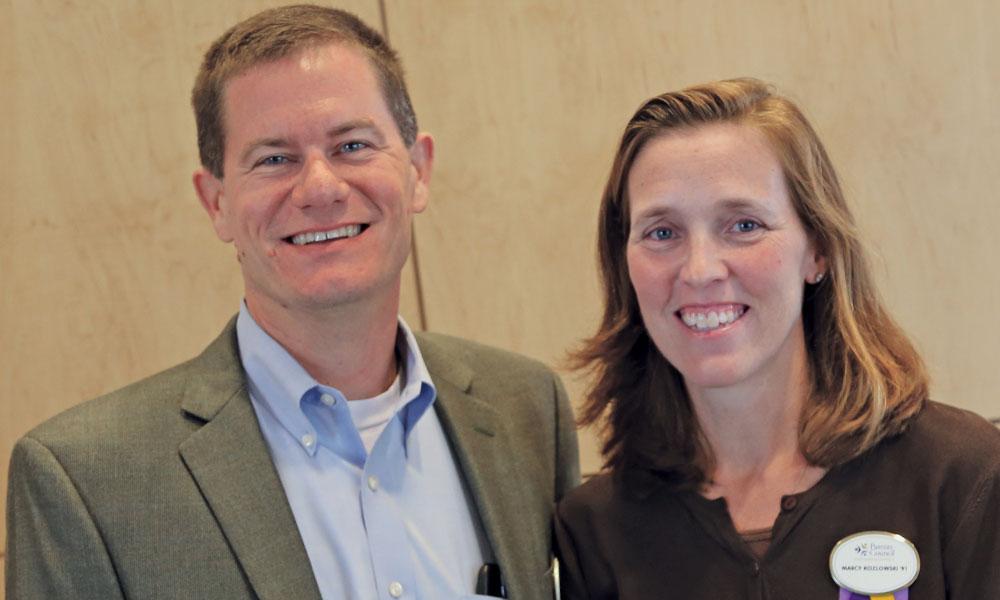 SUMMARY: Talk about a family tradition - current Parents Council members Dave ('91) and Marcy ('91) Kozlowski are second-generation council members. Dave's parents, Alexander and Mary Kozlowski, and Marcy's parents, Roger and Judith Schnorbus, are all Parents Council veterans. The Kozlowskis filled "Madison" magazine in on all the family details (grab your notepad, these alums have deep connections with Madison!)
---
From the Fall 2016 print issue of Madison.


Tell us about your families' Madison connections.
Marcy: Dave and I met on campus. My oldest sister, Chris Schnorbus ('85), met her husband, Rory Badura ('86), at JMU. My middle sister, Michelle Schnorbus ('87), married another JMU grad, Paul Hux ('86); they met during a Homecoming after graduation. My cousin, Laura Schnorbus ('92) Selby, is another Duke, and another cousin, Jeffrey Schnorbus, has a daughter, Claudia, who currently attends JMU. Most importantly, our daughter, Alexandra ("Lexi"), is a junior at Madison.
Dave: My younger brother, Kevin Kozlowski ('00), met and married another Duke, Katie Hopson ('00). My second cousin's son, Greg Kozlowski, is a senior at JMU, and his parents, Phillip and Helen, also serve on the Parents Council.
What made you choose Madison for your academic career?
Marcy: For me, it was an easy decision. With my older sisters being Dukes, I fell in love with the school after being there so much and seeing them thrive. I majored in accounting.
Dave: I was a finance major. JMU was a beautiful campus with mountains nearby and great food, but the biggest reason I chose JMU was the warm and friendly reception that we experienced from students, faculty and administration during our college visit.
Did your parents influence your decision to serve on the Parents Council?
Dave: Yes, both sets of parents had a wonderful experience on the council. And, they were really excited about the Madison Experience — a quality education combined with a great value (even for out-of-state students!). It was a win-win!
How has serving on the Parents Council strengthened your connection with JMU?
Dave: We help with the First Year Send Off picnic in Chesterfield County, and we serve on the academics and resource subcommittees. The Parents Council has been a great way to reconnect to our school. We have learned a tremendous amount from Parents Council sessions about services and programs offered as well as future plans. It is a wonderful group of people that we are honored to serve with.