Athletics
Alum Goes for Gold
Q & A with Paralympian Adam Ballou ('15)
---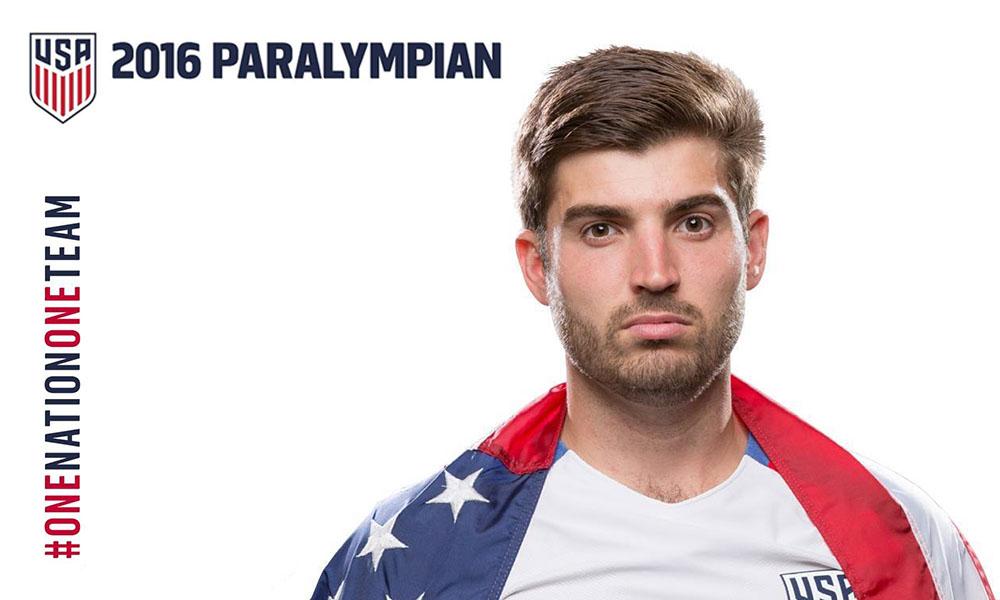 SUMMARY: Returning U.S. men's soccer Paralympian comments on his road to the Sept. 7-18 Summer Paralympic Games. (Photo courtesy of the US Paralympic National Soccer Team)
---
How does it feel to return to the Paralympics?
It is an absolute honor. The entire Paralympic game has changed and grown so much even in four years. The level of competition has evolved and now the level of play has increased drastically. It will be most of our 14-man roster's first time at the games, so being chosen to return, I am able to shed some light on what to expect in that type of environment with the rest of my teammates. Our coaching staff has done a magnificent job of elevating the program and we are ready for Rio. 
Can you talk about the hard work and commitment that went into that achievement?
There has been so much work put in. The 14 men traveling down have put in a tremendous effort. Many of us have been training full-time with the team since February. It was perfect timing for me personally. Graduating from JMU in December before Coach Sharp assembled a full time training program for us down in Atlanta, Georgia in early February. We would train close to 11 times a week. That being comprised of field training sessions, gym sessions or cardio sessions in the pool, bike or field. So the team has come together well. But that isn't just because of the players' hard work. We have had tons of people supporting us. Support from US Soccer has been second to none providing us with a fantastic support and medical staff that has enabled us to stay focused on the game.
What does it feel like to represent USA on the international stage? 
It was a childhood dream to play soccer for the U.S. National Team. It is such an honor to pull on that jersey. There is no other feeling like the one I feel when standing in front of a packed stadium and hearing our national anthem play and getting to think back on all the sacrifices people have made for my teammates and me to be able to be there. It is an opportunity we are not taking lightly. We will be ready when we step on the pitch In Rio.
Published: Wednesday, September 7, 2016
Last Updated: Thursday, January 4, 2018