Science and Technology
Unmanned systems on the rise
JMU, 4-VA positioned for burgeoning industry
---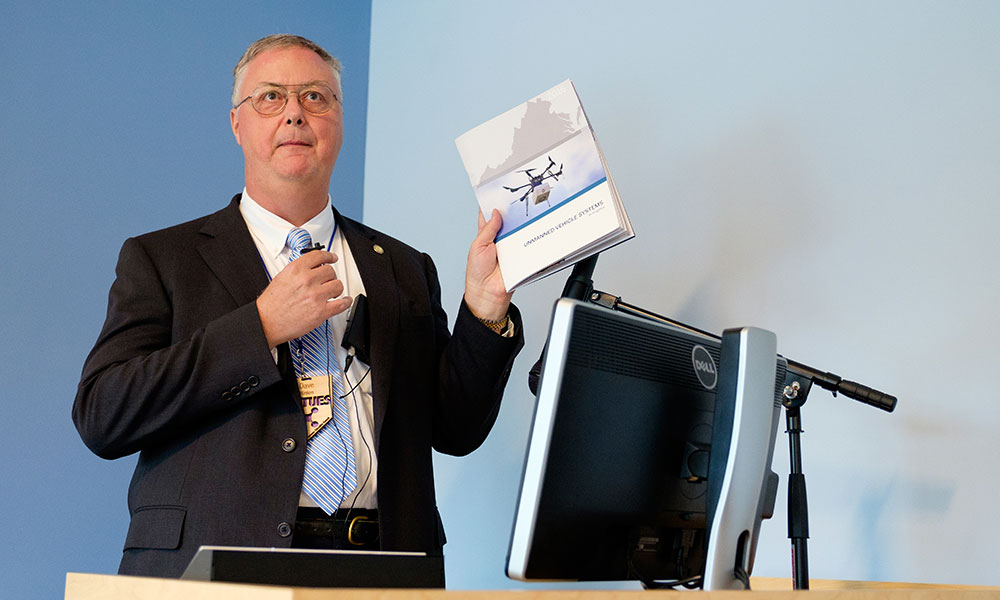 SUMMARY: A combination of new FAA rules and Virginia legislation that is "getting regulation out of the way of innovation" makes this an ideal time to ramp up research, marketing and other efforts to attract and boost the industry.
---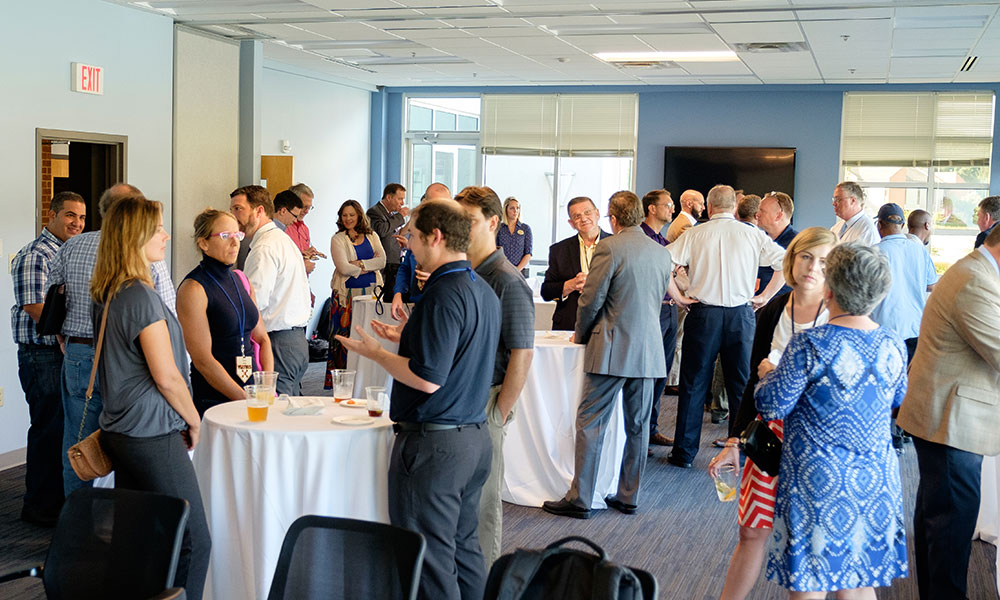 About 80 people registered to attend the two-day summit that involved creating working groups on various topics related to the unmanned systems industry.

A Drones Class at JMU, which pairs industry experts with faculty and students to design and build drones to address real world problems, is a step in the right direction for capitalizing on the rapidly growing unmanned systems industry, conference attendees were told last week at Lakeview Hall.
"Anything we can do to connect the universities to each other and to connect the universities with industry, that is to our advantage," David Hinton told the group consisting of government, education and industry representatives. Hinton, appointed by Gov. Terry McAuliffe to head the Virginia Unmanned Systems Commission, was the keynote speaker Aug. 17 for the opening of the two-day Virginia RoboTics & Unmanned systems Education Summit (VIRTUES).
The Association for Unmanned Vehicle Systems International estimates that the industry will create 100,000 jobs by 2025. "We obviously would like to have quite a few of those right here in the Commonwealth of Virginia," said Hinton, who is a director at the NASA Langley Research Center.
Hinton said Virginia has much to offer the industry, including business-friendly policies, topographic diversity, existing unmanned systems infrastructure and a skilled and high-tech workforce. "Nobody has the package deal that Virginia has to offer," he said.
A combination of new FAA rules and Virginia legislation that is "getting regulation out of the way of innovation" makes this an ideal time to ramp up research, marketing and other efforts to attract and boost the industry. Meetings, such as VIRTUES, are also key in preparing for the industry. "This conference is doing the type of thing that the commission found needed to be done," Hinton said.
Day two of the summit featured talks and discussion groups on various aspects of the unmanned systems industry, which in addition to unmanned aerial vehicles, includes autonomous watercraft and automobiles.
Guy Sanitate of SAIC and a member of the Virginia Unmanned Systems Commission, said one of the largest areas of need in the unmanned systems industry is research on sensors. "There's a lot of things out there that we don't quite understand yet," he said. "So you want to fly a medium-sized unmanned aircraft system somewhere to monitor something. So what type of sensor do you need for that? I've been told that every gram of weight on an aircraft requires 10 minutes of fuel, so you have to understand size, weight and power."
Kevin Giovanetti, professor of physics at JMU and a leader of the Drones Class, told the gathering about the class along with two of the industry partners from Nova Labs in Reston, Fred Briggs and Bo Pollett. Briggs and Pollett help teach the course remotely through telepresence equipment and virtual presence robots that enable them to interact with the students from their office.
"Our mandate is, if I was an industry professional looking to hire someone, what would I want that student to know?" said Briggs. "So we try to have a relevant curriculum."
The course has two parts, a technical class during the spring semester where students learn to build, program and fly quadcopters; and an application class in the fall, where students work on addressing real-world problems with the quadcopters that were built in the spring.
The telepresence equipment and Beam robots, provided at JMU by 4-VA, also enable Briggs and Pollett to teach courses at two other schools in the 4-VA consortium, George Mason University and Old Dominion University.
4-VA is a collaborative partnership among five Virginia universities powered by four initiatives:
Collaborative Research — Increasing research competitiveness for external funding
Course Redesign — Decreasing the cost of delivering instruction
Course Sharing — Increasing opportunities and enhancing the success rate of students in science, technology, engineering and mathematics
Degree Completion — Expanding access for all Virginians to programs, preparing them for rewarding careers
The goal is to promote collaborations that leverage the strengths of each partner university and improve efficiencies in higher education across the Commonwealth of Virginia.
VIRTUES was sponsored by AUVSI Ridge and Valley Chapter, the Shenandoah Valley Technology Council, Shenandoah Valley Partnership, 4-VA and JMU Research and Scholarship.