Health and Behavior
Anything is possible
Honors student Margo Deihl ('16) says opportunity defines her Madison Experience
---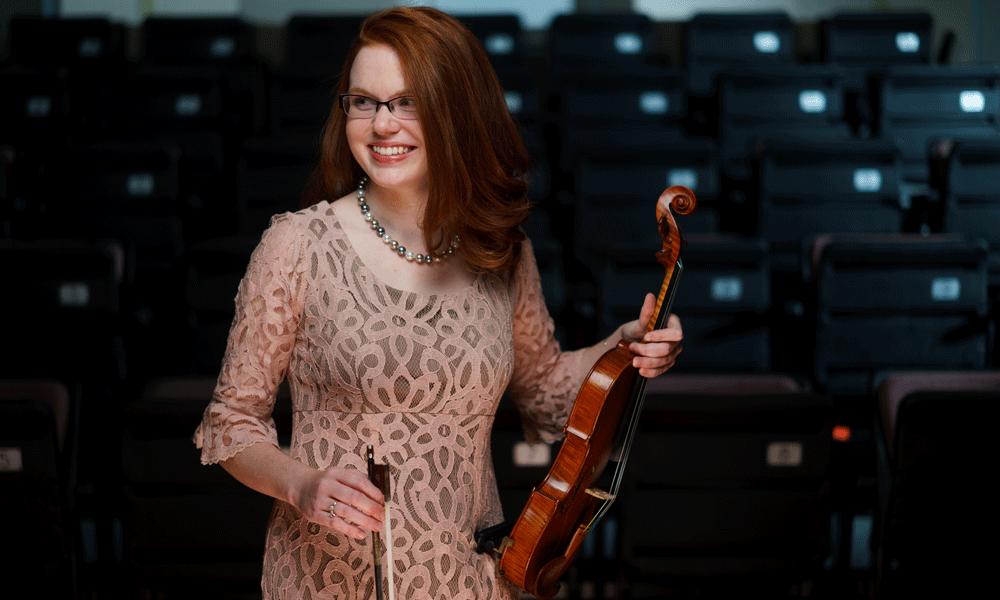 SUMMARY: Honors student Margo Deihl ('16) has seized numerous opportunities during her college career. A biology major in the pre-med program, she minored in music and non-profit studies, played in the JMU Symphony Orchestra as well as the Opera Orchestra, and was heavily involved in numerous extracurricular activites. Remarkably, she didn't allow her intense battle with juvenile rheumatoid arthritis and scleroderma to deter her from achieving her goals.
---
The perfect place
Although spoiled for choice of dream schools, when Margo Deihl ('16) visited James Madison University's campus, she leaned over to her mom and said, "This is it."
"The excitement and spirit of JMU just drew me in," says Deihl. And JMU had another big draw for this Spotsylvania, Virginia, native — its Honors Program. "I've always wanted to do the very best possible in everything. The Honors Program was just a perfect fit. That was one of the magnets at JMU, the fact that they had an Honors Program. I knew from the start that that's what I wanted to do."
[JMU is] a place where there's an opportunity to achieve in every area. If you look for the opportunity, JMU has it and you will find it.
- Margo Deihl
The senior biology major in the pre-medicine program made room for a music minor and plays in the JMU Symphony Orchestra as well as the Opera Orchestra. "I started playing violin when I was 6 years old. When I came to college I knew it wasn't going to be everything I did, but I wanted it to be a part of what I did. That has been an amazing experience to have that on the side of all my science classes."
She's also heavily involved in a number of extracurricular activities including the Baptist Collegiate Ministry. "We've gone on many mission trips — to Haiti and some domestic trips as well. That's gotten me off campus in a serving position, so that's been really refreshing." A member of the National Society of Leadership and Success, Deihl is involved in Kijiji, a JMU leadership program that grooms students to be citizen advocates for positive change. And, Deihl served as a JMU resident advisor and is a member of the National Residence Hall Honorary.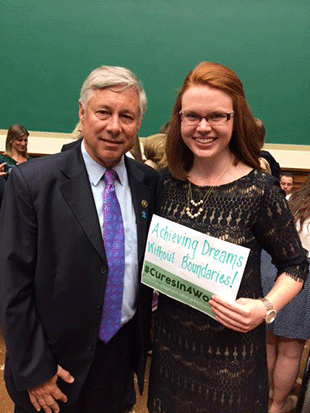 In Summer 2015, Deihl represented all Americans with arthritis-related diseases for a press conference on the 21st Century Cures Act. Deihl is pictured above with Rep. Fred Upton, of Michigan's 6th District. Upton chairs the House Energy and Commerce Committee, which spearheaded the 21st Century Cures efforts.
An internship with personal impact
Looking at the long list of Deihl's achievements, it is hard to believe that she has battled chronic illness throughout her time at JMU. "I have juvenile rheumatoid arthritis and scleroderma overlapped. It has progressed throughout my time at JMU. It's not something I try to hide; it's a part of me," she says. "I'm currently on over 70 pills a week, including chemotherapy weekly plus an injection every weekend."
So how has she managed a demanding college career? "I've learned to plan ahead, professors have been beyond understanding, and the Office of Disability Services has provided so much. I always feel like I can go to them if I have any problems. They have been a large reason why I have been academically successful here while battling my disabilities," she says.
Deihl says her medical condition has informed her work in her second minor in nonprofit studies. "This past summer I interned at the National Office of the Arthritis Foundation in Washington, D.C. I worked on research related to temporomandibular joint disorders [TMJ]," she says, "and I am actually working further with them on some presentations on public awareness of those disorders. During meetings on Capitol Hill, I used my personal story when speaking to legislators and their office staff about the importance of the 21st Century Cures Act, which passed the House. I worked with Rep. David McKinley from West Virginia and his wife.
"It's just really special to be involved in something that impacts me personally. The internship has equipped me to be a better doctor in the future. And, my personal experiences will give me a greater connection with my patients. To be able to say, 'I live this. I've been there. I know your struggles,' is equipping me in a unique way."
For now, Deihl is looking forward to pursuing a master's degree in biomedical science after graduation from JMU. "Then I'm going into medical school. Pediatrics is my passion. It always has been," she says.
As she contemplates upcoming commencement ceremonies, Deihl sums up her Madison Experience: "I would recommend JMU to anyone and everyone. There is definitely a spirit here that is found nowhere else. It's a place where there's an opportunity to achieve in every area. If you look for the opportunity, JMU has it and you will find it."
Deihl certainly found her opportunities.