Athletics
Performance and health
JMU's integrated approach serves as a national model for the student-athlete experience
---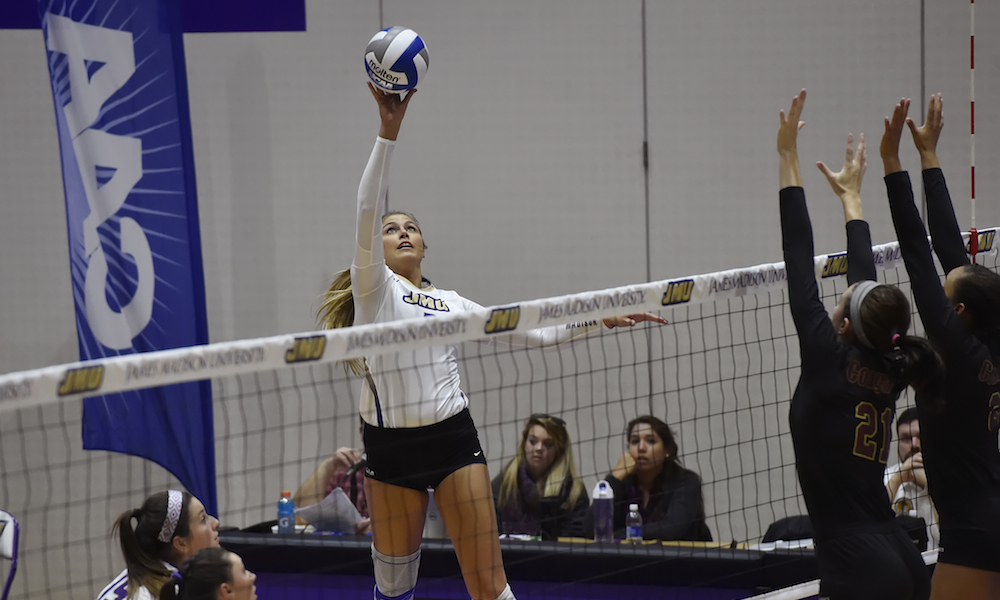 SUMMARY: The new Integrated Health and Sports Performance Model at JMU is committed to assisting student-athletes realize their full potential, minimize risk of injury, achieve competitive excellence and have an exemplary student-athlete experience.
---
From the Spring/Summer 2016 print issue of Madison.
Lauren Steinbrecher completed her sixth season as volleyball coach of the Dukes in 2015. Her teams have had their ups and downs, with injuries playing a role in preventing the team from realizing its potential.
In 2015, the pieces fell into place and a deep and talented roster won the Colonial Athletic Association regular-season title and finished 22-8, with Steinbrecher sharing the league's Coach of the Year honors.
It was volleyball's first season operating under JMU's new Integrated Health and Sports Performance Model, an innovative care network that emphasizes collaboration while maximizing performance and wellness of student-athletes.
While several factors converged to produce volleyball's success, Steinbrecher believes the new model played a pivotal role. "I think it plays a huge part when you have the collaboration of a group of individuals asking what are we doing in the weight room, what are we doing to recover, or who's homesick or maybe has depression or eating disorders—all the stuff that could come up while you're in college. It absolutely helps the student-athlete experience because no one's falling through the cracks."
JMU's Integrated Health and Sports Performance Model combines key components of student-athlete performance and wellness—sports medicine, strength and conditioning, sports nutrition, sport psychology and clinical psychology/mental health—in a shared setting.
I felt that we had the right people here to implement the model, and the opportunity was there to really integrate all of the areas.
-- Tom Kuster, associate athletic director for integrated health and sports performance
For JMU Associate Athletic Director Tom Kuster, who is charged with coordinating and promoting this new collaborative process, the change was an obvious step in the university's push to be the national model for the student-athlete experience.
"There's overlap in all of those areas, so why wouldn't those folks work together?" Kuster noted. "Other schools don't maximize what they are doing because they work in these silos. The big thing for us is to get out of those silos because those areas can do so much more by working together.""When you look at what I call the 'pillars of performance,' we have all four of those areas here," Kuster said. "So now it's just a matter of those areas working together to improve the student-athlete experience. I felt that we had the right people here to implement the model, and the opportunity was there to really integrate all of the areas."
The research and planning for the new model began about three years ago as the sports medicine and strength and conditioning areas were undergoing a routine university program review. Kuster began pondering staff integration while reviewing other schools such as Notre Dame and California, which had recently implemented similar structures.
Central to the implementation of the model across JMU's 18 sport programs is what Kuster refers to as performance team meetings. At these meetings, coaches, advisors, trainers, nutritionists and others provide a comprehensive review of what is impacting the lives of each student-athlete in that program and their physical and mental performance.
"The whole point of it is to offer a proactive approach to using all of your resources," Steinbrecher noted. "We are making sure that our student-athletes not only play their individual sports, but also grow as people and that they are healthy in all aspects of their lives. So, to me, it was a no-brainer."
Kuster added, "What we're finding is when you look at everything going on in our student-athletes' lives—sometimes in the course of a year or a season—you can lose sight of why someone is tired all the time or why their performance is flat in practice. Well, it could be a nutrition issue, or it could be that they had exams this week. But having everyone around the table allows us to start having those conversations."
While the benefits of such collaboration and integration may seem obvious, few schools have the combination of resources and student-athlete focus to implement the program that JMU has. Steinbrecher feels that gives Madison a distinct advantage.
"The No. 1 message that it sends is that we care about our student-athletes," Steinbrecher said. "Your experience is important to us. Your mental stability is important to us. How you're doing in the classroom is important to us. That's a huge message to the parents, too, if they want to send their son or daughter to a school where they're going to take care of their entire being, not just what they can do on the court."