Science and Technology
Model solar system to give perspective of planet sizes, distances
---
The faculty senate, with support from the JMU administration, began a mini-grant program this past year to fund faculty initiatives that exemplify the university's vision, "To be the national model for the engaged university: engaged with ideas and the world." 
One of the projects to receive funding ($1,500) was a proposal by Shanil Virani, director of the John C. Wells Planetarium at JMU and an assistant professor of physics and astronomy, to build a scale model of our solar system on the JMU campus.
Q: Why do you want to build a scale model of the solar system at JMU?
A: There is no science exhibit in Virginia that emphasizes the scale of the planetary sizes and distances. We can create a world-class exhibit illustrating the size and scale of the solar system. Such a model would put science and engineering front and center, and would create a beautiful art exhibit that would provide JMU students, area K-12 students and visitors to our planetarium a unique way to visualize the solar system and our on-going robotic exploration of it. These are basic ideas about our location in the Milky Way galaxy that school children and adults alike have difficulty visualizing. Wouldn't it be great if we had a science exhibit that spans our campus and ends at our state-of-the-art planetarium?
Q: How do you plan to get area K-12 students involved with the project? 
A: Approximately 30,000 people now visit the John C. Wells Planetarium every year, many of these are via school field trips and visits from home school groups. We hope to connect to area K-12 students in two principle ways. The first is to actually walk through campus to provide a kinesthetic approach to learn about the sizes and distances between objects in our own Solar System. Secondly, we would love to see Valley schools adopt planets where students could create information panels, curate images and provide other online content that would be accessible from computers, tablets and smartphones.
Q: How will JMU students be involved? 
A: We plan to collaborate with the art department to have their students design pieces that will be placed at the location of each of the planets. It would be wonderful to collaborate with talented artists on campus to provide their visual impression of that planet. It doesn't necessarily have to be a sphere of the correct size! It would be great to simply begin with the name of the planet — say Mars — and then use the name, its connection to mythology and our history as inspiration to lead the artist wherever they may decide to go.
Q: How does the mini-grant from the faculty senate help with this effort?
A: The grant will allow us to begin designing and installing informational panels at the locations of the eight major planets, the Sun and the dwarf planets, Ceres and Pluto. The mini-grant has been tremendously important in raising the profile of the project. We are trying to leverage the award and the publicity to attract additional funding to complete the project.
Q: Where will the model be built?
A: The model would start at the Festival Conference and Student Center and end at the John C. Wells Planetarium.
Q: When will the project begin and how long will it take to complete? 
A: Our faculty senate mini-grant will allow us to begin installing a couple of the sign installations we've proposed to do. Once the remaining funding has been secured, the basic project should be constructed and installed within a semester.
Q: There has been a lot of news recently about discoveries of other planets and a few other astronomy topics. Does that news make the timing good for a project like this?
A: As a country, we have enormous difficulty in producing the next generation of American scientists and engineers. Astronomy is a 'gateway' to these disciplines. Who has not viewed a dark, starry, night sky and asked basic, fundamental questions like: 'Are we alone?' 'How do we fit into this grand scheme?' 'What is our cosmic address?' That new discoveries in astronomy tend to be well-covered in the news corroborates these ideas. We hope this model will inspire a new generation of Americans to consider science and engineering and fan a small flame into a beacon for those who visit.
Q: You have made tremendous progress in raising awareness about the John C. Wells Planetarium. How do you plan to continue that success? 
A: Keep putting science front and center! We have incredible stories to tell about how we know what we know, and that is precisely our mission. I want our visitors, young Americans in particular, to know that science is constantly changing, constantly uncovering new clues about why our Universe is the way it is and not some other way. The only prerequisite in figuring out our Universe is curiosity.
Q: What makes JMU a good place for raising awareness and teaching about astronomy?
A: We have incredible facilities like our state-of-the-art, hybrid planetarium and our Science on a Sphere installation at Memorial Hall. We put a premium on teaching and engaging our students with the Universe around them. With our planetarium, we are leveraging our facility to engage the public and our local community about science, how it is done, who does it (open to ALL!), and how scientists make the discoveries we do. There are very few universities in the country with existing resources that we have to champion science to the public.
Q: What else would you like to say about the solar system project or the planetarium?
A: Above and beyond simply constructing the project on campus, we would like there to be a strong online presence where the latest discovery, news, and images of the planets are shared. Ideally there would also be lesson plans and activities that teachers could incorporate in their classrooms either before or after visiting. And given the times we live in, it would be cool to have a mobile app that visitors could use to accompany their walk across campus that also provides additional information and insight about our place within the cosmos.

About this series:
Taking on Tomorrow was created to showcase the expertise, scholarship and research of faculty in all disciplines at Madison. A number of factors determine who will be in the spotlight at any given time and what aspect of their work will be highlighted. In this installment, we feature Shanil Virani, director of the John C. Wells Planetarium at JMU and an assistant professor of physics and astronomy.
To nominate a faculty member to be featured in "Taking on Tomorrow," please e-mail Eric Gorton at gortonej@jmu.edu. Please provide a brief explanation of why you are nominating this faculty member. Self nominations are encouraged.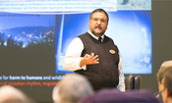 Related Content

Episode 1: Dr. David Slykhuis, College of Education — Maintaining teacher effectiveness amidst constant change
Episode 2: Leah Kirkpatrick, School of Theatre and Dance — How a mini grant is having a big impact on theatre education
Episode 3: Dr. Paul Bogard, English — Environmental literature closes gap between science and liberal arts