Nation and World
Love of math turns JMU junior into a world traveler
---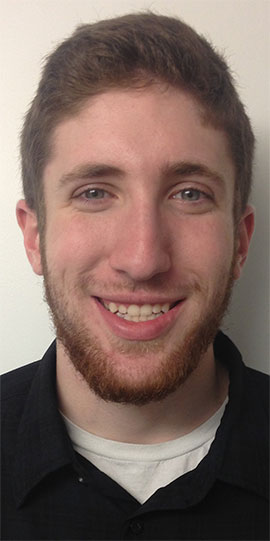 Jonathan Gerhard says he has a habit of not being well prepared for cold winter weather, but this winter the junior math major is making plans to buck his old ways. 
Not because of any long-term forecast for Harrisonburg, but because of the reputation for cold winters in Moscow, Russia — where Gerhard will be spending a good bit of the upcoming winter. This fall, Gerhard was accepted into the prestigious Math in Moscow program, which begins in early February.
"I'm going to have to get a big jacket or something like that before I go. It would not be good to be unprepared for winter in Russia," Gerhard said on a warm fall afternoon outside Roop Hall, home of the department of mathematics and statistics. 
Gerhard said he was excited to learn he was accepted into the program and his excitement grew when he received a $9,800 scholarship from the American Mathematical Society to fund a big part of the trip. Tuition alone is $8,000 and without the scholarship he may have had to turn down the opportunity.
The 15-week program requires students take a minimum of three classes. Gerhard said there are at least five classes he hopes to take and many more he is interested in.  "One of the reasons this program is absolutely awesome is that it offers a lot of graduate-level classes. A lot of really high-level math classes that I wouldn't have the chance to take here," he said.
Not all of the course offerings are math and Gerhard also plans to take a Russian language course. He has already taken two years of Russian at JMU. In addition to classes, which are held once a week, the program includes tours of various sites of interest inside and outside of Moscow. 
As for going to Moscow during tense political times with the U.S., Gerhard said he is not overly concerned. "All of my friends have been very supportive," he said. "My parents have also been very supportive, but right off the bat, when I told them that I applied, they were like, 'Oh God.' The government wouldn't let me go if it was really that dangerous."
Gerhard credits his high school math teacher, Wolcott Baird at West Springfield High School, for stoking his interest in math and the JMU faculty for sparking his interest in math research. 
"I think the math faculty is awesome, and they're so encouraging as well," he said. "I credit Mr. Baird with me becoming a math major, and then I credit Dr. [Laura] Taalman [professor of mathematics and statistics] with me getting so into research. I feel like I can go to any of the professors here and say, 'Hey, I have this problem I don't understand. What might I do?' and they'd be really helpful."
Dr. Elizabeth Brown, Gerhard's advisor and one of two faculty members to write letters of recommendation to accompany his application to the Math in Moscow program, said Gerhard deserves a lot of credit. "We first realized that Jonathan exceeded the usual range of precocity when he came back from winter break as a freshman with questions about a graduate knot theory course he had been reading online; he wanted someone to check his computations," she said. "Since then, Jonathan has taken advantage of every colloquium, undergraduate research conference, special topics seminar, reading group and informal gathering in which he might do math. He is one of a group of advanced students who designed and are now teaching a one-credit seminar course for first year students." 
Opportunities to study math and become part of the vibrant mathematics community at JMU are plentiful, said Gerhard, who is vice president of the JMU Mathematics and Statistics Club, and he encourages anyone with an interest in math to take advantage.
Gerhard began taking advantage of the opportunities early on. During the summer of his freshman year, he participated in a Research Experience for Undergraduates program, funded by the National Science Foundation, at Michigan State University. Before going to Michigan, he had not traveled beyond the eastern U.S. and most of his traveling had been in Virginia. The REU program included expenses-paid trips to a conference in Tennessee and to Math Fest in Portland, Oregon. 
"I've fallen in love with research and so I want to just keep doing that," said Gerhard, who did research at JMU last summer that was funded by the Tickle Family Endowment for Science and Mathematics.

By Rachel Petty ('17), JMU Public Affairs