Science and Technology
How a JMU senior is spreading her passion for science
---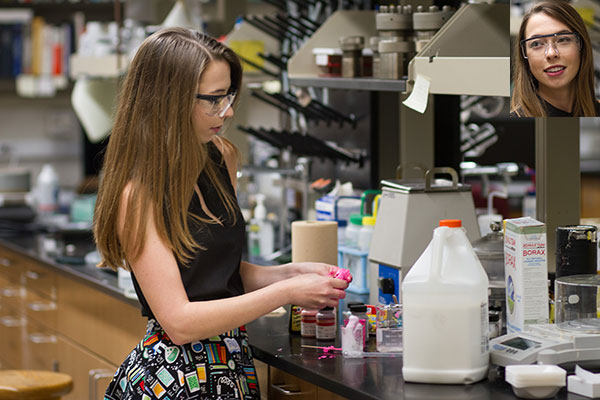 What does it take to spark the interest of middle and high school students in science? Involving them in hands-on learning, says JMU senior chemistry major Lainey Scarvey.
After completing her bachelor's degree in chemistry in May, Scarvey will return to JMU next year to get a master's degree in teaching before heading back into the classroom to teach the subject she loves.
"I'm a strong advocate and believer in hands-on learning," said Scarvey, who already has a head start on teaching experience. While in high school, she organized two science nights at a middle school and an elementary school. "I did all hands-on learning with these students. They got to make slime and get messy and then take those projects home with directions and they could do it again in their kitchen."
Scarvey's high school chemistry teacher sparked her interest in the subject. "She was a big inspiration in my life and she's still a huge part of it, so I decided that I want to be that same kind of role model for other people," she said. "My goal would be to teach the child that one day cures cancer, because I've sparked an interest."
Receiving the Murray Spindel scholarship, named for the father of Dr. Jonathan Spindel, professor of both integrated science and technology, and communication sciences and disorders, also guided Scarvey toward her decision to teach.
"The scholarship meant a lot to me because I felt like I was in a place of turmoil before I declared secondary ed as my minor," she said. "After adding the minor I felt like things were beginning to go right. I was enjoying my classes, got involved with reforming JMU's chapter of the NSTA [National Science Teachers Association], and then got the scholarship. It felt like it was a huge sign that I am where I'm meant to be and doing what I am supposed to do."
The Spindel family created the scholarship in celebration of Murray Spindel's 80th birthday and in recognition of his lifelong career as an educator. The scholarship provides annual funds to an outstanding undergraduate student scholar engaged in the study of science, technology, engineering and mathematics (STEM) education.
"I had the opportunity to meet Murray Spindel and his son, Dr. Spindel, an ISAT professor here, and I could not be more thankful for their generosity," Scarvey said.
Scarvey began her work with the NSTA on a national level last spring as a pre-service teacher representative for the pre-service teacher committee. She is also president of JMU's chapter of the NSTA, and hopes to foster growth in the organization while in that role. "We're hoping to form a strong network for people who want to teach science, so we can get to know each other, bounce ideas off each other, as well as provide outreach opportunities, get into schools, and engage students in science at a younger age, in a hands-on way," she said.
The NSTA has been a great way for Scarvey to network and to get to know her peers who share similar interests. "They've become my friends, which is really cool," she said.
JMU's reputation for hands-on learning—specifically undergraduate research—along with small class sizes and the accessibility of professors led her to choose the university. Dr. Barbara Reisner, professor of chemistry and biochemistry, is Scarvey's favorite. "She's been a huge help, especially since I've decided to do education," she said. "She planned my life out for me and has made everything so stress-free and perfect."
Scarvey said students interested in joining the NSTA can contact her at scarveea@dukes.jmu.edu.
By Rachel Petty ('17), JMU Public Affairs