Science and Technology
Making fieldwork accessible to mobility-challenged students
---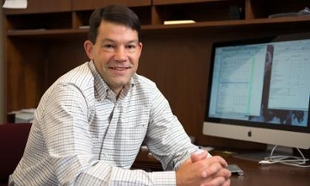 An inability to traverse difficult terrain should not be a deterrent to undergraduate students who want to learn geosciences, and JMU faculty members are ready to tackle the problem.
Dr. Steven Whitmeyer, associate professor of geology and environmental science,  and Dr. Eric Pyle, professor of geology and environmental science, received a $308,376 grant from the National Science Foundation to explore ways technology and teamwork can make geology fieldwork more accessible to students who have mobility limitations.
"Unfortunately in the past, I think our discipline has tended to disenfranchise some part of that (mobility challenged) community, which is a real disservice because there are plenty of geoscience jobs that don't necessitate large amounts of time in the field. But those field experiences are important to understanding how Earth systems work," said Whitmeyer, who is also collaborating with colleagues from three other universities: Dr. Chris Atchison at the University of Cincinnati; Dr. Declan De Paor at Old Dominion University; and Dr. Jen Piatek at Central Connecticut State University.
The researchers will start testing their plan next summer by having students with mobility limitations team up with students without mobility constraints to do fieldwork at three sites in Northern Arizona: The Grand Canyon, Meteor Crater and San Francisco Peaks, part of the San Francisco volcanic field north of Flagstaff. Research during the second year of the two-year pilot project will take place in western Ireland during summer 2017. The program and an application process for interested students across the country will be announced during the Geological Society of America annual meeting Nov. 1-4 in Baltimore.
Whitmeyer said the researchers hope to have two six-member teams of students commit to both years of the program. In the field, the students who do not have disabilities will go to the places they would normally go and will carry interactive technology to facilitate collaboration with their mobility-challenged teammates in real time.
"We're going to use various strategies to see how we can make the field experience for the students with disabilities as close to the normal field experience as possible," Whitmeyer said.
By Rachel Petty ('17), JMU Public Affairs


Published Sept. 18, 2015
Published: Friday, September 18, 2015
Last Updated: Wednesday, November 29, 2017