How a study abroad trip unlocked the secrets to happiness
Health and Behavior
---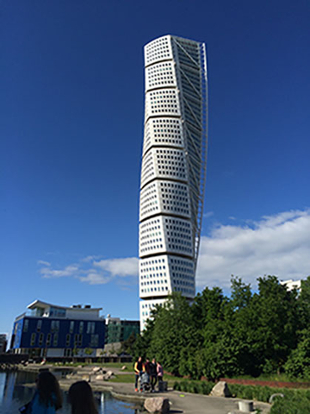 The secret to happiness has more to do with a lack of dissatisfaction than an abundance of good feelings. At least that's what psychology major Andrew Carnes discovered this summer while doing research in Scandinavia. 
According to the World Happiness Report, Scandinavian countries are consistently ranked as some of the happiest countries in the world. Carnes joined Dr. Jaime Kurtz, associate professor of psychology, and 10 other JMU students on the June 6-22 research trip. 
The students spent their time in Malmö, Sweden, which is a 30-minute train ride from Copenhagen, Denmark. The students also spent time in Stockholm and Lund, Sweden. Since Sweden and Denmark are across the water from each other, they did a fair share of traveling between the two countries. 
Carnes said he focused his research on the importance Scandinavians place on design. "They have a lot of design firms like IKEA and Volvo that really represent Scandinavian design and I think that their attention to detail plays a role in their happiness," Carnes said. 
In addition to testing their own hypothesis, the students tested Kurtz's position that, unlike Americans, Scandinavians don't spend a lot of time looking for everything to be great. "The hypothesis Dr. Kurtz presented us with was that Americans tend to maximize, which means we spend a lot of the time looking for the best. So if we're not extremely jump-up-and-down happy all the time, then we're not doing it right whereas the Scandinavians would be happy being content," Carnes said. 
Among the interesting aspects of Scandinavian life, Carnes said, are stroller parking lots, child play areas at airports and stellar audio guides at museums. 
Carnes gathered data for his research through observations and responses to an online survey. "I went to Reddit.com and found the Swedish community there," he said. "I told them I was researching happiness and design specifically, and asked if they had any input on that and could fill out a survey." He received about 300 responses. 
The trip wasn't all work. The group, which was able to get around speaking English, learned about the cultural differences in Scandinavia while working on papers about their findings. Scandinavian design technique also helped with communication. "There were designs in stores that made finding what you were looking for really easy, even if you didn't speak Swedish," Carnes said. 
Carnes went into the trip ready to get his hands dirty with research, and that's exactly what he did. "I chose this program because it was something really different," he said. "I had never really learned about positive psychology before, the study of happiness. It piqued my interest." 
Carnes and the other students earned three credits by taking the course. After graduation, he wants to pursue a doctorate in either clinical neuropsychology or human factor psychology, specifically as it relates to website design. 
As for participating in study abroad, he highly recommends it: "You can't be a sponge," he said. "You have to decide to go places and look for things specifically."