Nation and World
JMU senior already planning life abroad
---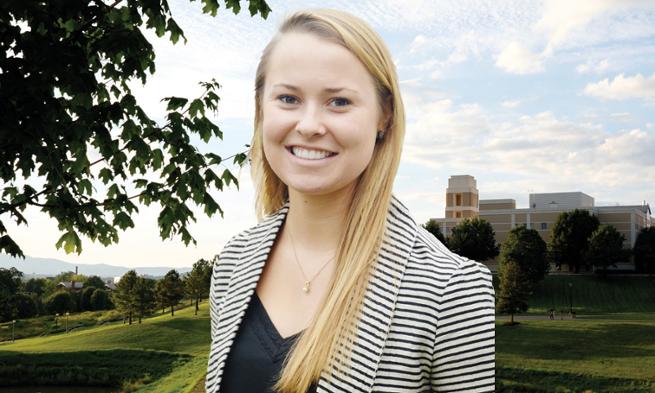 James Madison University senior Claire Elverum of Chesapeake, Virginia, has earned a Rotary Global Grant Scholarship to help fund her pursuit of a master's degree in economic development following graduation from JMU next spring.
Elverum, an international affairs major, is also an Honors Program student who received a Global Studies Hillcrest Scholarship in spring 2014 to study in Tanzania. There she completed an interactive environmental project with students at a primary school in Bagamoyo. She also worked with seaweed farmers in Mlingotini.
"The Honors Program gave me skills I would not have gained otherwise," Elverum said. "The Hillcrest application process was a great learning experience in itself because it prepared me for future competitive applications and scholarships. I truly believe that is the reason I was successful with the Rotary application process."
While her destination abroad is not yet determined, Elverum is considering using the up to $30,000 grant to study in Tanzania, South Africa or the United Kingdom.
Elverum chose to enroll at JMU because of the school's reputation for offering many academic opportunities and student organizations. "I knew that I would find my place very quickly," she said.
"JMU has by far exceeded my expectations," Elverum said. "The international affairs and Africana studies programs have allowed me to be the best student I can be by having professors who care for my academic success, but more importantly, my lifelong success."
In addition to traveling to Tanzania, Elverum participated in a service-learning trip to the Dominican Republic with her honors seminar. After returning to JMU, the class raised funds to help build an equal opportunity school for Haitian migrants in the Dominican Republic.
Rotary is an organization of 1.2 million members working in more than 34,000 clubs in over 200 countries to address the world's most pressing humanitarian challenges, including eradication of polio worldwide.
# # #
Aug. 27, 2015