Science and Technology
How faculty inspired JMU junior to earn prestigious scholarship
---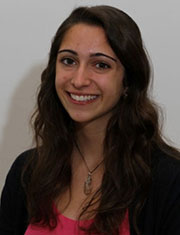 Amanda Crandall envisions a career doing conservation work, ideally involving research with endangered species or doing something along the lines of coral reef propagation.
The National Oceanic and Atmospheric Administration wants to help the rising junior biology major achieve her goal and has awarded her an Ernest F. Hollings Scholarship (http://www.oesd.noaa.gov/scholarships/hollings.html). The scholarship will provide the Vienna, Virginia, native with $9,000 in each of her final two years at JMU and a 10-week paid summer internship during summer 2016.
Crandall said she chose environmental science and ecology as her concentration because she has always been interested in animals and also loves outdoor activities like hiking and camping. Her experience in an ecology and evolution class taught by Dr. Heather Griscom, associate professor of biology, boosted her interest in the discipline. "I learned about a lot of important issues, like climate change and species decline, from someone who was actively passionate about what they did," she said. "I realized that I wanted to contribute to the field of environmental science and that there were amazing job opportunities where I could continue to research and learn while also making a difference for the Earth."
Crandall also credited her advisor, Dr. Bruce Wiggins, professor of biology, with helping her achieve. In Wiggins' lab, Crandall and other students study benthic macroinvertebrate community structure and water quality.
"There are just an incredible number of opportunities for undergraduates here to get hands-on experience in the field and to get to know their professors. I am extremely grateful," Crandall said.
More news about the achievements of JMU students is available on the student achievements website.
# # #
Published Aug. 3, 2015