Science and Technology
Deaf students, faculty member wrap up NSF-funded research at JMU
---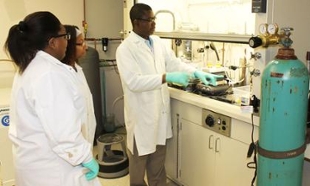 Performing chemistry research at James Madison University this summer has been quite a learning experience after graduating from Radford University in May with a degree in biology, said Kelsey Wessman.
Dr. Adebowale "Debo" Ogunjirin, a visiting assistant professor from Gallaudet University in Washington, D.C., has enjoyed teaching in the program because, among other things, he likes working with students and helping them understand his research in medicinal chemistry.
Wessman's and Ogunjirin's involvement in the Research Experience for Undergraduates program, funded by the National Science Foundation, has added to the learning experience for other students and faculty as well since both are deaf and communicate via sign language.
"The program not only benefits the deaf students and the deaf faculty member, but all the hearing people who have an opportunity to interact with the deaf participants and to break down the barriers in comfort level and communication," said Dr. Kevin Caran, an associate professor of chemistry and biochemistry at JMU.
Dr. Gina MacDonald, professor of chemistry and biochemistry at JMU, wrote the grant with Caran to fund the program for the next three years and has been part of the program almost since it started about 20 years ago. "It has really been neat to watch. Over the years, many of the students who stay here in the summer, they would go take sign language," she said.
Ogunjirin, who is researching potential ebola treatments, said he appreciates the NSF and JMU support enabling deaf students and faculty to do research alongside hearing colleagues. "It's a wonderful opportunity," he said through interpreter Amanda Wharton Stacey. "It is an integrated learning opportunity. We need to be able to work together," he said.
However, Ogunirin said the mentoring that takes place among all participants is just as important as providing inclusion for deaf participants. "Mentoring is a big success of this program," he said. "Many students and faculty will forever remain bound together as a result of mentoring they have received from each other."
The REU grant also is funding two student sign interpreters who are learning to sign science communication: Matt Mitchell, a rising senior at the University of Michigan-Flint, and Kelsey Gilchrist, a rising senior at JMU. Judy Bradley, a professional sign language interpreter, is mentoring Mitchell and Gilchrist.
In addition to doing research side-by-side with the deaf participants, hearing students have had the chance to attend a weekly lunch to learn some basic sign language. Caran said one of his hearing students has learned enough to do a little interpreting.
Providing an opportunity for deaf students and faculty to interact with hearing students and faculty is one of two main goals for the chemistry REU. Another is providing an opportunity for students from other universities in the region to do research using JMU's high-tech instrumentation.
Alana Rister, a rising senior at Mary Baldwin College in Staunton, said the experience has been just what she was looking for. "It seemed like a really good opportunity to be able to work here because my university doesn't have as many resources as JMU. It has been a really awesome experience," she said.
Rister, who spent the summer synthesizing amphiphiles that could lead to improved anti-bacterials, also liked the research atmosphere predicated on discovery. "It was a lot of having my own ideas and testing to see if things worked or didn't work and kind of dealing with the frustrations of things not working and then the exhilaration of success," she said.
Rister said the experience has boosted her confidence that she will do well in graduate school and that it has cemented her desire to earn a doctorate.
Caran and MacDonald said the confidence boost Rister received is common among REU participants. Another benefit is keeping their minds sharp over the summer so they are ready to go when the next school year begins. "If you work on the science during the school year but then take the summer off, you lose a lot," MacDonald said. "If you keep going, then you keep your mind in the game."
Students must apply to get into the REU. Information about applying for next summer's REU will be made available either late this fall or early spring 2016.
This year's program wraps up this week with the annual summer research symposium on Thursday and Friday in the Health and Human Services Building on the JMU campus east of Interstate 81. The symposium is free and open to the public. The symposium schedule is below:
Thursday, July 30
Oral Presentations: 9:00am-12:00pm and 1:12pm-4:00pm (HHS 2301)
Poster Presentations: 4:00-5:00pm (HHS 2nd floor hallway)
Friday, July 31
Oral Presentations: 9:00am-11:00am (HHS 2301)
Keynote Presentation: 11:00am-12:00pm (HHS 2301)

Keynote speaker, Brooke Stevens, is a JMU Chemistry REU alumna.