Business
JMU has role in new international trade alliance for Virginia
---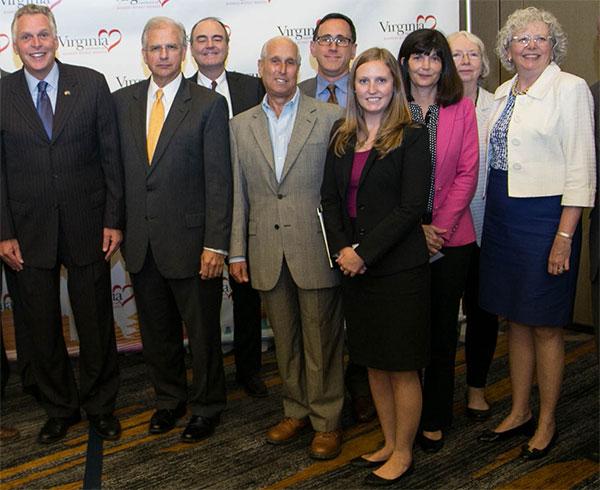 JMU is among nine state universities that have signed on as partners of the Virginia International Trade Alliance, a new initiative to boost Virginia businesses in the international marketplace.
Dr. Marion White, director of the international business program, and Molly Brown, associate dean for undergraduate programs in the College of Business, represented JMU at a kickoff event Wednesday in Richmond, where Gov. Terry McAuliffe announced VITAL and its mission to support Virginia businesses, strengthen the economy and create jobs through international trade.
As partners to VITAL, state universities will identify companies that have international business as a corporate strategy and conduct international research to position these companies for global expansion.  VITAL also will partner with trade associations and the Virginia Chamber of Commerce to serve their member companies as they increase their international sales.
"International trade is key to creating private sector jobs and building a new Virginia economy that is less reliant on our federal government. We are committed to helping Virginia businesses succeed in the international marketplace," McAuliffe said.
Exports of Virginia goods and services totaled over $36 billion in 2014, "yet we are just scratching the surface of available international business opportunities," said Maurice Jones, Virginia secretary of commerce and trade. "VITAL will exponentially accelerate Virginia companies' engagement with the global economy, resulting in stronger, more resilient companies across Virginia, and more jobs for Virginians."
Other universities that are partners of VITAL are Christopher Newport University, College of William and Mary, George Mason University, Old Dominion University, University of Mary Washington, Virginia Commonwealth University, Virginia Military Institute and Virginia Tech.
Goals for VITAL include:
Growing Virginia exports by $1.6 billion in five years.
Creating 14,000 trade-supported jobs in five years.
Increasing the number of companies enrolled in Virginia's international trade programs to serve 390 companies per year.
To learn more about the Virginia International Trade Alliance and international trade in Virginia, visit ExportVirginia.org.
# # #