JMU alumna Czarniak urges graduates to follow their passion
Education
---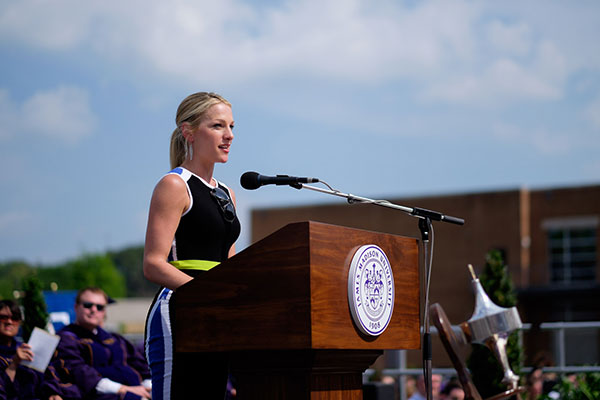 "Find your passion and chase that passion," JMU alumna Lindsay Czarniak told more than 3,000 graduates today during the annual spring commencement exercise in Bridgeforth Stadium.
Czarniak, an ESPN anchor who graduated in 2000 with a major in journalism and a minor in studio art, found her passion for being a broadcaster while doing a practicum her junior year. The practicum involved creating a show and the students gained experience in all aspects of producing the show. "When it was my turn to host, I was sold," Czarniak said. "I remember choosing not to go to one of my Sigma Kappa functions because I wanted to prepare a segment for the show. That's when you now you're really hooked."
While Czarniak knew what she wanted to do, success did not come immediately and not without some bumps. Her first job was an entry position at CNN in Atlanta that took her away from family and friends. "It's important to take a moment and think: Who got you here? And who has seen you through?" she said.
She cautioned the graduates to not lose touch with those closest to them. "Don't forget to nurture your circle,  your personal cheering section, because none of this matters if you don't have loved ones to share it with."
Czarniak also reflected on her biggest mistake, turning down a job offer to work as a sports anchor alongside George Michael in Washington, D.C. because she thought it would not advance her career. After declining the offer, "I knew immediately, in my gut, that I had made the wrong move," she said. "It was the first time in my life that I physically felt the impact of losing the opportunity I knew I should've taken."
Three weeks later, she called to see if the job was still open and if she would be considered again. She did get the job, but then had to tell the people she was working with in Miami that she had reconsidered and was leaving, another tough moment. Czarniak said the experience taught her to always go with her gut.
For graduates who have not found their passion, Czarniak advised them to do the things they like and their careers will fall into place. "There will be something that makes you want to drop everything, you just have to find what it is," she said.
At the start of her speech, Czarniak reminisced about her time as a student at JMU, including the great food, and said coming back to campus "makes me want to do it all over again. I love being here at JMU."
Undergraduate ceremonies will continue this evening and Saturday morning as individual colleges award degrees. In all, 3,028 diplomas will be conferred.
Commencement exercises began Thursday when 569 graduate degrees were awarded at the annual graduate ceremony in the Convocation Center.
Related stories:
# # #