Health and Behavior
A pressing time
---
For 20 years UREC has 'motivated Madison into motion' and there's much more in store
By Emily Tait ('15)
Visit Madison magazine online to download the Madison app and view this and other stories on your tablet device for an immersive, interactive experience!
Building a healthy relationship with exercise for personal wellness is the mission of the University Recreation Center at JMU. UREC encourages students to unplug and become more involved in healthy activities, to get away from screen time and reconnect with each other and their bodies, to set team and personal goals, and to see improvement through involvement in its programs.
''If students are encouraged to include fitness activities into their daily routine during college, they are much more likely to continue this after JMU.'
"If students are encouraged to include fitness activities into their daily routine during college, they are much more likely to continue this after JMU," says UREC director Eric Nickel. "We are working to develop the next generation of parents to positively influence the choices they will make for their families regarding nutrition and activities. Our high usage rate gives us the opportunity to make an impact on the lives of almost all JMU graduates."
UREC, which opened in 1996, is currently undergoing a renovation and addition that will nearly double its size. "The original facility was constructed to meet the demands of a student body of 12,500; today's student body is now over 20,000," says Nickel.
The years have brought changes in students' expectations of their campus recreation facility. Today, as students become more attuned to the wide range of possibilities for fitness and recreation, they look to UREC for a comprehensive experience, with activities that appeal to them specifically. "You have to have diverse offerings to attempt to reach 100 percent of campus," Nickel says. Those offerings range from fitness equipment to adventure challenges to yoga classes, and include over 300 non-credit education programs in addition to credit-based courses.
"UREC's emphasis on student-learning outcomes makes it a leader in the field of collegiate recreation," says Nickel. In fact, UREC supports the academic mission of the university in many ways, collaborating with other areas on campus to develop new learning opportunities.
Nickel provides examples: "Our adventure program partners with Integrated Science and Technology faculty to lead classes on a canoe trip so they can travel safely while conducting water-quality testing on local rivers. Our group exercise program developed on-location events with the libraries during finals week. We work with faculty in sports and recreation management and kinesiology to provide hands-on experiences for students who will be working with people with disabilities in the future. We partnered with Academic Affairs to create and offer the only Campus Recreation Leadership master's degree program in the country."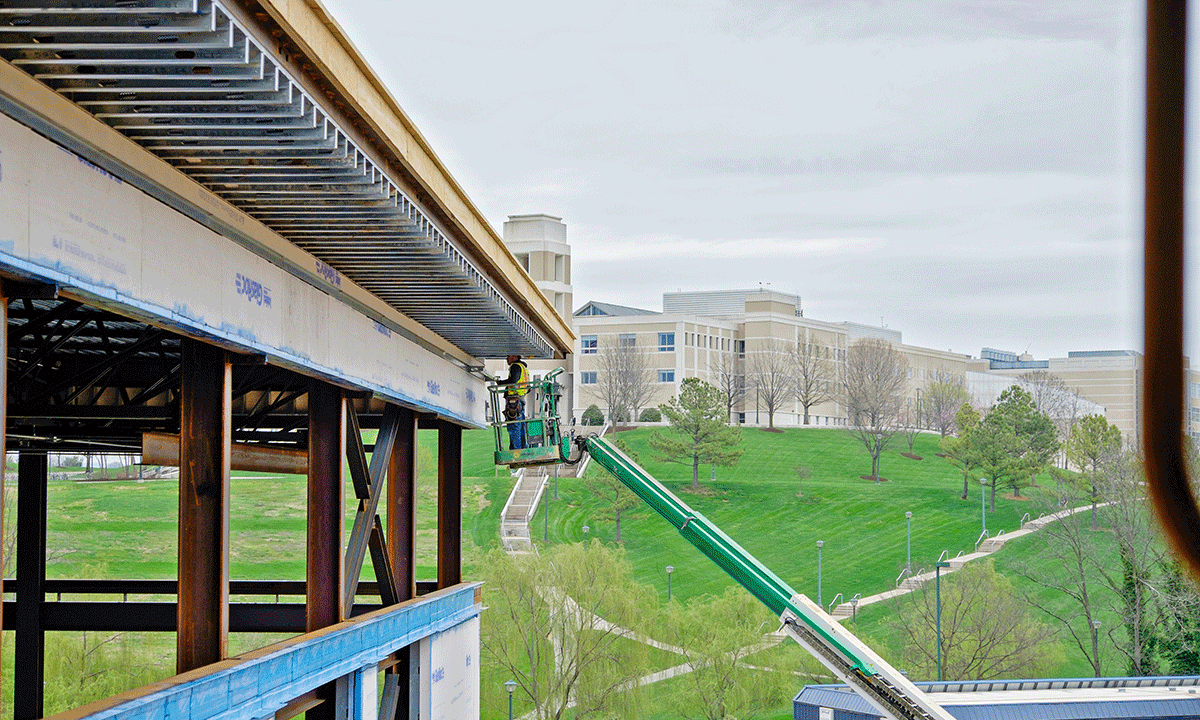 Another hallmark of UREC is a student-development model that challenges and supports student employees. One of the largest employers of students on campus, UREC creates an environment where student employees have the opportunity to learn and grow while gaining valuable work experience to complement their studies.
An often-overlooked benefit of UREC's operations is the relationship between exercise and academic success. "We have all heard about the benefits that exercise can have on the body," Nickel says, "but many people are not quite as familiar with the compelling evidence for the strong link between physical activity and brain function. Regular exercise, especially before academic efforts, can improve memory, increase the ability to pay attention, and help people learn."
The newly renovated and expanded facility promises plenty of opportunities for healthier minds and bodies for JMU students, faculty and staff who benefit from its many programs.