JMU in the Community
Morial's challenge: Be a thermostat
---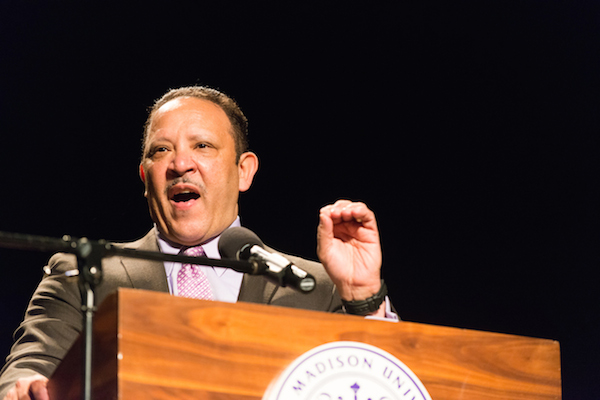 Keynote speaker Marc Morial urged attendees at James Madison University's 28th annual Martin Luther King Jr. Day Formal Program to contemplate the similarities between James Madison and King, who he said were both tasked to see and articulate a future for the nation.
Speaking Jan. 19 to an audience of students, faculty, staff and community members, Morial stated that King's work "[built] on the Bill of Rights and the Constitution, [on] the vision of Madison and Jefferson and others...in an effort to make this a more perfect union."
Morial is the CEO of the National Urban League and a former Louisiana state senator and mayor of New Orleans.
JMU President Jonathan R. Alger opened Monday evening's program in Wilson Hall Auditorium and all attendees participated in a "Sea of Lights" candle-lighting ceremony prior to Morial's address.
Speaking directly to this year's celebrations theme of "Never Sleep on a Dream...Arise and Take Action," Morial continued on to challenge audience members to commit to their dreams and become agents of change.
"So I say as Martin Luther King said, each of you must commit to being a thermostat and not a thermometer. A thermometer simply checks the atmosphere, and then goes along with the atmosphere of the room, of the community, of the time. A thermostat, on the other hand, sets the temperature in the room or in the community," said Morial.
His presentation, sponsored by the JMU Center for Multicultural Student Services, culminated a week's worth of events and gatherings designed to reflect on King's message while challenging participants to contemplate contemporary social and racial issues and to become inspired to arise and take action in shaping the future.
# # #

Written by Jordan Harris ('16)