Health and Behavior
Student, mother and top nurse
---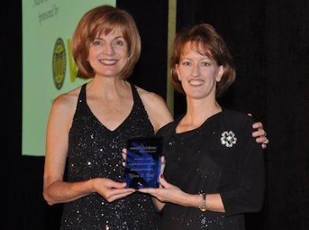 The Virginia March of Dimes recently honored JMU nursing student Tiffany Kidd as its 2014 Advanced Practice Nurse of the Year.
Kidd is enrolled in JMU's Doctor of Nursing Practice program, which is focused on delivering care grounded in the latest research and data analysis. The online program prepares students to influence policy and lead health care innovation at the highest organizational level within their chosen specialty area. 
In addition to her studies, Kidd works part time as a nurse practitioner at Centra Health Pediatrics and Richeson Drive Pediatrics in Lynchburg, Va. During her clinical rotations, Kidd made a connection with children that sparked her interest in pediatric asthma.
"JMU has really created a program that helps you succeed in your area of expertise," Kidd said. "Having that support is key."
As a mother of three, Kidd says the online aspect of the program is appealing. "I've completed online programs before, but the DNP program has incorporated more collaboration between the students and the faculty than I have experienced before."
The Virginia March of Dimes also recognized Whitney Thomas, a December graduate, with its Student Nurse of the Year award. Thomas was nominated for her leadership and service on the student council as well as for the development of a tutoring program for JMU nursing students.
###
Jordan Bogner ('15)