Arts and Culture
JMU double Fulbright awardee teaches in Korea
---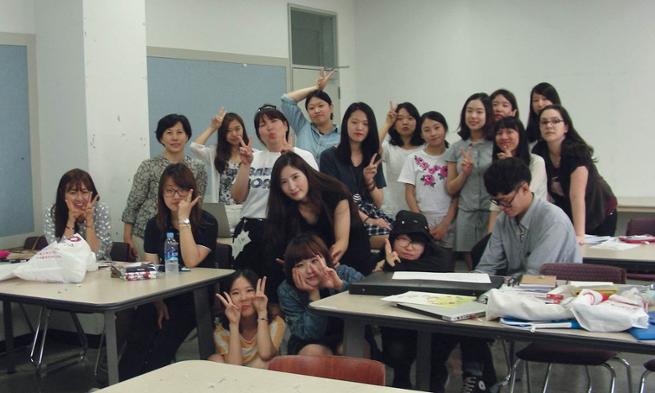 By Janet Smith ('81)
From Winter 2014 Madison Magazine

JMU's first two-time Fulbright award winner
Sang Yoon, professor of graphic design in the JMU School of Art and Art History, is teaching in South Korea for her second stint as a Fulbright Scholar. According to Fulbright records dating to 1998, she is JMU's first two-time Fulbright award winner.

Yoon is teaching as part of the Core Fulbright Scholar Program and sharing her talents and knowledge with students at Kyung Hee University. Her previous Fulbright experience was as a 2007 Fulbright Research Grant recipient. The fruit of her three-month study was "The Street Graphics of Seoul: A Culturally-focused Contribution to the Study of Urban Graphics," a project she has presented at three international conferences in Hawaii, Venice and Athens.
'My Korean students were inspired by the JMU senior students' advanced technical abilities and the professionalism of their pieces.'
While Yoon taught one course in 2007, her current Fulbright-sponsored residency focuses completely on teaching graphic design to undergraduate, master's and doctoral students.
A native of South Korea, Yoon is teaching in English since students are required to take several courses within their programs of study in the language. She is using revamped content from courses she teaches at JMU to accommodate the curriculum and culture in South Korea. In addition to teaching typography in English and Korean alphabets, Yoon was asked to add Chinese and Korean characters and fonts to the mix. "Since I have worked with English fonts only, it was a challenge to find out what kinds of Korean and Chinese fonts are available for my students," she says.
Yoon is sharing both her work and her JMU students' work with her Korean students, and she says she looks forward to sharing her Korean students' work with her JMU students upon her return to campus.
"My KHU students were inspired by the JMU senior students' advanced technical abilities and the professionalism of their pieces," says Yoon. A JMU tradition of student portfolio reviews by professional graphic designers and art directors intrigued Yoon's colleagues. "KHU Professor Mee-kyung Jang and I are planning to invite five KHU graduates now working in design firms to a KHU senior portfolio review."
"In addition to my Korean students, I have several foreign students from China, Indonesia and Romania," Yoon says. "These students' ways of approaching design objectives and strategies are rich and intriguing; and I am excited to share their multicultural and alternative perspectives with my JMU classes."
Yoon is collecting and photographing more samples to continue her research that began in 2007. "I am looking forward to writing a paper to discuss my newest insights into the visual culture of Korea."