News
valley scholars zombie invasion
---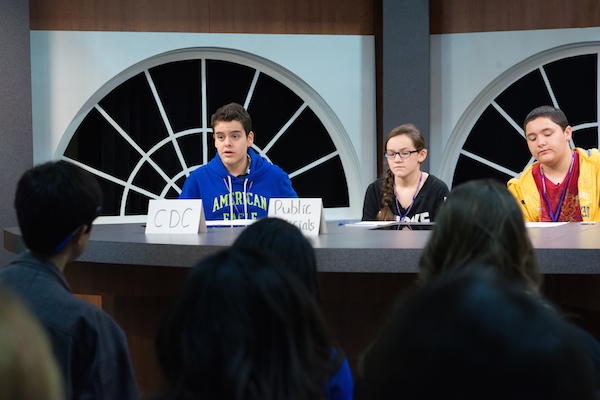 Valley Scholars were assigned to work groups in the wake of the zombie invasion and held a news conference to disseminate information to the public.
Middle-school students in James Madison University's Valley Scholars program wrestled with the undead during a visit to the College of Arts and Letters Oct. 24. JMU faculty and students in the Schools of Communication, Information and Media staged a zombie invasion on campus that tested the scholars' crisis communication skills.
"We wanted a way to talk about risk and crisis communication that the scholars would find interesting and novel," said Dr. Corey A. Hickerson, associate professor of communication studies at JMU and one of the organizers of the event. "With Halloween approaching, zombies seemed like a natural fit."
After being briefed on the situation, the scholars were assigned to one of five work groups: community, the Centers for Disease Control and Prevention, reporters, public officials and public relations practitioners. The teams explored effective disaster preparation, engaged in critical problem solving to determine the sources and causes, gathered facts and conducted interviews, researched best practices in policymaking, and crafted messages to build trust and credibility with the public. The workshop culminated in a mock news conference in the School of Media Arts and Design's television studio in Harrison Hall.
"It was fun," said a Shelburne Middle School student who was part of the CDC team. "I got to learn how to deal with a crisis and how to work as a team to solve problems."
A 13-year-old student at J. Frank Hilliard Middle School in Rockingham County was part of a team of reporters who asked probing questions of the panel during the news conference. "I've always enjoyed news, so this was a great experience," he said.
JMU is working with motivated youngsters from eight area schools over a five-year period to foster and encourage a desire to learn, while also building skills that will help them achieve the academic success necessary for college attendance. The students will be offered a full tuition scholarship to JMU if they are accepted to the university and choose to attend.
###
Oct. 25, 2014