News
Dukes take pledge to stop sexual assault
---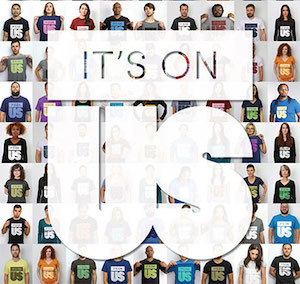 Student leaders at James Madison University are encouraging their fellow Dukes to help combat sexual assault by joining the "It's on Us" national sexual assault prevention campaign. It's on Us is a declaration that sexual assault is not only a crime committed by a perpetrator against a survivor, but a societal problem in which all of us have a role to play.
The campaign is aimed at changing the way we think about sexual assault by doing two fundamental things:
Establishing a sense of ownership over the problem among everyone
Providing tips, tools and inspiration to empower everyone to make a difference, every day
JMU Student Government Association President Taylor Vollman joined over 200 campus leaders, President Barack Obama and Vice President Joe Biden at the White House on Sept. 19 for the unveiling of the campaign. "The climate is really calling for action in a way that is hasn't before," Vollman said.
The campaign is encouraging campus leaders to get involved by spreading the word about the pledge, reaching out to community leaders, hosting a large community event and ensuring survivors have the support they need.
The SGA is working with JMU student organizations including Campus Assault ResponsE (CARE), The Red Flag Campaign, Take Back the Night and Clothesline Project, as well as representatives from athletics, Greek life and other stakeholders, to tailor the message to Madison's campus. "We are working to make sure everything is appropriate and sensitive for survivors, while ensuring it is informative for students," Vollman said.
SGA is also seeking ways to include both men and women in the conversation to create an atmosphere in which sexual assault isn't acceptable. In addition, the Campus Coalition Against Sexual Assault is working with student leaders to find ways to gear education not just toward first-year students, but upperclassmen as well.
Vollman looks forward to reaching out to student organization leaders to integrate this campaign into JMU's culture.  SGA plans to host a community forum in November to raise awareness of sexual assault prevention. "I would like to see students feeling safer on campus and for students to understand what it means to be a bystander," she said.
For more information on the campaign, or to take the pledge, visit http://itsonus.org/.
###
Jordan Bogner ('15)
Oct. 10, 2014