News
Professor to participate in White House disability summit
---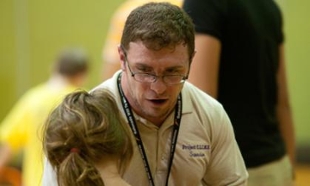 Dr. Thomas Moran is one of only two university professors in the country to be invited to participate in the upcoming White House Summit and Research Forum on Improved Health and Fitness for Americans with Disabilities, Oct. 6-7.
The goal of the summit is to call attention to the physical activity and nutrition needs of persons with intellectual, developmental and physical disabilities. "This population is at especially high risk for health problems because of the tendency to lead a sedentary lifestyle," said Moran, associate professor of kinesiology at JMU.
The event will bring together disability advocates from K–12 schools, universities and community-based organizations to share best practices regarding the implementation of the national fitness initiative I Can Do It, You Can Do It! as well as to examine knowledge gaps and research opportunities in diet, physical activity, motivation and outcomes that will improve the health and quality of life of Americans with disabilities.
In 2010, JMU was among a handful of universities to receive a federal grant through ICDI, which in turn led to the development of Overcoming Barriers, a mentoring program that pairs JMU students with community members of all ages who have disabilities. From a single outreach program in its first year, Overcoming Barriers has grown to encompass 14 different programs that together serve more than 100 disabled adults and children and involve about 300 JMU student volunteers from a variety of backgrounds and academic disciplines.
As part of the summit's Oct. 6 panel discussion, Moran and Chelsea Lambright, a graduate student in JMU's occupational therapy program, will share their experiences with Overcoming Barriers and the impact the initiative has had on the local community. According to Moran, about a third of past participants are currently enrolled in inclusive community-based programs. "Physical activity provides them with a vehicle to be successful and to feel empowered to try new things," he said.
For Lambright, who serves as director of programming for Overcoming Barriers, the summit offers a "once-in-a-lifetime" opportunity. "When I first became a mentor for Overcoming Barriers during my undergraduate career, I would have never imagined being in the position I am today," she said. "I am looking forward to hearing the different ideas and programs for individuals with disabilities throughout the country, having the professional experience and opportunity to speak, and simply being in the White House."
###