News
Art history student celebrates creativity and community
---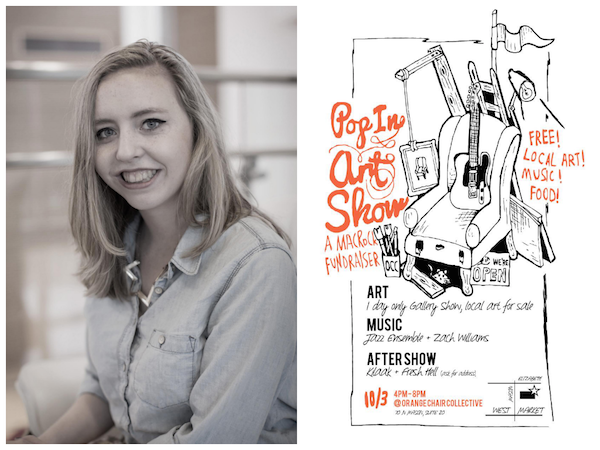 Article by Landon Walker ('15)
On Friday, Oct. 3, JMU senior Caty Mealy will bring her passion for the arts and community to downtown Harrisonburg. Mealy, working to raise money for MACROCK, a local independent music festival, will present the Pop In Art Show, an exhibit of local artists and musicians that aims to promote creativity in Harrisonburg.

The event will be held at the Orange Chair Collective and is part of First Fridays, a monthly tradition in which downtown businesses stay open for extended hours and celebrate the arts with exhibitions and performances on the first Friday of each month.

Mealy, an art history major at JMU, says she created this exhibit because she "has always wanted to curate an exhibition and learn more about the aspects of running a gallery."

The Pop In Art Show will feature pieces by local artists, some of whom are JMU students and alumni. There will also be live music to accompany attendees and further the connection between different forms of creativity in Harrisonburg. Speaking on her hopes for the exhibit, Mealy explains she "would like to see a space where there is a fusion of art and music that is intimately engaged with the Harrisonburg community."

As with many of the events taking place during First Fridays, this interaction between art and community is important to the Pop In Art Show. According to Mealy, "Arts are integral as programs to bring the community together, and events like this are a great way for the community and local artists to support one another."

Mealy especially encourages JMU students to attend the show. "Beyond getting to experience downtown Harrisonburg and the First Fridays art crawl, this exhibit will be a great way for students to check out some fun music, great art and good times," she said.

JMU students and Harrisonburg community members are invited to attend the Pop In Art Show from 4 - 8 p.m. on Oct. 3 at the Orange Chair Collective.
###
Oct. 2, 2014