Arts and Culture
The Honors challenge
---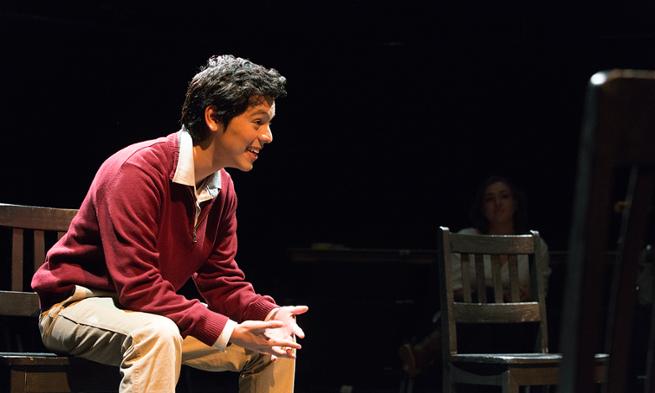 SUMMARY: Already recognized for his acting chops before arriving on JMU's campus, Honors student Diego Fernando Salinas ('18) was wide open to exploring opportunities in both theatre and modern foreign languages.
---
Diego Salinas (left) was part of the cast of the Stop Kiss production at JMU's Studio Theatre. Stop Kiss was presented by special arrangement with Dramatists Play Service, Inc., New York.
You entered JMU just finishing up a film project. Tell us more.
"I applied to an "Actors Wanted" ad for an 18-year-old who can play a 16-year-old, looks Latino, and can speak Spanish. We just finished filming.
I was one of the lead actors in the Indie film being made in Richmond, Va., about four kids at a Junior Senators conference who discover a plot between an oil CEO and a corrupt senator to kill bald eagles in order to drill for oil in a national park. It's up to the young people to stop them.
My character was the shy introvert; his character arc is how he gains confidence and defies rules in order to save the eagles. Ironically, part of the character's introverted behavior comes from his being shy about his Latino background. I had to ask my mom and dad to help me practice lines to get the accent right!
This was the first professional movie I've ever auditioned for. They wanted a demo reel so I asked my brother to record me reading from the script on his iPhone. Fellow performers included Corbin Bernsen and Shirley Jones. It should be out early 2015 after going to film festivals."
When I visited [JMU] I saw how the students were open, engaging and inclusive. I felt at home immediately.'
What are your favorite classes so far?
"Italian and acting—professor Gian Frongia has a very fluid approach to the language and keeps the class moving fast. My first language was Spanish; my family moved from El Salvador when I was 6-years-old. I took French in middle and high school so I'm fluent in that as well. Italian is the next step. I might tack on Portuguese or German in my junior/senior year at JMU.
"I'm taking basic acting with Ben Lambert; he's very engaging in class. I can already tell this will be a very physical and emotionally draining class—and that's a good thing for an actor!"
Why did you choose the Honors Program?
"I was in the International Baccalaureate program in high school, which puts a lot of emphasis on thinking about the 'why' of things, not just facts and figures. Naturally I wanted to be challenged in college. A friend at JMU in Honors encouraged me to apply.
"I can already see the benefit of Honors classes. For instance, my GPHIL philosophy class is constructive and group motivated. We get to do the talking, not just listen to a lecture. We work together to find the answer, and if we make mistakes along the way so much the better. I really like that."
Tell us more about your academic plans.
"I don't want to limit myself academically. There's so much to take advantage of. I've settled on a theatre and modern foreign language double major--being an interpreter would be great!"
'I wanted to be challenged in college.'
You've been active in the theater world already.
"Richmond, Va., is a growing theater community. I've worked with two of the approximately eight professional theaters in the area.
"In my junior year of high school I saw a flyer asking for acting interns for the Henley Street Theater's production of Julius Caesar. I went in, did my monologue, and got cast. The director's vision was to set the play in a 1940s Facist regime; it was a very intelligent piece.
"I was the lead actor in a play this past winter produced by CAT Theatre, and I was voted Most Promising Newcomer to the stage by the Richmond Theatre Critics Circle. I played a teenage boy who was autistic, a real challenge."
Why JMU?
"A friend gave me a tour. When I visited I saw how the students were open, engaging and inclusive. I felt at home immediately, like I could go back to a dorm that night and hang out with friends."