News
Day one of fall Career Fair proves a success
---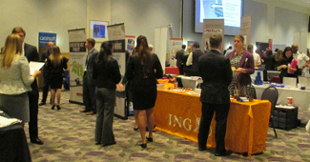 Career and Academic Planning's annual Fall Career and Internship Fair kicked off yesterday. The two-day event runs Sept. 29 – 30 from 11 a.m. to 3 p.m. in the Festival Conference and Student Center Ballroom.
The fair provides JMU students and alumni the opportunity to network with recruiters and learn about potential internships from the more then 153 employers in attendance, including Target, Deloitte Consulting and Capital One.
Erin Greene, a senior SMAD major, said she attended yesterday's event to obtain a "deeper understanding of what jobs and opportunities are available in today's market." While Nathaniel Morra, a senior ISAT major, said that he enjoys "making connections with recruiters by meeting with them face-to-face."
Centric Business Systems, an employer in attendance, is seeking sales reps for its document management software. Jeff Hart, a JMU alumnus and a recruiter for the company, said that they seek out JMU graduates because of their "well roundedness and social skills." He continued, "JMU attracts high-quality people."
Hart's advice for those looking to earn an interview following the event is to "dress professionally, research the companies and separate yourself from other candidates."
Want to share your thoughts and experiences? Use #jmucareerfair on social media.
###
Sept. 30, 2014