News
JMU welcomes first students into Valley Scholars Program
---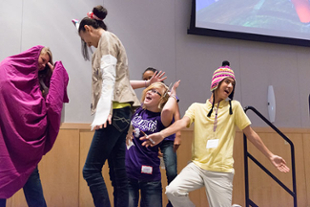 Valley Scholars students perform a skit in the Festival Ballroom as part of a team-building exercise on Saturday.
Precious wants to be a teacher and Josh wants to be an aerospace engineer.
Both eighth graders have time to mull those interests, but they already know they will have to go to college to achieve their goals. Precious, Josh and 33 other eighth graders from middle schools throughout the Shenandoah Valley started their pursuit of college Saturday as inaugural members of the Valley Scholars Program.
Through the new community engagement program JMU will work with school districts around the Shenandoah Valley to identify middle-school students with academic potential who come from first-generation and socioeconomically disadvantaged backgrounds. The university will then work with these students and their support networks to help prepare them for college. Valley Scholar participants will be promised full scholarships to JMU if they are admitted.
Following lunch in the Festival Ballroom, JMU president Jonathan Alger welcomed the students and their families to the program, telling them that the JMU community is a family and that they are now part of that family.
"We are going to make history together," Alger told the group. "The theme is envision. The more we can envision a positive future, the more likely we are to get there. We are going to open some doors."
Alger also said that it takes hard work and help from others to achieve dreams and that the JMU family was there to offer support.
After President Alger's remarks, the students were divided into teams for a series of team building exercises. They also received a tour of the JMU campus and were invited to attend the football game Saturday afternoon.
The 35 students in the inaugural cohort come from J. Frank Hillyard Middle School in Broadway; Kate Collins Middle School in Waynesboro; Page County Middle School in Shenandoah; Luray Middle School; North Fork Middle School in Quicksburg; Skyline Middle School in Harrisonburg; S. Gordon Stewart Middle School in Fort Defiance; and Shelburne Middle School in Staunton.


Published Sept. 15, 2014