News
Nursing professor awarded Fulbright to teach in India
---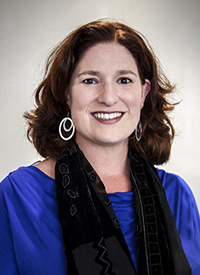 Dr. Erika Metzler Sawin, assistant professor of nursing at James Madison University, has been awarded a Fulbright-Nehru Academic and Professional Excellence fellowship to teach nursing students in India for six months beginning in January.
Sawin will be teaching public health nursing and community nursing to both undergraduates and graduate students at the Jawaharlal Institute of Postgraduate Medical Education in Puducherry, a former French territory of southern India numbering approximately a half-million people. The institute houses a well-established medical school and a College of Nursing, and recently opened a new International School of Public Health.
Upon learning that she had been awarded a Fulbright grant, Sawin began researching the health care landscape in India. "Because they are developing so quickly, they're really transitioning in their public health system from a model that was focused on communicable and infectious diseases to one that is focusing more on chronic diseases and disease management because people are living longer," she said.
In addition to her work in the classroom, Sawin will be expected to mentor community nursing teams at area health clinics, participate in local wellness initiatives and contribute to health services research at the institute.
Sawin has lived and traveled internationally, though she has never been to India. She will be accompanied on the trip by her husband Mark, a professor of history at Eastern Mennonite University, and their two children, Cora, 14, and Isaac, 12.
"I'm excited for the opportunity," she said. "I have a lot to learn, but I think I have a lot to contribute too."
###
Sept. 9, 2014