News
Physician assistant and nursing programs team up
---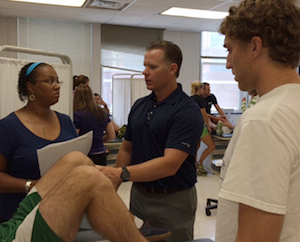 The Physician Assistant and Advance Practice Nursing programs came together this summer for interprofessional education as students acquired skills for evaluation of the musculoskeletal system.
Graduate students enrolled in Physical Diagnosis II (PA 511) and Advanced Health Assessment (NSG 520) learned how to recognize and diagnose common joint and skeletal injuries such as ankle sprains, shoulder dislocations and torn ligaments.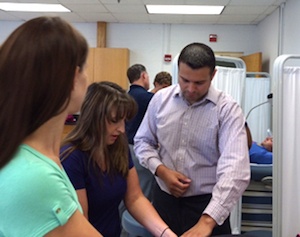 "As future physician assistants and nurse practitioners, they will need to know how to evaluate for musculoskeletal injures because these are some of the most common complaints of people presenting to a medical office or emergency room," said Jerry Weniger, director of the PA program, who assisted with the demonstrations.
The collaboration involved some lecture, but mostly consisted of lab time to allow the students to pair up and practice specific maneuvers.
"Although they are often trained separately, these students will increasingly be practicing side by side as providers in the health care arena, so it makes sense to begin working together during their education and clinical skills training," said nursing instructor Christine Fasching-Maphis, who taught the Advanced Health Assessment course.
Chris Smith, an athletic trainer from the JMU sports medicine department, also lent his expertise to the project.
"I think the students took away a respect for the collaborative contributions that each discipline and future provider can make to quality and effective health care," Fasching-Maphis said.
Students and faculty in the health sciences hope to create more opportunities for interprofessional collaboration in education and practice in the future.
###
Sept. 4, 2014