News
Sports communication minor finds new home
---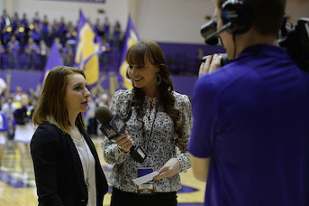 Gabby Smith (center), a student in the sports communication minor, interviews Lacey Lomax, captain of the JMU cheerleading team, before the upcoming nationals competition in 2013.
Starting this fall, the sports communication minor, previously housed in the kinesiology department, will be offered through the School of Communication Studies.
"We have added some depth with the communication classes, but we also kept some of the other courses -- including the very popular practicum, which provides students the opportunity to work in a real-life sports setting," said Dr. Eric Fife, director of SCOM. "We have certainly put our own unique stamp on this minor."
Students are required to complete Introduction to Sport Communication (KIN 242) and Introduction to Public Relations (SCOM 260) prior to applying for admittance into the minor.
Students accepted into the minor will take courses that focus on communications, media arts and design, and kinesiology.
The students will gain an understanding of the role and importance of sports in society, strategic communication surrounding sports teams, and sports broadcasting.
SCOM has created two new course requirements for the minor, Sports Public Relations (SCOM 365) and Communication, Culture, and Sports (SCOM 464).
Dr. Isaac Woo, coordinator of the sports communication minor, has conducted research studies focused on a broad range of sports communication topics. For a complete list of Woo's research, visit his website.
In addition, numerous faculty members in SCOM have instruction and/or research interests in the sports communication field.
For more information about the sports communication minor, visit the School of Communication Studies website.
###
Sept. 3, 2014