News
Marching Royal Dukes give back to local high school bands
---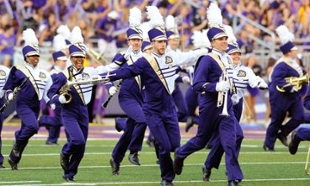 Members of the Marching Royal Dukes take to the football field to perform.
This past November, an estimated 53.5 million people watched as the Marching Royal Dukes marched through New York City in the 2013 Macy's Thanksgiving Day Parade. This December, the band will travel to Rome to perform in front of the Vatican following Pope Francis' New Year's Eve address. But the band is also turning its attention toward impacting music education through local high schools.
In addition to the usual Saturday night lights of college football, the Marching Royal Dukes played under Friday night lights at Shenandoah County's Central High School. There, students from five different high school band programs were given an opportunity to play with Virginia's Finest Marching Royal Dukes.
Each year, the band makes an effort to visit and perform with a local high school. Marching band director Scott Rikkers gives music from one of the Marching Royal Dukes' current songs to the host school, so that students can perform with the band at half time. Through the experience, high school students get an insider's look into playing in a collegiate-level marching band.
This year's event was a huge success and, according to the school, drew record-breaking numbers – nearly four times the attendance of a normal Friday night football game.
"Together with the local school students, we produced a 'FANtastic' show," says Rikkers. "But most importantly, we were able to publicly recognize the efforts of our music students and music educators, and demonstrate the importance of music education in our schools. Even the local football parents were jumping out of their seats!" 
Friday's show was just one of the ways the band is reaching out to the high school community.
Marching Royal Dukes communications manager Chase Maszle says, "We've viewed the JMU football program overhaul as a great opportunity for us to revamp the way that the band interacts with the community, and the community seems to love it so far. We feel that JMU alumni and the surrounding community have helped the Marching Royal Dukes make an impact here, and now it's our turn to give back."
The Marching Royal Dukes will also give high school students an opportunity to perform with the band in its first planned annual "Band Day" at Bridgeforth Stadium during the Sept. 13 JMU football game. Students will work with the MRD staff in clinics, perform during halftime, and cheer on the JMU football team. Pre-registration is required, and the $20 cost includes a Band Day T-shirt and lunch during the event. Visit the Marching Royal Dukes website to register.
###
Sept. 2, 2014
By Chase Maszle and Jessica Bur ('15) JMU Public Affairs