News
JMU undergrads among first to test latest DNA sequencing technology
---
A device about the size of a flash drive is making a big splash in the world of genomics research and a pair of JMU students are among the first, if not the first, undergraduate researchers anywhere to use it.
Biology majors Curtis Kapsak, a senior, and Jesmine Roberts-Torres, a junior, have been helping Dr. James Herrick, associate professor of biology, test a brand new nanopore sequencer developed by Nanopore Technologies in Oxford, England.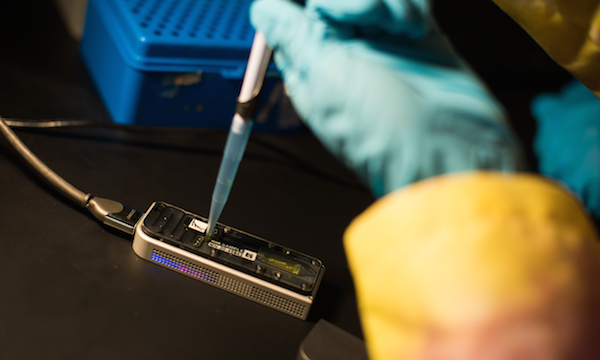 DNA sequencing is used in a number of fields, from biological research to forensics  to health research. Since the human genome was first sequenced in the 1990s, technology to sequence DNA has rapidly progressed and much of the process is now automated.
While "next generation" sequencers can produce DNA sequences of up to 400 base pairs in length, the MinIon, a "next, next generation sequencer" can produce DNA sequences at least 10 times that length, Herrick said.
"That's really useful for us because we can then see the context of a gene, what is it next to? What is it with? It might tell us what organism it came from if it's an unknown piece of DNA, extracted from some soil or from an infection, for example," Herrick said.
Herrick applied to Nanopore Technologies to test the device, which is not yet on the market. He received the MinIon in May.
So far, the error rate has been high compared to a much larger DNA sequencer the department purchased about a year ago, but the company is continuing to improve the technology.
The preparation and the ease of use is just much greater than the "next generation" systems, Herrick said.