News
JMU launches LiveSafe mobile app to enhance campus safety
---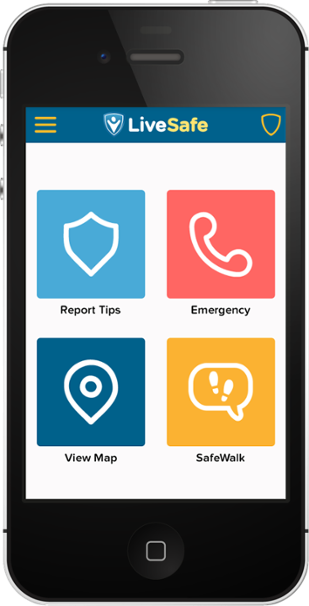 James Madison University has launched a new mobile safety app that provides students, faculty and staff a new channel by which to communicate with campus public safety professionals.
The new app, called LiveSafe, makes it easy for people to share information about potential crimes and unsafe situations with campus police using their Android or iPhone devices. Through their devices, users will be able to report GPS-tagged information with added picture, video and audio clips.
"JMU is pleased to offer LiveSafe as another tool to keep our campus community safe and informed," said JMU Police Chief Lee Shifflett. "We believe that the LiveSafe technology will help to empower members of the JMU community to say something when they see something."
While LiveSafe allows law enforcement to push information out to its users, the app's communication capabilities will not replace the Madison Alert system already in place on campus. The Madison Alert system will continue to be the primary system by which the university communicates with students, faculty and staff during an emergency.
LiveSafe Inc. provides a comprehensive user-centered safety solution that empowers both citizens and law enforcement to help make their communities safer. Through LiveSafe's state-of-the-art cloud-based command dashboard, law enforcement can better identify and assess threats, prevent crimes and save lives, thus enhancing overall safety. Learn more about LiveSafe Inc. by visiting http://www.livesafemobile.com.
LiveSafe is available as a free download in both the Google Play and iTunes stores. Users should look for the LiveSafe app with the blue shield.