News
Alumnus getting thumbs-up for Ebert documentary
---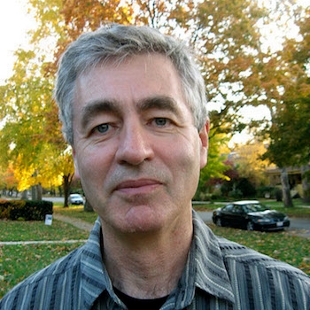 Images courtesy of Kartemquin Films
JMU alumnus Steve James ('77) is earning rave reviews for his latest documentary film "Life Itself," based on the renowned movie critic Roger Ebert's autobiography.
Now showing in select theaters nationwide and available On Demand and on iTunes, "Life Itself" introduces viewers to the man behind the reviews in the Chicago Sun-Times and opposite fellow Windy City critic Gene Siskel on the set of "At the Movies," which influenced generations of moviegoers and helped launch the careers of directors like Martin Scorcese, who appears in "Life Itself" and serves as an executive director. 
"Life Itself" also details the final four months of Ebert's bout with thyroid cancer, which claimed his life in April 2013.
"I really responded to Roger's memoir," James says in an interview with JMU's Sarah Teach during the Nantucket Film Festival in June. "It was so poignant, at times funny, and revealing. I wanted to list passages from the book so that, in essence, Roger would be the narrator of his own story. It was an exciting creative challenge to mix traditional biography with clips, archival footage, and following Roger's life in the present the way I did."
If the film's critiques are any indication, James was indeed up to the challenge:
"… a work of deftness and delicacy, by turns a film about illness and death, about writing, about cinema and, finally, and very movingly, a film about love." — Geoffrey O'Brien, The New York Times
"[Ebert] was a complicated person; there have been many attempts to sum up his essence succinctly. I have tried myself and failed. But if he was any one thing, I think that he was joyful. James' documentary captures all of this in the starkest and yet loveliest light." — Frances Dodds, DuJour magazine
"James has unerring instincts as to what parts of Ebert's story are worth spending time on. It's another mark of the director's skill that he took me deeper into aspects of that life that I thought I knew the most about." — Kenneth Turan, Los Angeles Times
Long before he made a name for himself in documentary film circles, James was a communication arts major at JMU in the mid-1970s. "On a lark, I took a film appreciation class through the English department," he recalls in the Nantucket interview. "I liked going to movies, and I heard it was a great class. It was there that I fell hook, line and sinker and started thinking, 'This would be fun.'"
James, who was born in Hampton, Va., and now lives in Chicago, is perhaps best known for "Hoop Dreams" (1994), which follows the story of two African-American high school students in Chicago and their dreams of becoming professional basketball players. The film was hailed by critics, including Ebert, who labeled it "the great American documentary," one that "gives us the impression of having touched life itself."
James' resume also includes "The Interrupters" (2011), about three former Chicago gang members who try to protect their communities from the violence they once employed, and "Stevie" (2002), which documents James' attempts to reconnect with a troubled young boy to whom he had previously been a Big Brother.
He is currently working on the film "Generation Food," which is slated for release later this year.
###
July 16, 2014
Published: Wednesday, July 16, 2014
Last Updated: Thursday, October 20, 2016