Health and Behavior
Finding inspiration in crisis
---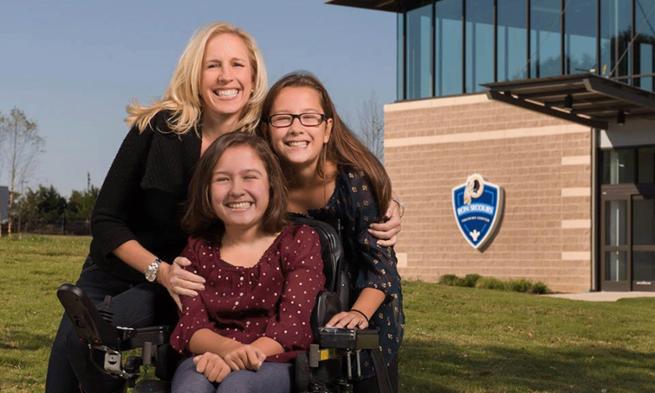 Health emergency brought challenge and change to Leigh Taylor Sewell
By Maggie Siciliano
"I think [it's easy] to take healthy children for granted until you have a child who is not healthy," Leigh Sewell says.
While studying at JMU, Sewell was recruited by Circuit City for their finance trainee program. After graduating she worked for the company for nine years as an accounting manager. Today, Sewell is the chief of staff for the CEO and Vice President of Children's Services for Bon Secours Virginia Health System.
Her move to the healthcare industry was unexpected and transformational. For Sewell, everything changed after the birth of her two girls, Sydney and Taylor Bernard.
"In 2001, I had identical twin daughters who were born 12 weeks early at 28 weeks gestation weighing 2 pounds 12 ounces and 2 pounds 15 ounces. One of my daughters suffered a birth related brain injury, which resulted in cerebral palsy," Sewell says.
'Children...can't advocate for themselves. ... I wanted to be able to make a difference in the lives of people who face these [health] challenge s on a daily basis.'
"I found myself navigating a complicated and complex health system to ensure my daughter received the medical care necessary to maximize her potential [after she was diagnosed]. This inspired me to want to change careers and make a difference in the lives of others. In 2006, I joined Bon Secours as the Director of Materials Management. While working full time, I also got my master's in health administration from VCU. Over the last eight years, I have held multiple roles in Bon Secours," Sewell says.
Sewell shares that her daughters were absolutely her inspiration for the change, and that she could not have done it alone.
"Children, by virtue of being children, can't advocate for themselves....and when they have health issues, it is that much more critical to have someone advocating for you. I wanted to be able to make a difference in the lives of people who face these challenges on a daily basis," says Sewell.
A crucial organization to the fight for advocacy is the March of Dimes, "We help moms have full-term pregnancies and research the problems that threaten the health of babies," their mission statement says. Sewell and her family have been increasingly active in the organization in the hope of spreading awareness and support.
"I was the chair for the March for Babies Walk, March of Dimes signature fundraiser, and my daughters and I were also the ambassador family. As chair, I spearheaded the fundraising effort with other organizations and corporations across Richmond. As the ambassador family, our objective is to raise awareness on the impact of prematurity and how critical the March of Dimes is to healthy babies. My daughters also organized several fundraising efforts, including hosting a cupcake party at a local bakery where all of the proceeds went to the March of Dimes. Our team was the top fundraising family team for the walk this year," says Sewell.
Sewell plans to continually learn and evolve in her career as the healthcare industry continues to evolve.
'When I come to work each day, I know I am making a difference in the lives of the patients we serve.'
"Unfortunately, I couldn't change Taylor's situation but I could certainly change what I did as a result of it. I have successfully lobbied at the state and federal level on behalf of children with special needs and have had the opportunity to serve the Sportable board and the March of Dimes boards—two organizations that are personally meaningful to me. And when I come to work each day, I know I am making a difference in the lives of the patients we serve," Sewell says.
Strongly believing that she never wants to look back on her life with regrets, she looks forward to the future of her career path.
"The changes in the healthcare delivery system as a result of healthcare reform are the most significant changes we've seen since the implementation of Medicare more than 50 years ago. It is an exciting time to be in healthcare!" says Sewell.
To support the March of Dimes effort, she encourages people to support their local March of Dimes Chapter.
Full-term pregnancies? Healthy babies?
"This is clearly something that touches all of our lives," Sewell says.