News
Study just one science? That's not enough for ISAT major
---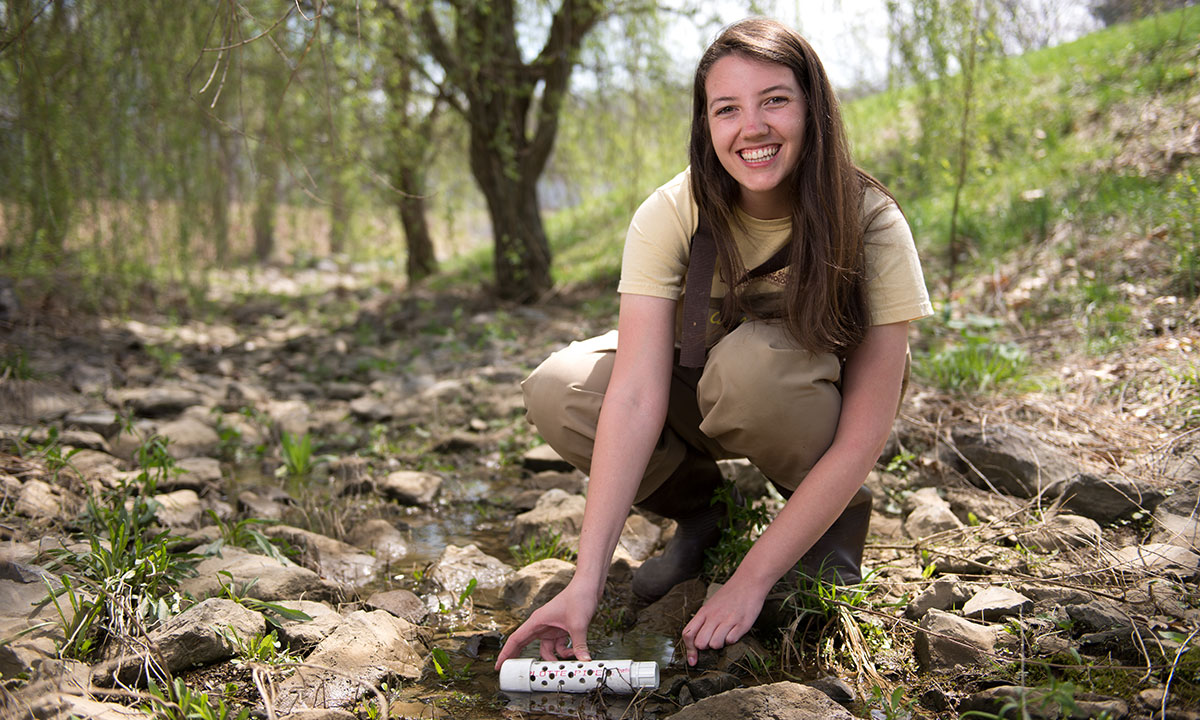 When it comes to solving environmental problems, Ashleigh Cotting has a handle on how to address them—a lot of them.
Entering her senior year, the honors integrated science and technology major is busy researching a local farm's ability to reach net zero greenhouse gas emissions. The project involves completing an energy audit on all aspects of the farm's operation, including livestock and crop production; looking for ways it can use renewable energy such as wind and solar power to reduce its need for power generated from fossil fuels; and looking at the farm's carbon-storage capacity.
The farm project, which will be her honors thesis, requires a diverse set of skills. But that's what attracted Cotting to the ISAT major. "I really liked the program because you don't have to pick one area of study right away," she said. "I knew I wanted to do science, but I didn't know what science so I saw it as an opportunity to try some things out before I had to decide. And I kept not deciding. I did everything."
While many ISAT majors choose to concentrate in one and sometimes two sectors, Cotting is working in three: biotechnology, energy and environment.
"I knew I wanted to do science, but I didn't know what science so I saw it as an opportunity to try some things out before I had to decide. And I kept not deciding. I did everything."
The farm project will begin with the energy audit. "The goal of that is to see how I can reduce their energy consumption," Cotting said. "Obviously there are some actions they are going to have to take, so if they can limit how much energy they're consuming, they will in turn limit the amount of greenhouse gases they're emitting."
The second part of the project will involve a "resource characterization," where Cotting will research the technical and financial feasibility of installing a renewable energy generator such as a wind turbine, a biogas digester or solar panels to reduce the use of fossil fuels.
The final part of the project will be determining how much of the carbon dioxide produced by the farm can be stored on site. "I'll be doing things like testing the soil and looking at what kind of forestry is on the property," she said. "Anything I can't address through those, I'll look into offset programs so they can recycle."
Last summer Cotting applied for and was chosen to do research on using biochar to remove mercury from the South River in Augusta County. Biochar is a type of charcoal made by burning waste wood, grass and other cellulosic materials in low oxygen. Cotting worked with another ISAT student, Sean Henke, who had already determined that biochar could be used to remove mercury from the river. The goal of last summer's research was to test two filtration methods for removing the mercury to see what worked best.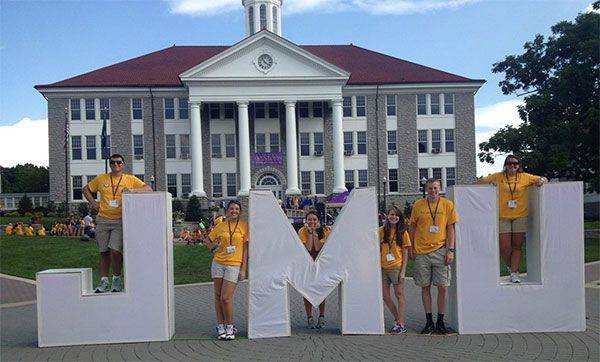 Ashleigh Cotting, standing to the left of the 'M,' has found time between her studies to enjoy student life at JMU, inlcuding working as a FrOG (freshman orientation guide). — photo courtesy of Ashleigh Cotting.

"I got very good at working with PVC piping," Cotting said, explaining the experiments involved piping water up a six-foot bank through three structures they built.  One of the structures contained 65-gallon filters filled with biochar while another contained small biochar-filled pipes placed in a trough. The pipes had holes in them to let the water run through and simulated what could be done with hollow logs filled with biochar. The third setup was used as a control with no filtration. Each structure contained 80 rocks for algae to grow on.
The experiment ran for six weeks with Cotting taking weekly water samples. At the end of the six weeks, she also sampled the algae growing on the rocks to determine how much mercury the algae was storing. "We were really interested in how much mercury the algae was taking up because one of the problems with mercury is that once it gets into environmental situations like water, it will methylate and methylmercury is easily taken up into fatty tissue and that's how you end up with bioaccumulation in fish."
The 65-gallon filters worked best, considerably reducing the amount of methylmercury found in the algae, Cotting said. However, more testing may be needed using biochar-filled pipes with larger holes that let more flow through.
As for her future, Cotting says she is interested in going to graduate school and studying civil engineering. An engineering class this past year piqued her interest, but she has another year left at JMU to explore more possibilities.
By Eric Gorton ('86,  '09M)
Published May 28, 2014