Education
Legacy Scholarships
---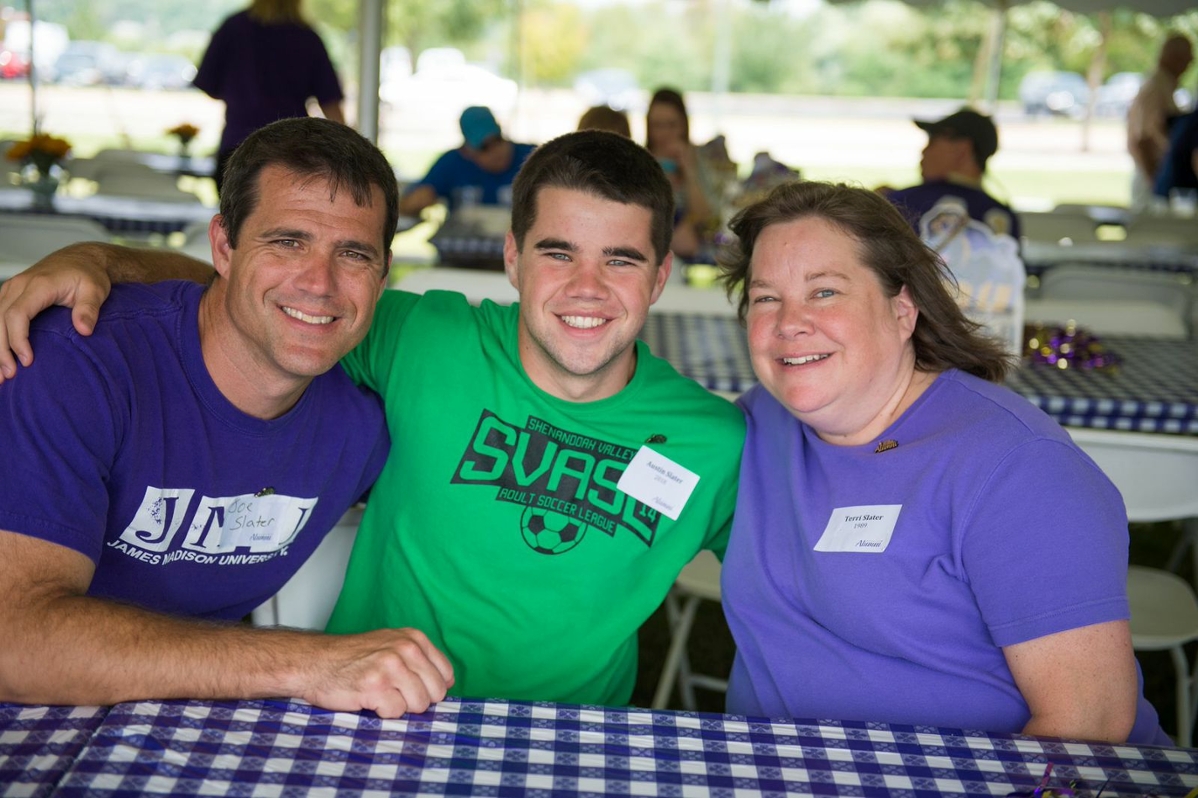 "I would not be walking this Earth if it wasn't for JMU," said Austin Slater, Class of 2018, in his successful application for a JMU Alumni Association Legacy Scholarship.  Both his mother, Terri Brown Slater ('89, '91M), and father, Joseph Slater ('89), are graduates of JMU who met and fell in love while at Madison.  The Slater family joined other legacy families at this year's Legacy Picnic to celebrate their continued connection to JMU. 
Austin's infectious smile and love for his family were very evident at the picnic.  Although he has grown-up around JMU and has been exposed to the JMU lifestyle his whole life, he's excited to bring his own love of JMU and his legacy to the university. "I love the JMU campus, the atmosphere, the people, and the community around it, so when it came time to make a decision, JMU was an easy choice for me," said Austin. "I'm really looking forward to plugging in and getting involved with campus organizations." 
At the Legacy Picnic, JMUAA President Larry Caudle ('82) welcomed the first-year students and their families by sharing his story of move-in day, exclaiming that he remembers as if it were yesterday. Caudle emphasized the importance of legacy, saying, "Students, your parents or grandparents left their mark on Madison, now it's time for you to stand on the shoulders of those who came before you and uphold JMU's traditions."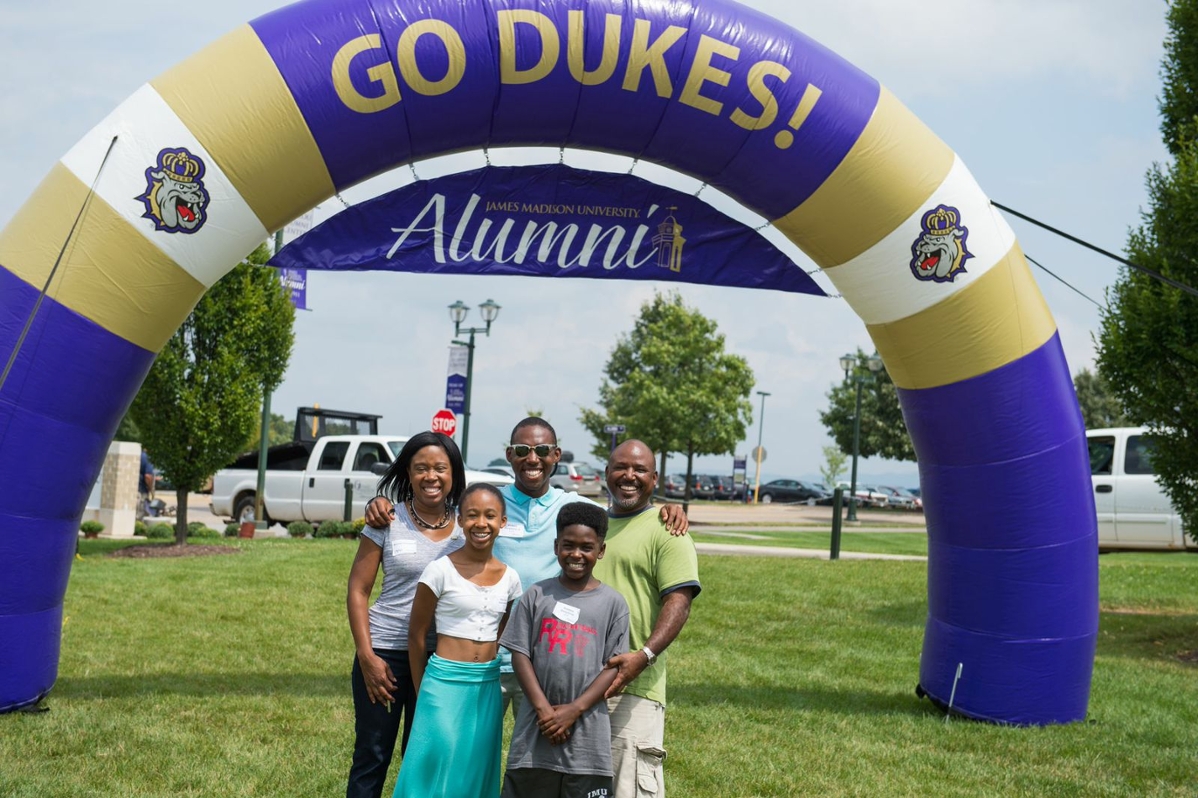 President Jonathan Alger recognized those students who received Legacy Scholarships this year.  Every year the Alumni Association offers scholarships to incoming JMU students who are legacies. This year for the incoming class the Alumni Association awarded 63 scholarships to legacy students. Legacy Scholarships are funded by the sale of JMU license plates that are available through the Virginia Department of Motor Vehicles and by the endowment for the Legacy Program. Fifteen dollars of the $25 for the plates goes to the scholarship fund.
Brittany Goldman, daughter of Jennifer Goldman ('09), who graduated from JMU's doctoral program with a degree in Audiology, received a Legacy Scholarship. Brittany aims to follow in her mom's rigorous academic precedent, "But I am ready to find my own definition of James Madison University," she said.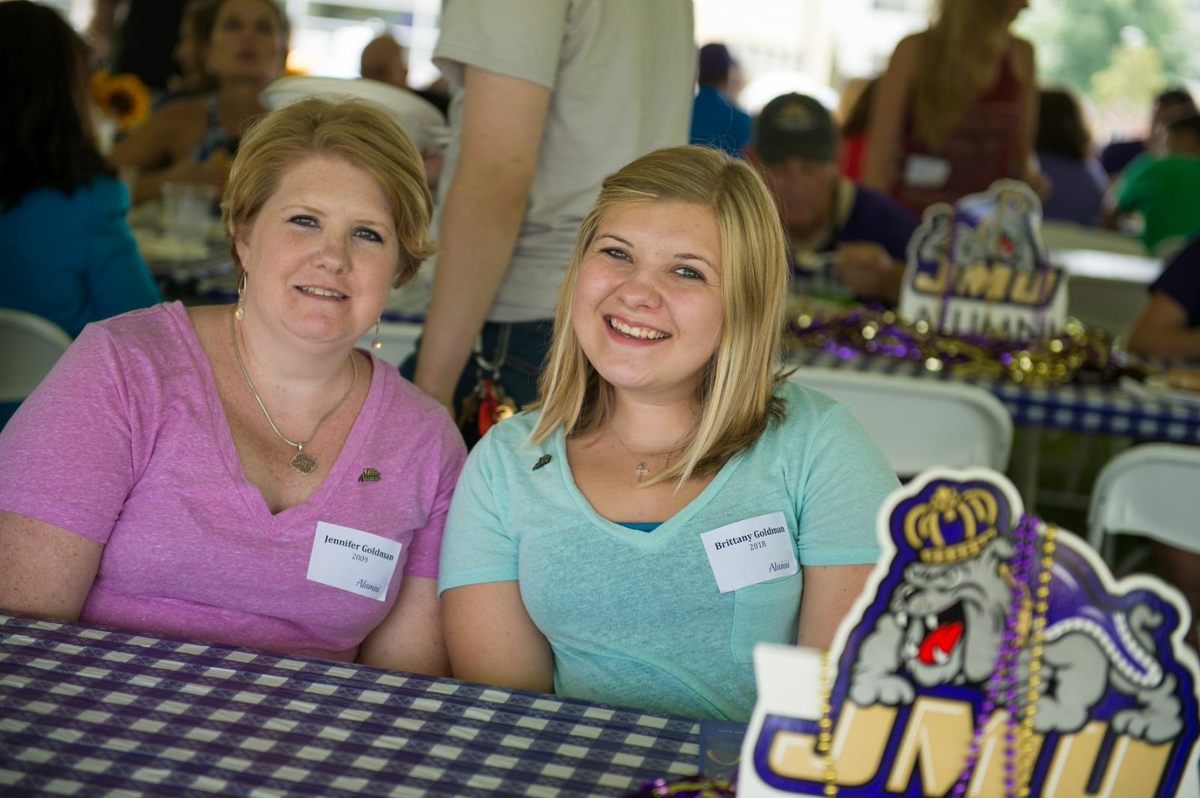 Being awarded the scholarship means so much to all the students who received them. "I was so ecstatic [to receive the Legacy Scholarship] because it showed that my mom's peers and the individuals that have graduated before me wanted to invest in my future, not only now as a student, but also after I graduate with a degree," said Goldman on how she felt when she was awarded the Legacy scholarship.
JMU Legacy scholarships have a major impact on students' lives. The scholarships are for future JMU students who become alumni just like you. Visit www.jmu.edu/alumni/plates to get more information and to learn how you can contribute to the Legacy Scholarships.
To learn more about the JMU Alumni Association visit http://alumni.jmu.edu 
By Alexis Javay Frye ('16) and Paula Harahan Polglase ('92, '96)