News
JMU team has strong showing in national wind power competition
---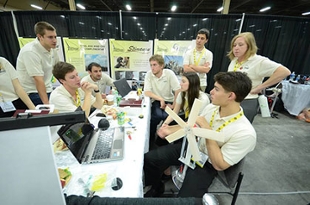 The U.S. Deptartment of Energy featured this photo of the JMU team on the agency's Facebook page. In the photo are Mick Blackwell (seated in front); Remy Pangle (standing), Ashleigh Cotting, Erwin James Will (standing back right), David Hryvniak, Dave Harootyan, Ryan Hoag (standing on left) and Kyle Kingsborough.
A wind turbine designed and built by JMU students finished second in a national contest featuring teams from 10 colleges and universities.
The JMU team also finished third in the market topic presentation category and fifth overall. The Collegiate Wind Competition was sponsored by the U.S. Department of Energy and was held May 6-7 in Las Vegas as part of Windpower 2014, the annual conference of the American Wind Energy Association.
JMU submitted one of 10 winning proposals to get into the interdisciplinary competition. In addition to being judged on their process for designing and prototyping a small wind turbine and on how well the turbine performed in a wind tunnel, the teams were judged on an accompanying business plan for their turbine. The JMU team chose to focus on providing electricity to energy-impoverished communities in Kenya. They designed a generator to charge batteries in small electronic devices.
The fourth and final element of the competition was a presentation on a market topic relevant to the geographic region of each participating university. The JMU team discussed how the coal and wind industries could combine forces to provide more environmentally sustainable electric power while also enhancing economic benefits for each sector.
ISAT Professor Jonathan Miles said nearly 30 students from various majors across campus participated in the yearlong effort to prepare for the contest, which is just what the DOE had in mind when it announced the competition last summer. Nearly a dozen faculty representing four colleges have supported the activities.
"The Collegiate Wind Competition is a forum for undergraduate college students of multiple disciplines to investigate innovative wind energy concepts; gain experience designing, building and testing a wind turbine to perform according to a customized market data-derived business plan; and increase their knowledge of wind industry barriers," the DOE stated.
Schools in the competition received $25,000 from the DOE to cover some of the costs to compete. The Virginia Department of Mines, Minerals and Energy and the Center for Entrepreneurship at JMU provided additional support for students to travel to the competition. Thirteen students majoring in engineering, finance, integrated science and technology, industrial design, management and political science, as well as JMU faculty and staff, traveled to the competition.
Pennsylvania State University was the overall winner.
The other schools in the competition were:
Boise State University
California Maritime Academy
Colorado School of Mines
Kansas State University
Northern Arizona University
University of Alaska Fairbanks
University of Kansas
University of Massachusetts Lowell
# # #
May 13, 2014