News
JMU earns more praise for green efforts
---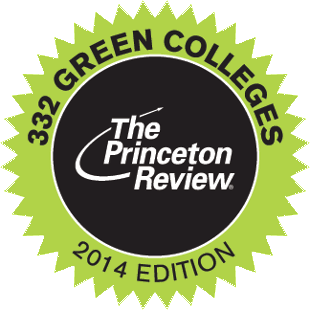 JMU's commitment to environmental stewardship continues to earn nationwide recognition. The university recently received two accolades for its efforts to make the campus more environmentally conscious.
JMU is included in "The Princeton Review's Guide to 332 Green Colleges: 2014 Edition." The comprehensive guidebook is a resource for college applicants and focuses solely on acknowledging colleges that have demonstrated a strong commitment to the environment and sustainability.
The guide lists schools based on "Green Rating" scores, which are calculated using data from a survey given annually to hundreds of school administrators concerning their school's environmental and sustainability-related policies, practices and academic offerings. JMU was recognized for its sustainability-themed bachelor's degree in engineering, multiple environmental minors, the farmer's market on campus and the transformation of the campus transportation system, among numerous other factors.
JMU also received a silver level Governor's Environmental Excellence Award on April 8 at the 2014 Environment Virginia Symposium for the East Campus Hillside Naturalization Project. The awards recognize the significant contributions of environmental and conservation leaders in two categories: sustainability and land conservation.
Formerly a manicured lawn, the East Campus hillside is now an span of natural vegetation that has reduced maintenance costs and the use of chemicals that can seep into groundwater. Faculty, students and community members designed the hillside and it serves as an educational landscape that models both naturalized and environmental beauty.
JMU has been included in three past Princeton Review green guides and has previously received three governor's awards – one gold, one bronze and one honorable mention.
# # #
May 1, 2014